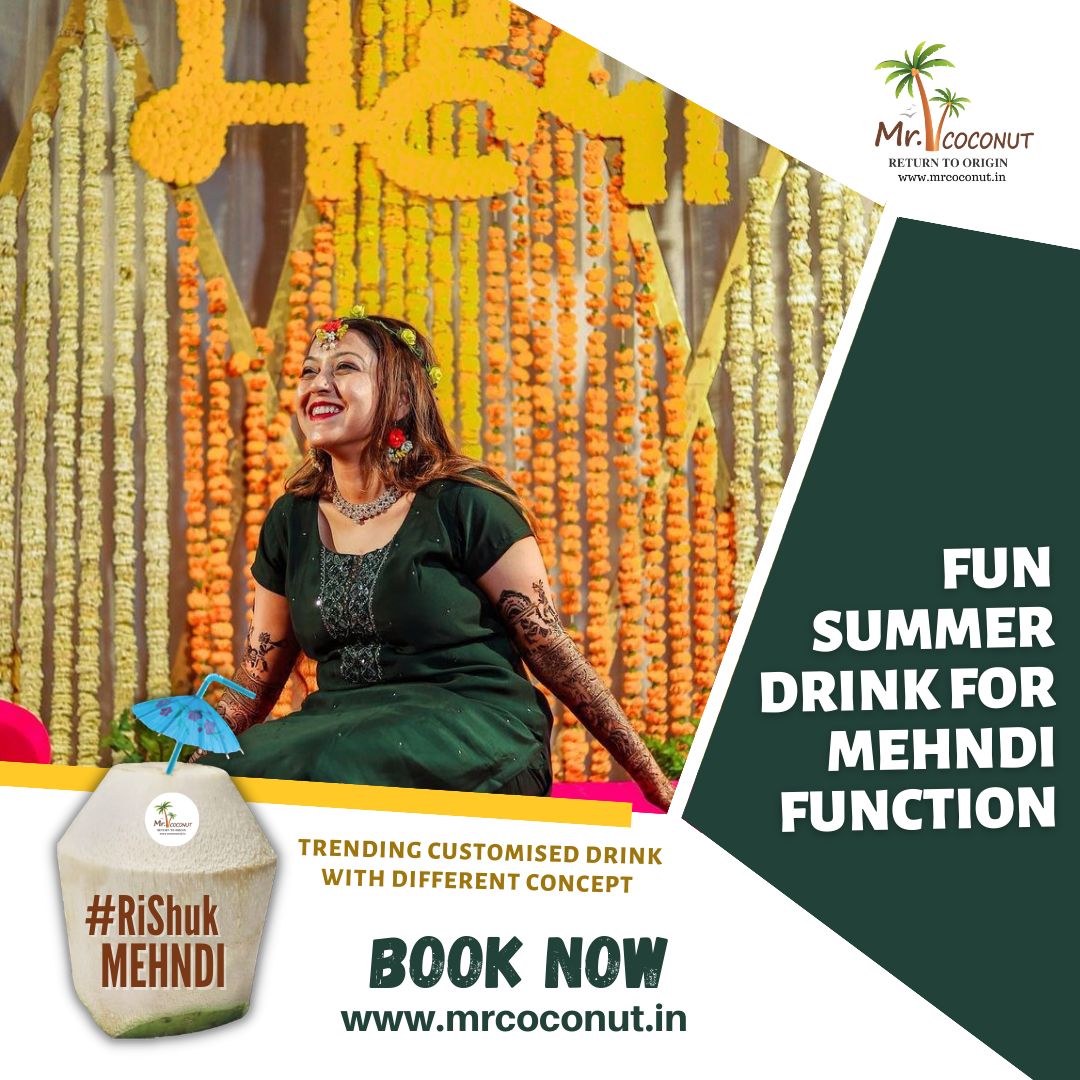 Cool Down and Party Up: Fun Summer Drinks for Mehendi Function
Posted by : Mrcoconut / On : Mar 26, 2023
When it comes to Indian weddings, the Mehendi ceremony is among the most cherished traditions. Whether you're planning a destination wedding or a more traditional celebration, these rituals are a crucial part of the festivities. That's why you need to make sure your guests have the best possible experience. And what better way to do that than by serving Mr. Coconut's masterfully designed personalized coconuts?
These refreshing and detoxifying treats are the perfect addition to your Mehendi ceremony. With so many amazing pre-wedding rituals to choose from, why is Mehendi one of the most eagerly anticipated?
Refresh Your Mehendi Ceremony with Customized Coconut Drinks from Mr. Coconut!
Indian weddings are full of rich traditions, but none are more beloved than the Mehendi ceremony. These time-honored rituals are an essential part of any wedding celebration, and if you want to create an unforgettable experience for your guests, you need to make sure every detail is perfect. One way to ensure this is by serving Mr. Coconut's freshly peeled coconuts, which are sure to delight and refresh everyone in attendance. Not only are these treats delicious, but they also have detoxifying properties, making them the perfect addition to your Mehendi ceremony. With so much anticipation leading up to these special pre-wedding events, there's no better way to make them truly memorable than by adding Mr. Coconut's Carved coconuts to the mix. So why settle for anything less when you can give your guests an experience they'll never forget?
#SummerCoconutDrinks for Your Mehendi Ceremony!
Your wedding day is one of the most special and memorable days of your life, and every couple wants to make it truly unique and unforgettable. With the summer months being a popular time for weddings, it's important to ensure that your celebration stands out from the rest. You want your guests to feel honored and special as they participate in your wedding traditions. This is where Mr. Coconut comes in!
Mr. Coconut understands the significance of these traditions for you as a couple and has created the perfect addition to your celebration – Masterfully Designed Monogram Coconuts. This innovative and refreshing product is sure to make a lasting impression on your guests, giving them a one-of-a-kind experience that they will remember for years to come. So why settle for ordinary when you can have something truly extraordinary with Mr. Coconut's Monogram Coconut?
Personalize Shaved Coconuts for Mehendi Ceremony as per Your Needs!
Wedding ceremonies are memorable events that are steeped in tradition and attended by numerous guests. Amidst all the hustle and bustle, it can be a daunting task to offer something that is truly unique and personalized. This is where Mr. Coconut's Monogram Coconuts & its tender coconut water truly shine. With their elegantly designed exterior, these coconuts offer a range of customizable options, including the ability to emboss personalized pictures of the bride and groom, or even the happy couple together. You can also add personalized logos of the Mehendi event or even custom hashtags that celebrate the couple or the ceremony itself.
The beauty of these embossed coconuts is that they provide a personalized experience to your guests while also adding an air of elegance and sophistication to the entire wedding ceremony. Whether you are planning a destination wedding in Udaipur, an intimate wedding in Mumbai, a Wedding Celebration in Kolkata, Themed Wedding in Delhi or a traditional wedding in Agra, Mr. Coconut's carved coconuts are the perfect way to add a unique touch to your special day. Don't settle for the ordinary when you can have something extraordinary that your guests will remember for years to come. Choose Mr. Coconut's Stamp coconuts and make your wedding an unforgettable experience.
Add a Masterfully Crafted Beverage Stall for Mehendi Function
Are you looking to impress your guests with a refreshing and delectable coconut water experience but don't have a stylish bar or beverage stall? Fear not! Mr. Coconut has got you covered. Our team of experts specializes in creating bespoke coconut water stalls that are perfect for events such as the Mehendi ceremony. Our cocobar is highly customizable, allowing you to tailor them to the specific theme and design requirements of your wedding.
Treat your guests to a quick detox and elevate the overall aesthetic of your event with our beautifully crafted Cocobar. With Mr. Coconut, you can ensure that every detail of your event is carefully crafted to leave a lasting impression on your guests. Now's the right time to connect with Mr. Coconut and add some fun summer coconut drinks to your Mehendi Function. So, what are you waiting for? Book your coconuts drinks for Mehendi Function today and add a personal touch to your Mehendi ceremony with Mr. Coconut!