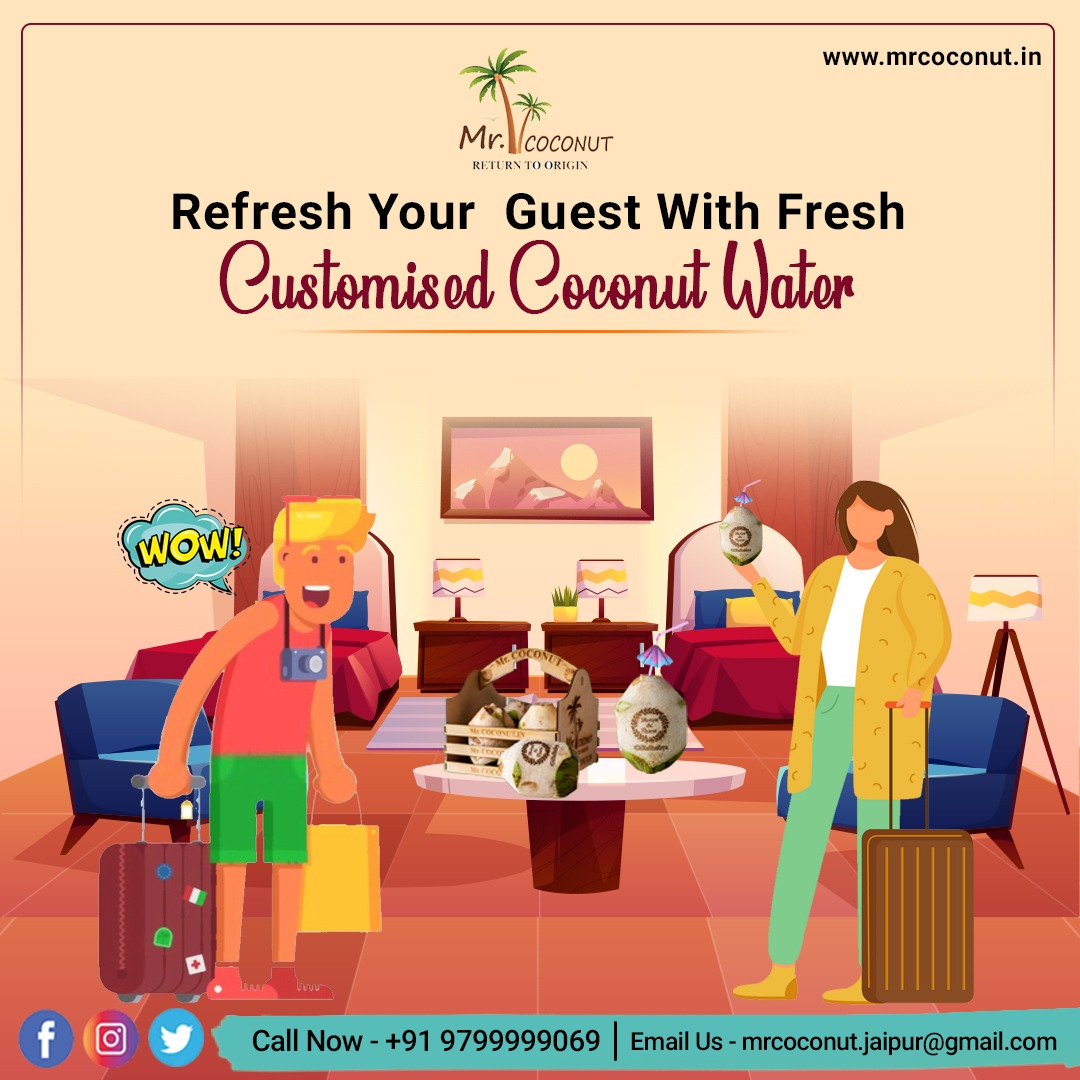 Personalized Coconuts - Unique Wedding Favor Ideas for Guests
Posted by : Mrcoconut / On : Jul 30, 2022
Destination weddings are all the craze these days! From celebrities to social media influencers and modern-day couples, everyone is looking out for an interesting place where they can get hitched and start a new life. Naturally, you will be looking for some unique wedding favor ideas for guests to make your marriage ceremonies delightful and memorable.
This is where Mr. Coconut offers one of the best destination wedding ideas – Personalized Coconuts.
What's so interesting about these unique coconuts? How can you make your destination wedding memorable with this drink? Read on to find out!
Carved Coconuts – Interesting Wedding Favors and Gifts
In most destination weddings, couples focus on the stage, decorations and lodging which is all good and necessary.
But, when it comes to party drinks or welcome drink in weddings, most people stick to regular choices i.e., mocktails, cocktails, soda or beverages like Coca Cola etc.
But, what if you can change this? What if you can start a trend amongst your friends and their weddings by introducing healthy beverages in the form of personalized or carved coconuts.
Coconut water is, by default, one of the best and healthiest drinks on the planet!
And by introducing this beverage, you bring in an interesting element to your destination wedding that will take your friends by surprise.
But, the best part about these coconuts is the ability to customize/carve them according to your preferences.
Stamp Coconut - A New Idea for Traditional Indian Wedding
You can customize the coconuts in a variety of ways to make your destination wedding unique and memorable:
- Get the name of you and your partner carved/printed
- You can also engrave/print a picture of you and your partner
- You can also engrave/print pictures of wedding ceremonies i.e., Mehendi, Haldi, sangeet etc.
1. Welcome Drink in Wedding
Some of your friends have just arrived at the hotel. Welcome them a refreshing drink in the form of customized coconuts!
2. Breakfast beverage in wedding
Replace artificial beverages like sodas and mocktails with personalized coconuts – a healthy and easily digestible beverage.
3. Pool Party Idea in Wedding
Organized a pool party at your destination wedding? Then a carved coconut is the best beverage to refresh your guests.
4. Room Hampers in Destination Wedding
Want to make your wedding guests feel special? Include a customized coconut in the room hampers at the hotel. They would love it!
Set up a Beverage Counter at Destination Weddings
You can also set up a unique beverage counter that serves personalized coconuts to guests during wedding ceremonies like Haldi, Mehendi and Sangeet.
You can include different types of personalized coconuts in these stalls according to the ceremonies to create some beautiful wedding memories!
Where to get Personalized Coconut for Destination Weddings?
Mr. Coconut is one of the leading companies in the customized coconut industry that offers this unique service to clients across India!
Simply head over to mrcoconut.in, connect with the team, share your customization requirements according to wedding ceremonies (Haldi, Mehendi, Sangeet etc.) and get the coconuts shipped to your desired location!
Destination weddings are meant to be unique and intimate. Make them memorable and delightful with personalized coconuts from Mr. Coconut!