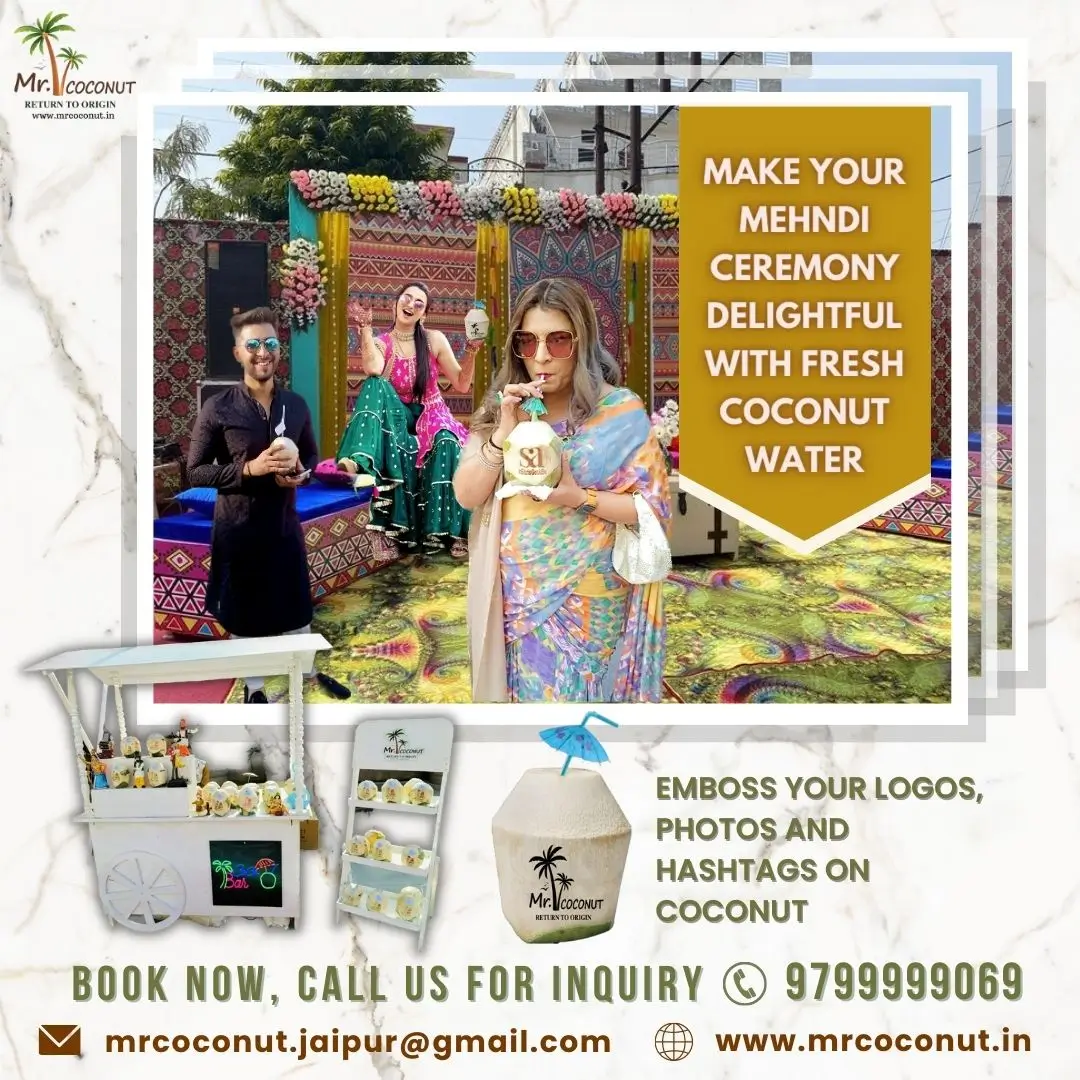 Exciting Mehendi Function Ideas to Add Fun to Your Ceremony
Posted by : Mrcoconut / On : Dec 25, 2022
Indian weddings aren't just limited to the marriage ceremony. They feature pre and post-wedding ceremonies that include beautiful customs for both bride and groom. One such interesting tradition is Mehendi. Want to add loads of fun to your Mehendi Ceremony? Here are some Mehendi Function Ideas that can make your traditional ceremony interesting, delightful and memorable! As per Indian customs, the Mehendi ceremony is organized just a day before the wedding. Mehendi signifies the bond of matrimony which is why it is called "shagun". This literally means a good omen. Mehendi also symbolizes the affection, bond and love between the couple and their families as well! Did you know? The darker the color of Mehendi, the deeper the love between the would-be couple and the families. Mehendi color also signifies the understanding between the bride and her mother-in-law. If the Mehendi retains its color for a longer duration, it is considered auspicious for the newly wedded couple. So, with such an important significance, Mehendi becomes one of the most important pre-wedding ceremony. Want to add fun to your ceremony? Here are some interesting mehendi functions & welcome drink ideas to add tons of fun to your Mehendi traditions!
How does an Indian Mehendi Ceremony Look Like?
Most Mehendi ceremonies feature lively, colorful and musical celebrations. While different states celebrate the ceremony in different ways and customs, most families invite their relatives and well-wishers to take part in the tradition. Did you know? The mehendi ceremony is typically combined with the "Sangeet" ceremony. During the Mehendi ceremony, the bride along with her female relatives and the family get decorative mehendi designs on their hands and feet. For the past few years, the trend of the groom and bride both getting together during the Mehendi ceremony is picking up pace. While the bride gets beautiful mehendi designs along with the initials of the groom on her hands, the groom gets a simple design with the initials of the bride. This ceremony is usually accompanied by lots of fun, dancing and feasting. You can make this ceremony unique and refreshing by serving your guests some of the best welcome drinks like mocktails and tender coconut water in customized monogram coconuts.
Mehendi Function Ideas to Add Fun to Your Ceremony!
1. Serve Tender Coconut Water in Monogram Coconuts
Coconut water is considered to be one of the best natural beverages on the planet. Coconut offers a ton of health benefits which make it a perfect drink for wedding ceremonies like Mehendi. But, serving plain coconuts won't appeal to the guests nor does it create a unique look for the ceremony. This is why Mr. Coconut, a leading company, known for crafting Monogram Coconuts and Customized Peeled Coconuts has come up with unique Welcome Drink Ideas for Mehendi. Mr. Coconut also offers a beautifully personalized coconut water stall for events like Mehendi & Haldi called Cocobar where guests can get a quick detox with coconut water. Make your Mehendi Ceremony unique and delightful with Mr. Coconut's intricately crafted Stamp Coconuts!
2. Live Entertainment for Guests during Mehendi
Mehendi ceremonies often accompany live music and entertainment for guests. You can incorporate the same in your mehendi ceremony by adding a pleasant dance performance. Or you can invite live performers to make the entire ceremony lively. Serve delicious coconut water in customized Shaved coconuts to refresh the mood of your guests!
3. Add Live Bangle Making to your Mehendi Ceremony
In many regions,guests wear vibrant bangles during the Mehendi ceremony. If you are planning to have a traditional wedding in Delhi or any other city then organize a live bangle-making event for it. This will keep your guests engaged and make the entire Mehendi ceremony experience memorable!
4. Planning a Destination Wedding in Goa?Dance with the DJ!
Destination weddings often feature live music and DJs. You can add these to your Mehendi ceremony and make your guests groove to exciting music. And when the guests are tired they can head over to the customized mocktail counter in wedding by Mr. Coconut called Cocobar where they enjoy refreshing coconut water in beautifully crafted peeled coconuts!
5. Take Entertainment to the Next Level with Karaoke
Join your friends and family in karaoke to make your Mehendi ceremony interesting and exciting. Sing popular songs or let your guests pick old favorites. The mehendi ceremony is all about entertainment and memories. You can also give your unique wedding favors for guests in the form of personalized coconuts.
6. Set a New Trend with Poolside Mehendi Function
Why settle for old traditions when you can make new trends? Organize a poolside Mehendi ceremony and throw some accessories & floaties to make the ambience refreshing. You can also serve tender coconut water in customized coconuts to make your ceremony a perfect tropical event!
7. Serve Signature Cocktails & Mocktail Drinks
Wedding ceremonies like Mehendi are incomplete without drinks. Amp up the event by serving lip-smacking cocktails or Non Alcoholic Welcome Drinks like coconut water in beautifully crafted carved coconuts. So, what are you waiting for? Connect with Mr. Coconut and add tons of fun to your Mehendi ceremony with intricately designed peeled coconuts!