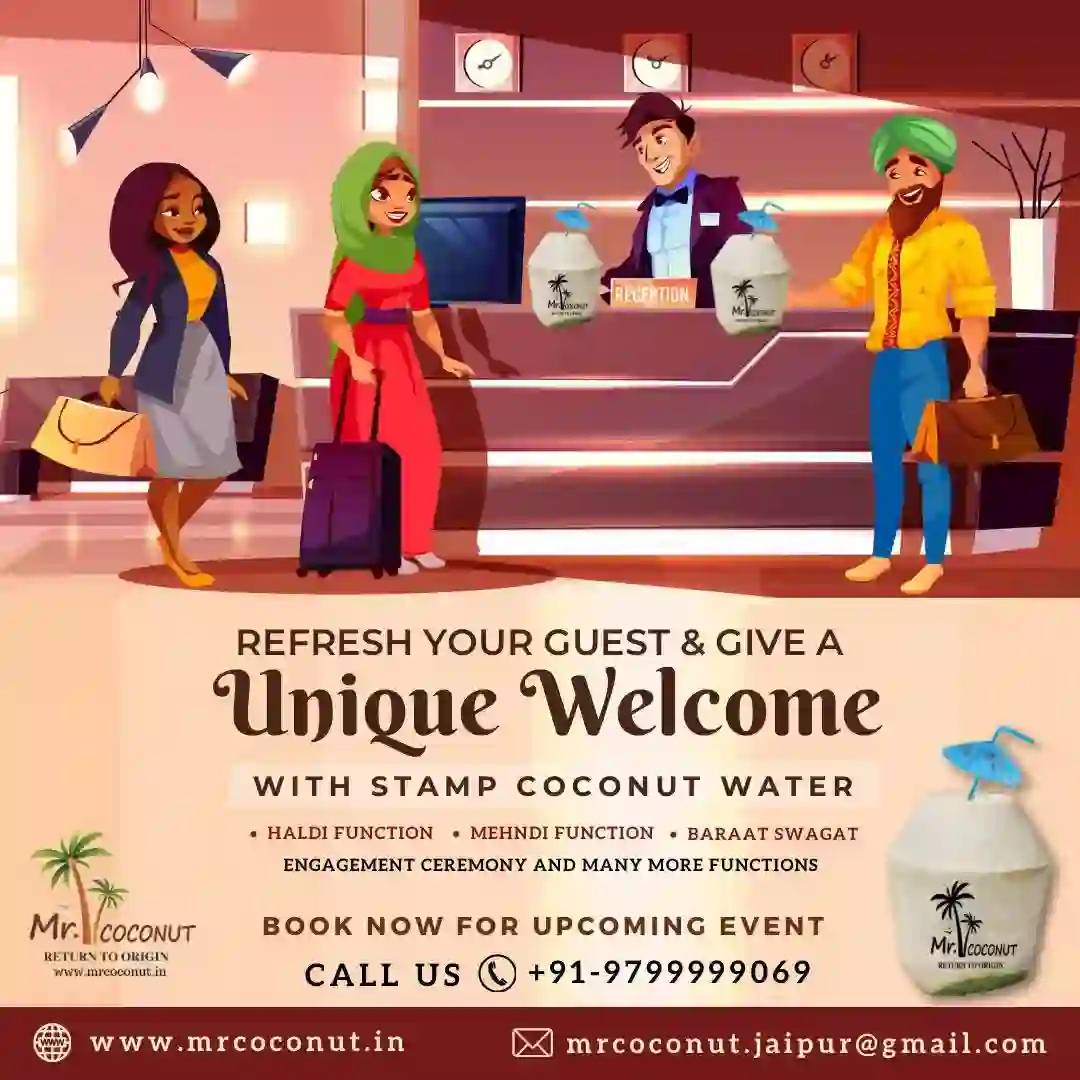 Welcome your guests in style with Mr. Coconut
Posted by : Mrcoconut / On : Nov 18, 2022
Your wedding guests add a lot of life to the event, no doubt about it. That's why you need to treat them well, make them feel special, and provide a warm welcome for them. This is one of the best ways to make them feel special, well-served, and cared for. So, if you're already dreading the thought of welcoming your wedding guests and making their day a memorable experience, don't worry! You may want to check out these super amazing ideas we've enlisted for your guests' welcome.
Here are some gorgeous ways to welcome your wedding guest
Welcome them with dance performances
Including folk artists performing for your welcome is the best way to maintain the essence of a theme and win over your guests if you are planning a destination wedding in Jaipur, Udaipur, Goa, Kolkata, Shimla, and any other place. Traditional folk dance surely catches the attention of your guest. It actsspectacle and your guests will completelyLike it. The dhol is a traditional style to welcome your Shaadiguests if it isn't even aidea.
Greet them with tilak & rose water sprinkle
If you would like your wedding to be cultural and ethnic, sprinkle some rose water on your guests and apply tilaks on their foreheads when they enter. Rosewater and tilak make a gorgeous combination and are known to hold spiritual and traditional importance in Indian weddings.
Tying Gajras on their wrists
If you're holding a proper traditional wedding in some fort and palace, then adding Gajras strands to the wrists of your guests is the most traditional way of wishing them a warm welcome. Bring these white, scented, and fresh beauties threaded into strings and tie them on their wrist as guests enter the wedding venue.
Dhols & Nagadas
For a dhamakedar and jordhar guest welcome, ditch all the fancy stuff and get the desi dhol-walas & drummers involved. There's nothing like the beat of the ghatam & dhol to make your guests feel at home. People will love this.Goodies and Gifts
Have you been thinking about hosting a destination wedding? By providing a welcome goodie bag filled with snacks and favors kept in your guests' rooms, you'll be able to satisfy their untimely and late-night food cravings.Additionally, you may want to add Mr. coconut monogram coconut water, which has been engraved with the theme of your wedding in a shaved and peeled coconut.
Serve Customized Welcome Drink
There's nothing wrong with serving a few refreshing drinks at your wedding. You can do this by setting up a drink station or Cocobar services at the entrance or offering customized coconut water drinks instead of any fancy drink.Monogram Coconut water is a unique way to welcome your guest because a personalized design is beautifully engraved on the young shell of tender coconut water. By doing this you are creating a trend in the marriage for welcoming your special guest. This is not only a fancy or unique way but also a healthy way. The personalized coconut water is so tasty and healthy. Everyone will love this.
So, these are some ideas for welcoming your special guest whether you are planning a destination wedding or a normal town wedding by incorporating these ideas you can make your wedding unforgettable for you as well as your guest. You can also appoint a wedding planner for all these arrangements in a better way because they are specialized in making your wedding fairy-tale. They help you with wedding decor, wedding functions, food catering, and other things within your given budget.
In the end, Mr. coconut is not only a good option for a welcome drink but also a great suggestion if you are looking for an unimaginable wedding favor. For wedding favor, you can go with this by engraving the wedding design, bride, and groom's initials, logo, or any other design on the shell of young coconut. It is a memorable wedding favor for a guest.