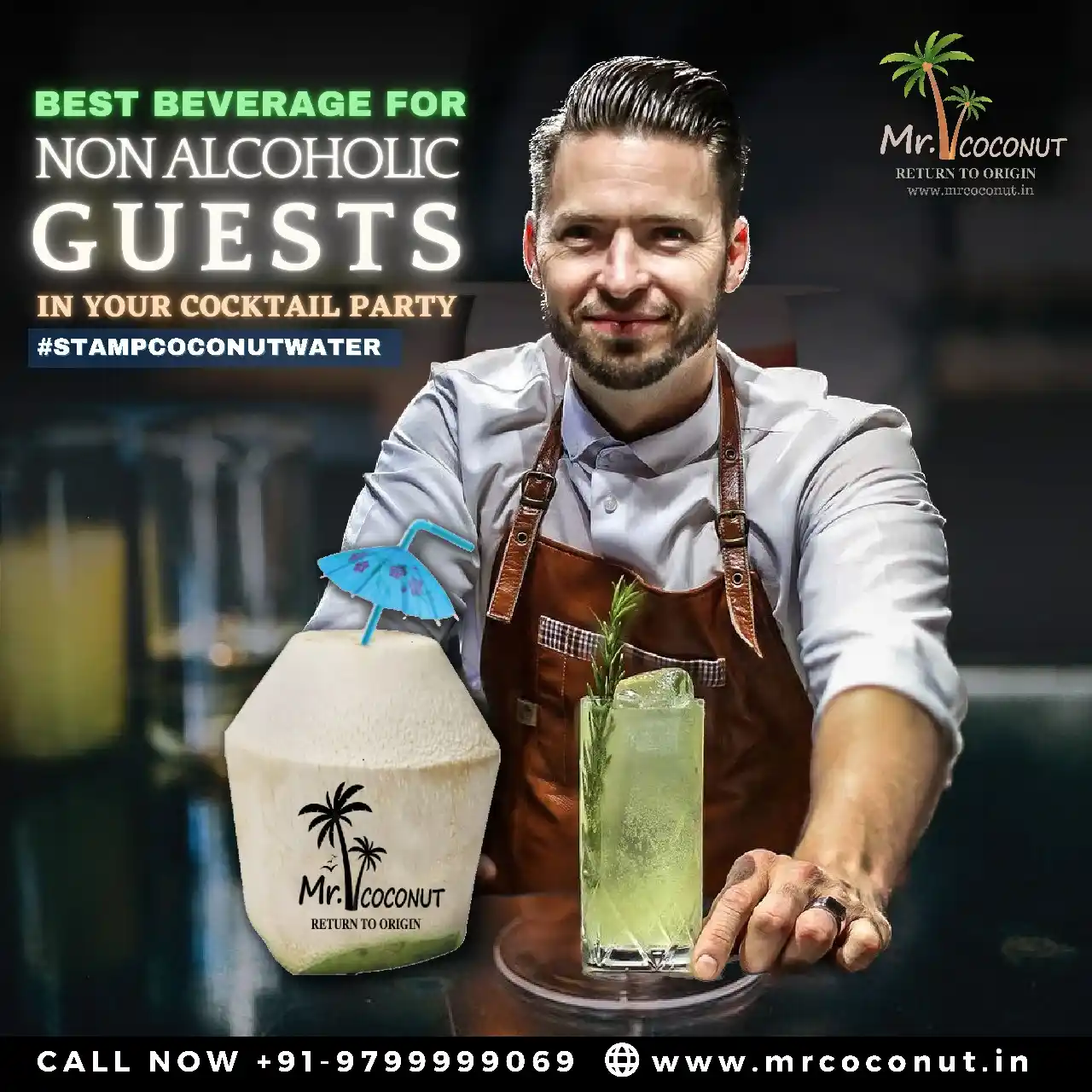 Make Your Cocktail Party the Best with Mr. Coconut Personalized Touch
Posted by : Mrcoconut / On : Nov 21, 2022
Incorporate fun ideas into your cocktail party for guests to talk about Here are some suggestions to make your cocktail party over the top and unforgettable.

Organizing a cocktail party for your destination wedding in Goa, Hyderabad, Shimla, Delhi, Kolkata, or any other city can be so much fun. There is nothing better than a cocktail party combined with a Sangeet ceremony to let the potential of a wedding-related frenzy out and burn off some steam. There is no doubt that your guests will enjoy it.
Instead of mingling between the bride's and groom's sides, everyone now looks forward to meeting mutual friends of your soon-to-be newlyweds at the cocktail party. A ceremony like this does not have an agenda of its own, has no rules or schedules to follow, and is there to make everyone bond and have fun.
It is imperative to know what factors factor into making your cocktail party spectacular. Is it entertainment, music,decor, drinking games, photo booth props, or the entertainment company? This will tell you everything you need for your cocktail party mixer, so you can have a blast. Your wedding invites will be talking about your cocktail party for life long. Find out how to make your cocktail party memorable and let's get started.
Arrange Something Unique for the Guest
Make an unbelievable surprise that your guests won't expect with a splash of alcohol and booze. Think of something they won't expect. It is so passé to have a simple wine and dinner reception for your wedding. To make your wedding memorable, you need to work with your future spouse to plan something exceptional and creative for your guests.
Imagine what you could do with your ideas and be as imaginative as you like.It could be something like Mr. Coconut Cocobar's service which serves the highest quality tender coconut water in a personalized way. They serve monogram coconut water which has an engraved design on the shell of the young coconut water. The design could be anything related to your weddings like the theme, the initials of the bride and groom or their picture, or anything that is related to you. Trust us guys, there is no need of ideas in this field. Feel free to experiment.
Plan Extraordinary Food Catering
The dancing and singing will make most of your guests hungry and exhausted amidst all the dancing and activity, so provide some appetizers to keep them interested.
Ensure that the food catering is full of finger foods that can be eaten while lying on the floor. Moreover, no one really wants to eat a portion of Chicken Biryani or butter panner when everyone's in the mood to dance and party. Starters are the most efficient way to go about it - without a doubt about that.
As you plan your cocktail party and the main course, don't neglect these details. You can also wonder your invitees with eccentric desserts at the end up. This will earn brownie points for thinking outside the box and arranging something sweet to conclude your event on a positive note.
Embrace the theme
Is it necessary to have a conventionalwedding venue for your event? Having a wedding plannermakes the décor fun for the occasion and will make it even more memorable. You can still ask the wedding planner to design the final glimpse and feel of the place centered on the party's mood.
We feel that themed celebrations have something enticing about them. How about you? You might even consider adding quirky additions such as pop-up stalls or photo booths.
Involve Mr. Coconut to give a personalized touch to your party
Is your cocktail party ready now? Considering Stamp coconut from Mr. Coconut give your party a different look. Those who are non-alcoholic are going to love this. Mr. coconut serves only the best quality tender coconut which is soo fresh and healthy. At the cocktail party finely shaved and peeled coconut with a beautifully engraved designs are going to be showstoppers in mocktail and cocktail corners. So, involve Mr. Coconut'spersonalized coconut and make your cocktail party memorable.