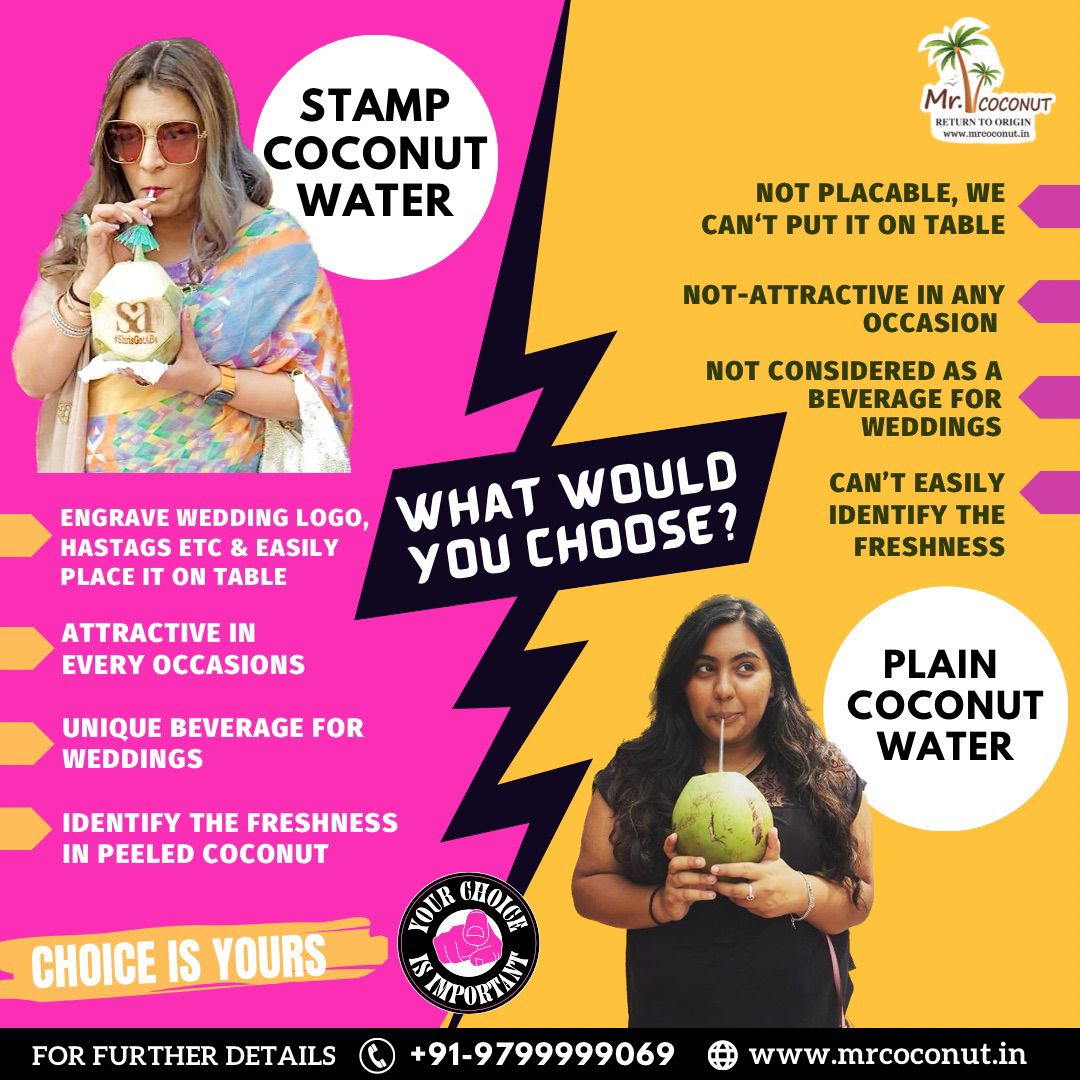 Why Customized Coconut is Better than Plain Tender Coconut?
Posted by : Mrcoconut / On : Dec 15, 2022
The naturally available tender coconut is a delightful fruit that offers a wide range of health benefits. While coconut water contains a host of detoxifying ingredients, its inner white fruit is used for a variety of skin and health products. But, what if you can get all these benefits while enjoying a round of delicious tender coconut water in a beautifully customized coconut?
There's no doubt that coconut water is one of the best natural beverages in the world. A round of coconut water offers a wealth of benefits that can easily However, a plain coconut doesn't look appealing. It's just green in color and you can really know if the water inside is good or not until you actually cut open the coconut. But, before we understand why a customized coconut is much more appealing, let's quickly look at some amazing health benefits of coconut water.
4 Benefits of Tender Coconut Water You Should Know
1. Coconut Water is Full of Nutrients
Coconut water is full of healthy nutrients like manganese, copper, iron, selenium and a variety of other minerals that aid in detoxification.
2. Coconut water Can Be Easily Added To Your Diet
Coconut water can be easily added to your breakfast, lunch or dinner. In addition to that, coconut water can be added to a plethora of dishes like curries, rice dishes, fish stews and breaded shrimp. On the other hand, grated coconut can be added to give a natural sweetness to baked foods like muffins, cookies and quick bread.
3. Detoxify Your Body Quickly with Coconut Water
The inner fruit of the coconut boasts phenolic compounds that offer amazing detoxifying properties. Some notable phenolic compounds are caffeic acid, gallic acid, p-coumaric acid and salicylic acid.
4. Coconut Water Can Defy Aging!
Tender coconut water and its inner fruit can help slow down aging. This is due to a rare ingredient found in the coconut called Trans-zeatine which is basically an anti-ageing substance.
Why Should You Choose Customized Coconuts over Plain Coconut?
Well, the answer is quite simple – plain coconuts lack appeal. And in events like weddings and wedding ceremonies, guests wouldn't prefer coconuts. Instead, they will go for sugary beverages, carbonated drinks or alcohol. But, these are harmful. So, how can customized coconut replace sugary drinks?
1. Emboss Coconuts with Personalized Logos, Pictures or Hashtags
In events like weddings, adding a personal touch is something that every couple wants. And Mr. Coconut has the expertise to seamlessly emboss coconuts with intricate designs like:
Logos – for events like weddings and wedding ceremonies (Mehendi, Haldi, Roka and more)
Hashtags – showcasing names of the couple during the wedding or wedding ceremonies
Pictures – showcasing the couple or some beautiful memories spent by the couple
Monogram Coconuts – Intricate designs on coconuts to make your coconut water drinking experience delightful.
2. Personalized Coconut are Perfect for Destination Weddings
Planning a Destination Wedding in Goa? Personalized peeled coconuts are ideal to make your destination wedding unique and interesting.
You can use these coconuts as:
Room Hampers in destination wedding
Breakfast Beverage in Wedding
Guest Welcome Beverage
Pool Party Idea in Weddings and much more!
3. A Customized Coconut Bar makes Coconuts More Appealing
Mr. Coconut, the leading company for customized coconuts also provides a personalized coconut water stall called "Cocobar" for weddings and ceremonies. Cocobar can be easily customized according to the design needs or theme of the wedding and ceremonies. You will also get a professional bartender that will serve beautifully crafted shaved coconuts to all your guests. Give a quick detox to your wedding guests at Cocobar!
4. Wedding Planners Love Carved Coconuts
Wedding planners need new and intriguing products to make their clients happy and delightful. And personalized products like Mr. Coconut's customized coconuts are ideal for a wedding planner's portfolio. As mentioned above, these Monogram coconuts can be easily used for a wedding and a variety of marriage ceremonies like Ring Ceremony, Haldi, Mehendi, Roka and more!
5. Make Your Poolside and Cocktail Parties Refreshing
Mixologists and Bartenders can easily add personalized stamp coconuts to their menus. These not only make your parties interesting but also add a personal touch to your wedding revelries! So, whether it's an Intimate Wedding in Jaisalmer, a Traditional Wedding in Ahmedabad or a destination wedding in your favorite place, customized coconuts can easily amp up the ambience and provide a personalized experience to your guests!