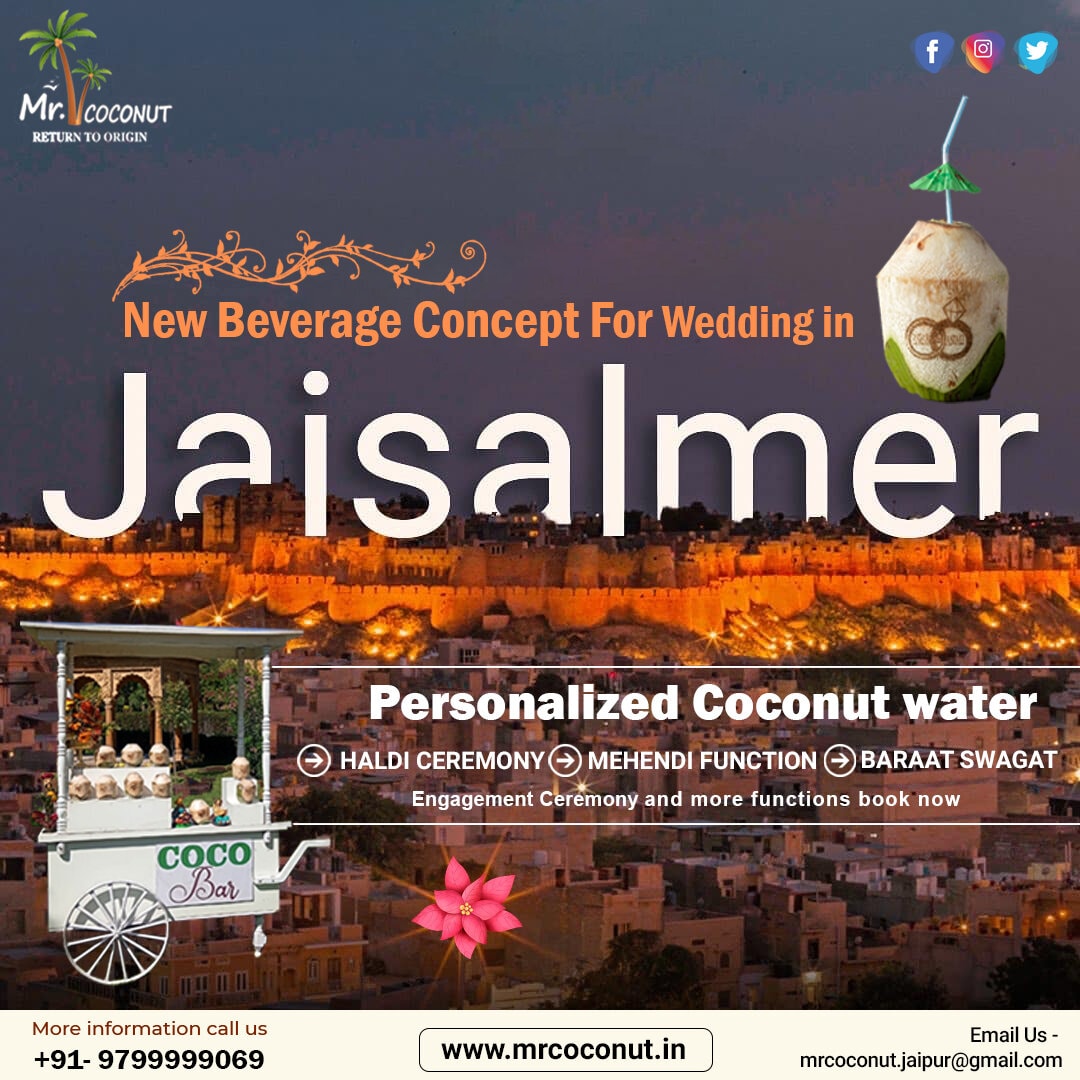 Experience a Royal Destination Wedding in Jaisalmer with Mr. Coconut
Posted by : Mrcoconut / On : Sep 12, 2022
Founded in 1156, Jaisalmer is a popular city for destination weddings which is also known as the "Golden City of India". The city gets its name due to the yellow Jaisalmer stone and the golden sand that comes from the Thar Desert. Did you know? According to some recent reports, it is believed that Jaisalmer was submerged under the sea (around 50 million years ago). From forts to stunning temples, scrumptious food and markets, Jaisalmer has something for everyone. This makes Jaisalmer a popular tourist location and an ideal venue for your destination wedding!
Why Should You Plan Your Destination Wedding in Jaisalmer?
Jaisalmer is well-known for a variety of tourist attractions and activities like:
• Jain Temples – Beautiful architecture, interconnected temples & more
• Sand Dunes – Serene Ambience, Relaxing Activities & more
• Markets – Sadar Bazaar, Bhatia Bazaar, Pansari Bazaar & more
• Forts – Patwonki Haveli, Jaisalmer Fort & more
• Wildlife Experiences – Desert Jeep Safari, Desert National Park & more
• Adventure – Parasailing, Quad Biking, Paramotoring & more
Top Destination Wedding Venues in Jaisalmer
Here are some beautiful venues where you can experience a memorable destination wedding:
• Hotel Jaisalkot
• Killa Bhawan
• Jaisalmer Marriott Resort & Spa
• Hotel Rang Mahal
• Hotel Hayat Jaisalmer
• Desert Tulip Hotel & Resort
• Suryagarh Resort & Spa
Add a Personalized Touch to Your Wedding with Mr. Coconut
Mr. Coconut is one of the leading companies in India specializing in offering beautifully crafted carved coconuts that can be served in events like weddings and marriage ceremonies such as Haldi, Sangeet, Barat Swagat, Mehendi and more! The CEO of Mr. Coconut came up with this brilliant idea when he realized that at most weddings, sugary or carbonated drinks were served. This poses a serious threat to health in the long run. That's why Mr. Coconut came up with the idea of personalized coconuts! The team embosses personalized designs, logos or photos of the couple that add a royal touch to your weddings and ceremonies.
Add a Royal Touch to Weddings with Beautifully Designed Carved Coconuts
Wedding guests appreciate it when you offer a personalized experience to them. This includes personalized greetings, wedding cards and more! What if you can do the same with the beverages that you serve? Mr. Coconut helps you to do just that! Serve tender coconut water in beautifully engraved coconuts. The coconuts can be customized according to the event and your preferences. You can get the coconuts carved with images of the couple, logos of the event or unique hashtags containing the names of the couple! Your guests will instantly recognize the amount of detail and personalization that you have put into the personalized coconuts. They will even remember this beautiful gesture long after your wedding is done! An Amazing Product Themed Weddings & Wedding Planners Mr. Coconut's beautifully designed stamp coconuts can be seamlessly used for modern weddings like themed weddings. This may include different types of themes like Punjabi, Hawaiian, South India or Nature-based weddings. Some of the best wedding Planners in India are always on the lookout for new products to add to their services. Mr. Coconuts' beautifully customized coconuts can be the ideal product bringing the best of health and royalty to Indian weddings!
Cocobar – A Modern Coconut Water Stall at Marriage
Worried about serving personalized coconuts to hundreds of guests at weddings? Fret not! Mr. Coconut offers a uniquely designed coconut counter for marriages where a professional will be serving delicious coconut water to all your guests. Give your guests the luxury of a quick detox with coconut water at the Cocobar. And as soon as they are done with the drink, they'll feel refreshed and energized for the rest of the events!
Mr. Coconut provides Top-Quality Coconut Water
The experts at Mr. Coconut seal each and every coconut with love and care before dispatching them to your weddings. This ensures that every coconut that you or your guests drink features top-quality coconut water and beautiful customizations for a royal touch! So, what are you waiting for? Revitalize your beautiful destination wedding with personalized coconuts from Mr. Coconut today!