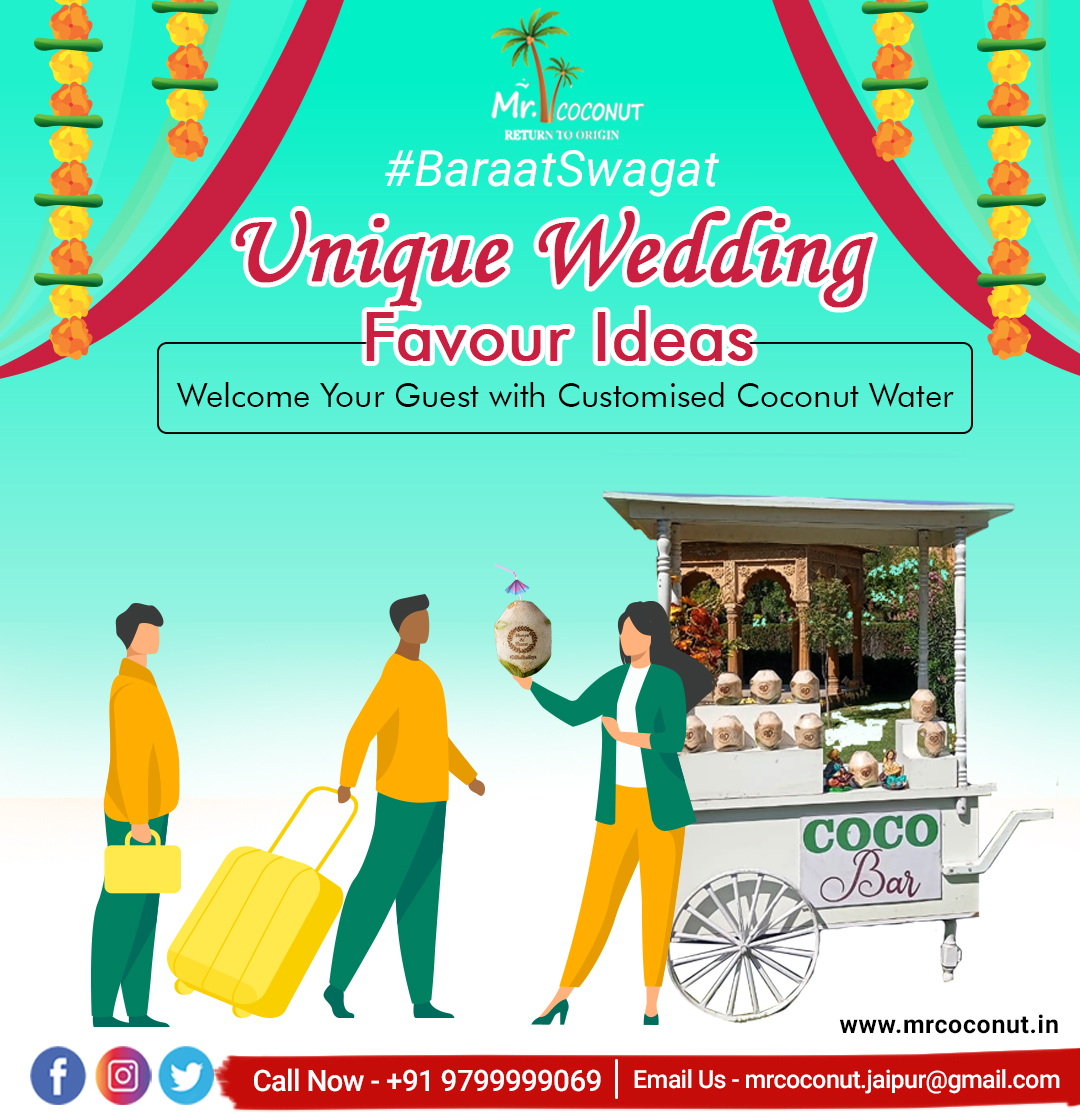 Unique Wedding Favour Ideas: Thank Your Guests in an Unusual Way
Posted by : Mrcoconut / On : Jul 27, 2022
Every wedding celebration needs a wedding favor. It is one of many things that are fundamental to the celebration. Wedding favors and gifts are given out naturally to guests around the world, but have you ever wondered when they started? The tradition was actually started long ago by European aristocrats, primarily from France and Italy. With wedding gifts, couples can spread the good luck that they carry.
In those days, couples often sent guests home with a little gift called a bonbonniere which is simply a box made of porcelain, metal, or crystal embellished with precious stones, filled with sugary treats that were seen as valuable commodities at the time. Jordan almonds are known for their bitterness and sweetness, representing the ups and downs of marriage.
Not only in European countries or in France and Italy but the tradition of wedding favors to guests is also used all over the world. Because giving gifts to guests is a way to express thanks and emotion for attending the wedding and it is also a memorable part for guests to remember the event. At Indian weddings, people often like to gift their guests a box of sweets with the same gift hamper.
In India, a wedding is not done in a single day, it is a 4–5-dayprogram and if you have a wedding in your own family then you mustlookintoa million things and make various decisions. For example, deciding on a wedding favor. These wedding favors might not be the biggest decision, but it is very important because at some point in time your guest may not remember the wedding venue or sangeet step, but your wedding favors will remain behind, so it should be special because it reminds them of the beautiful time they spend at your wedding!
Here's why Mr. Coconut introduced a Unique wedding counterprinted coconuts for events
New wedding concept
Everyone wants their wedding favors should be memorable and unique. A beautifully packed big gift hamper of rich Indian sweets and chocolates or dried fruits and nuts is a bit common for all guests and easily assumed think. This time give your guest a unique wedding favor a beautifully carved coconut drink with a rare aromatic infusion. You'll be sure to catch your guests' attention.
Customized coconuts
Packing a gift in an interesting way is often as challenging as choosing the right one. There are instances in which the packaging itself costs more than the wedding favor, only to be thrown away after the gift is opened. With a personalized coconut shell, you can create a collection that will last a lifetime.You can expect your guests to keep the coconut shell long after the wateris gone, because they are handcrafted lavishly, with stunning themes and delicate motifs.
Beautifully personalized with elegance
There is a fine line between choosing the right favors and going overboard. You certainly don't want your wedding favors to appear over-the-top or garish, even if you intend them to be impressive and show that you have spent generously. Personalized coconut water hampers convey a sense of sophistication on behalf of the sender by combining healthy drinks with natural ingredients.
Make your wedding favor useful and healthy
There's nothing worse than your wedding favorsend up in that drawer in people's homes, where they put gifts, they don't know what to do with. In truth, we all have that drawer full of artifacts and mementos that have some sentimental value, but beyond that, little else. By offering a carefully curated hamper of coconut water, you are assured that even tea lovers will find it appealing, either for the health benefits or as an entertaining item. After all, who doesn't love lemon cake or apple strudel, especially without the calories?
Take a fresh approach
As a last tip, don't get stuck on the idea of what a favor needs to be. Explore unique, budget-friendly options. For instance, you can present your guest's photo embedded with carved coconut to remember the day. This is an eco-friendly, thoughtful, and more sustainable choice.
Mr. Coconutintroducesan Emboss Coconut water which is A super Healthy Drink Consumed By all age groups and grabs the attention of all your Royal guests Byits Perfect carved logo or portrait over the shell of Your Coconut. It is India's fastest growing for engraving Customised coconuts and Personalized Coconut. They serve the best quality coconut water in a personalized way. With this, you can gift attractive and unique items to your loved ones with healthy wishes.