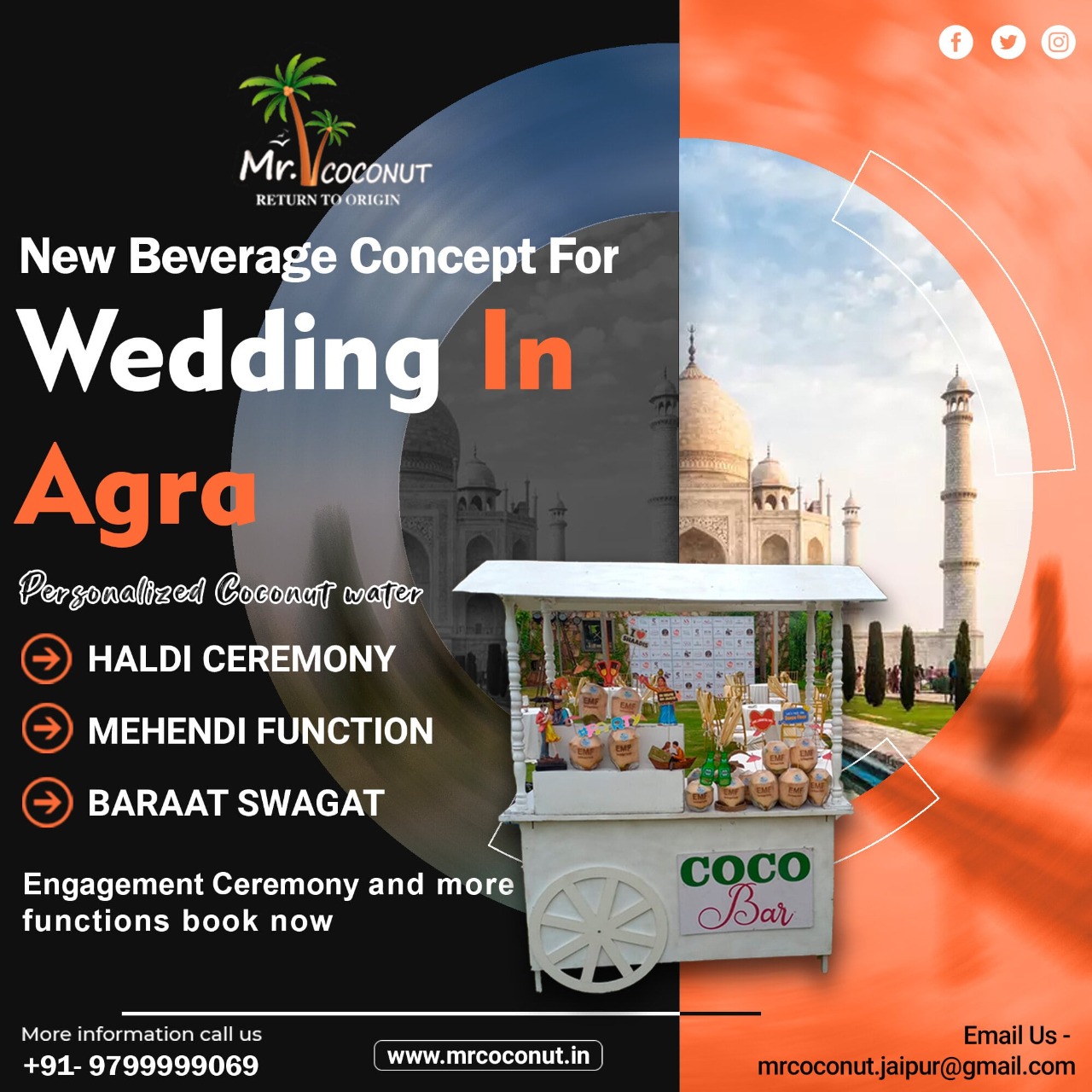 A Grand Wedding at The City of Taj "Agra" with Mr. Coconut
Posted by : Mrcoconut / On : Aug 29, 2022
Marriage is typically a union between two people who share a bond that will last for eternity. Despite whether it is an arranged marriage or a love marriage, every couple dreams of having a beautiful wedding. In addition to being synonymous with love and commitment, Agra is one of the most popular wedding destinations in the country. It is very common for them to want to marry in this beautiful state of Uttar Pradesh, with the blessings and wishes of their closest relatives.Agra is one of the most easily accessible and secure locations for weddings. When it comes to picturesque weddings, destination weddings have gained popularity. Moreover, couples choose Indian historical places a lot more when it comes to destination weddings, and why not? In addition to the most breathtaking sites in the world, India proudly hosts some of the most romantic places. Agra, the city of the Taj, has an aura that speaks volumes about love.
Agra, the city that houses the symbol of eternal love, is a city rich in culture and tradition, which one should experience at least once in their lifetime. A variety of traditions and creativeculturehasprejudiced the town over the years. Taj Mahal is not only the reason for selecting a city for a destination wedding there are many beautiful architectures in Agra that attracts people like Mehtab Bagh, Akbar's mausoleum, and Agra fort.
Choose the best wedding catering services
Wedding ceremonies become a grand affair and generally, guests remember the wedding by the quality and variety of food served. So, it becomes so important for the host to make the catering services up to the mark for the guest. Many wedding caterers offer a variety of wedding themes these days, including traditional wedding themes, Maharaja themes, and destination wedding themes, which match the overall theme of the wedding ceremony. As a result, if you have a particular theme in mind, you should discuss it with the caterer you have selected and make sure that it meets these particulars.
Beverages are usually part of the menu of catering services. Prior to signing a deal with a wedding caterer, make sure that it is going to provide you with all these services, as well as the main course, starters, beverages, and betel counters. Catering companies can offer Mr. Coconut Cocobar as part of their variety of services. It's a new beverage concept that offers tender coconut water in a personalized way i.e., stamp coconut which enhances the catering service of weddings and attracts most of the guests. Mr. Coconut also provides mocktails and bar services as a part of their beverage arrangements which helps to detox the body of guests so that they enjoy the wedding full of energy. their drinks are so tasty and healthy.
Best time to host a wedding
Agra is a subtropical place with dry summers, mild winters, and moderate monsoons. For an outdoor wedding, it will be recommended to have one during January – February, as the good winds soothe you in this beautiful city. October- November wedding season is risky due to the possibility of rain. Still, it is recommended if you are hosting an indoor wedding since the Taj Mahal is a sight to behold drenched in the shower. It is best to avoid an April-May marriage as the humid climate may take a toll on your enthusiasm. You would not be able to explore Agra with the same exuberance in tepid conditions.
Go with the wedding planner for your destination wedding.
You have many options if you have a high wedding budget and are considering hosting a destination wedding in Agra. In Agra, you can go with a wedding planner. They help you to choose from a variety of luxurious and royal wedding venues. Destination weddings might seem idyllic, but they require a lot of work and planning to be successful. Having a destination wedding planner in Agra can alleviate any worries you might have. With a wedding planner, you won't have to worry about all the details of your wedding day, from catering to guest management to vendor management to decorating and even family makeup.
Weddings at destination locations can be grand affairs, but if not planned properly, can be intimidating. For that reason, you should hire professional planners for your destination wedding in Agra to handle all details.
A royal setting for a destination wedding with Mr. Coconut
It is possible to hold a royal wedding in Agra regardless of the size of the wedding, which includes invitations for 100 guests or 3000 guests. Hence, you can enjoy the vibrant culture, beauty, food, forts, etc., of Agra during your royal wedding. In addition to its attractive options, Agra makes a great destination wedding location due to its grand and pompous nature. Your wedding will be spectacular thanks to your wedding planner's fantastic decor and catering. During the wedding season, the Bride and Groom can add a new beverage stall to the decor, so that your guests will remember your wedding for years to come. Mr. Coconut also introduced a Cocobar service, which is so popular at Indian weddings. In addition to mocktails and bar services, they offer tasty and healthy mocktails.
You can also engrave designs like bride and groom, wedding themes, and anything else that makes your wedding décor stand out, along with adding colors to your beverage stall. The addition of Mr. Coconut to your wedding décor, favor, and beverage will leave a lasting impression on your guests that they'll always remember