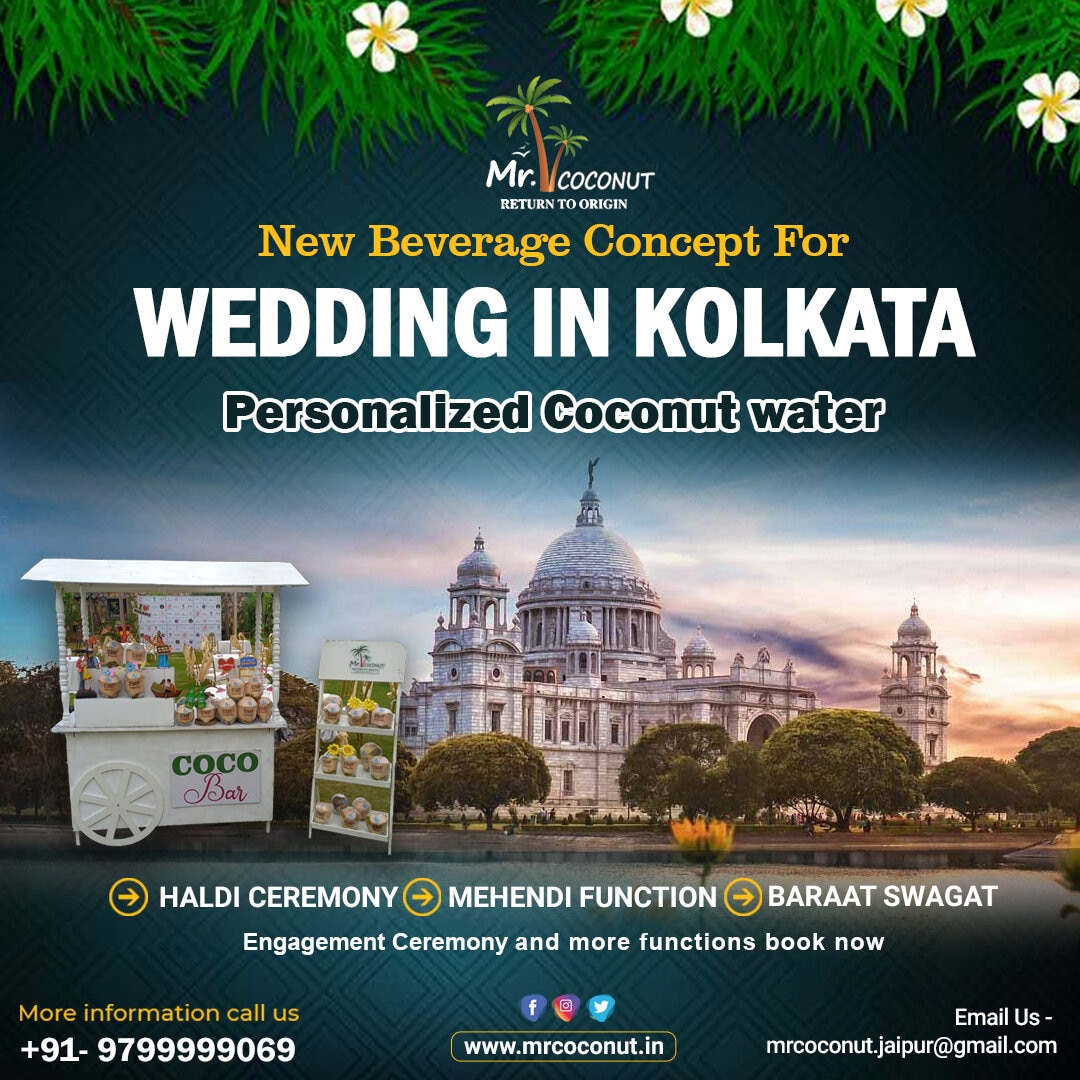 An Exotic destination wedding in Kolkata with Mr. Coconut
Posted by : Mrcoconut / On : Sep 05, 2022
After Delhi and other places, Kolkata is another name that comes to mind when it comes to deciding where to have a destination wedding in India. West Bengal's capital, Kolkata used to be called Calcutta. It is well known as the cultural capital of the country. You will cherish your Destination wedding for the rest of your life because it will be a fun-filled and frolic event. In addition to unique wedding celebrations, Kolkata weddings will offer the most relaxing time of your life with loved ones.
For those who are interested in old-world charm, this city is ideal since it has a rich heritage and culture that has been preserved and flourished to date. Kolkata is characterized by a unique blend of old and ethnic, as evidenced by the heritage trams which cross its streets. From the strains of Rabindra music to the museums, the libraries, the literature, and the clothing of Kolkata, the city offers a unique blend of old and ethnic, not to mention the beautiful sweet Bengali language. An immersive stay in Kolkata will provide you with a true understanding of Kolkata culture, and your destination wedding will be one such stay.
Enjoy the ethnic celebration with Bengali cuisine
Thecultural capital of the country gives you many options for making your destination wedding a unique experience with an ethnic ceremony. Kolkata is the perfect place to have an ethnic celebration. Its rich heritage and culture have made it one of the best destinations for destination weddings in India, which has led to the growth of many wedding planners.There is no need for you to worry when you plan your destination wedding in Kolkata because you can find several wedding planners and vendors who are more than qualified to handle all your wedding needs. You will be able to enjoy the best experience at your wedding because they understand that your wedding is a once-in-a-lifetime event. Their services include everything you need for your wedding, from finding the perfect wedding photographer to arranging accommodations for your guests.
You and your guests will be captivated by Bengali cuisine in Kolkata, one of a kind, which tickles their taste buds for the rest of your lives. Food plays an integral role in Kolkata's culture, and it is associated with some unique foods typical to Kolkata. Aside from the famed sweets Roshogulla, Chum-Chum, and Sandesh, Kolkata offers enticing street food with its own unique variations that will tempt your guest's palate. With this, you can also give your Bengali destination wedding a tropical touch by incorporating Mr. coconut's personalized coconut water. They introduce their Cocobar services recently which is a new concept of beverage stall that serves amazing mocktails in a healthy style. They offer stamp coconut water that is personalized with an engraved design chosen by the host. By adding the new beverage stall you can enhance your catering services at the wedding.
Complete your pre and post-wedding rituals with Mr. Coconut
The Bengali wedding traditions will be so much fun to participate in, such as the bride's entrance at the wedding, their beautiful and colorful wedding attire, cuisine and so much more.The city of Kolkata literally offers an array of options for everyone. You can hold your pre-wedding bash here in the most picturesque setting. There are many romantic venues in Kolkata for sangeets, cocktail nights, and bachelorette parties, and the best part is that you do not need too many frills to make your event memorable. Your event will be enhanced by Kolkata - the city of joy.
While planning in Kolkata, make sure to figure out the wedding favor for your guest. Decide in advance because it is the most important thing in any wedding. It is all up to you whether you go with a traditional wedding favor or choose a unique concept like Mr. coconut. Yes, Mr. coconut offers you to go with unique wedding favor this wedding season. Say thank you to your lovable guest with the stamp coconut water with the personalized theme of your wedding. As they offer only fresh and tender coconut which is healthy for your guest. They perfectly engrave the chosen style on the shell of the young coconut mesmerizing the guest whenever they see the personalized coconut, they always remember you. This sort of wedding favor set a new trend in the wedding industry and your guest will love this healthy way.