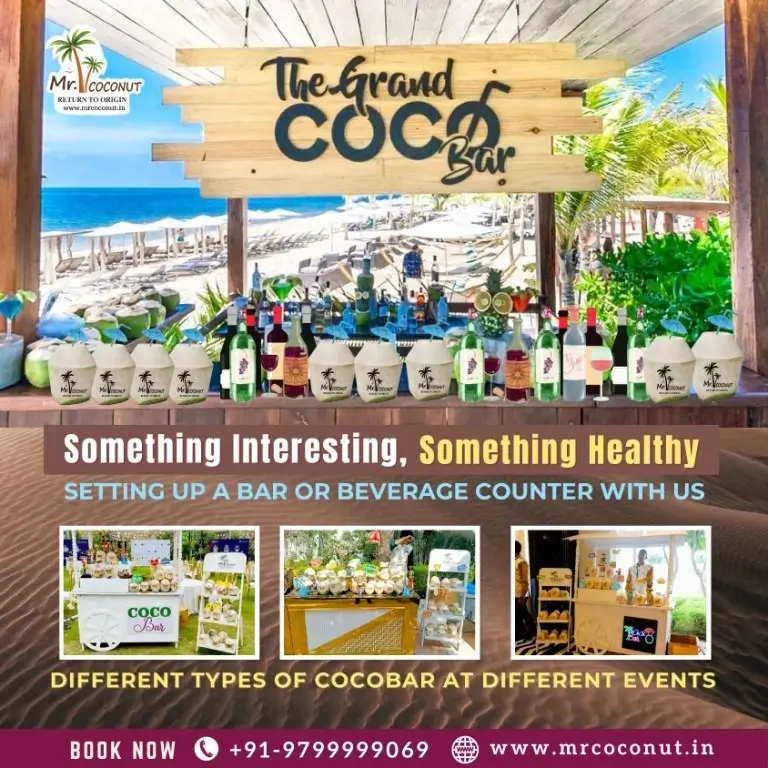 Offer Your Wedding Guests a Quick Detox with Mr. Coconut's Cocobar
Posted by : Mrcoconut / On : Dec 03, 2022
Did you know? Setting up a bar or a beverage counter is a must-have these days in destination weddings. As there are a lot of ceremonies at a wedding, guests expect an interesting bar where they can quickly refresh themselves with a drink so that they can take part in the wedding celebrations with full energy!
Nowadays, you will come across most weddings that feature a bar or a beverage counter for guests. This is not just limited to the main day of the wedding but other ceremonies like Baraat Swagat, Haldi, Mehendi, Roka and many more. However, setting up a regular bar which serves carbonated/fizzy drinks or alcoholic drinks is an old trend. Why not try something interesting? Something healthy? This is where Mr. Coconut's Stamp Coconut & Cocobar comes into the picture! Who is Mr. Coconut? What is a Stamp Coconut? Is Cocobar different from the regular bars? Want to know more? Read on to find out!
Mr. Coconut Provides Beautifully Designed Stamp Coconuts
Mr. Coconut is one of the top companies in India offering intricately designed carved coconuts for weddings and different types of wedding ceremonies. What is a carved/stamp coconut? Mr. Coconut's CEO realized that serving carbonated/sugary drinks in weddings is not an ideal way to refresh your wedding guests. They need something healthy that can keep them refreshed for a long time. That's how the team found out about tender coconut water in beautifully crafted Monogram Coconut! But simply serving your guests coconut water in plain old coconuts doesn't look fancy.
That is why the team came up with the idea of stamping or carving the coconuts with:
● Memorable pictures of the couple
● Logos of the event
● Hashtags of the couple or the event!
This way, the guests get a quick detox and they also get to experience a personal touch due to the intricately designed and shaved coconuts (with pictures, hashtags or logos of the couple/event). Planning a traditional wedding in Lucknow? Mr. Coconut's Cocobar can be the perfect bar to give your guests a quick detox!
What is a Cocobar?
Cocobar is a flagship coconut water bar crafted by Mr. Coconut where your wedding guests can get a quick detox and refresh themselves with tender coconut water. The Cocobar is manned by a professional bartender who will unseal top-quality coconuts and serve them to all your guests whenever required. Have your destination wedding in Hyderabad? Mr. Coconut will set up a Cocobar in no time to give your wedding guests a royal drink!
Cocobar – Revolutionizing Wedding Beverage Counters
Cocobar isn't your typical bar or beverage counter that you see at weddings. Here's what makes Cocobar unique from the rest of the bars/beverage counters:
● You can get the Cocobar customized according to the theme of your wedding.
● You can also add beautiful décor and design elements to the Cocobar.
● Mr. Coconut's team holds years of experience in customizing the bar according to your themes and preferences
● Cocobar is manned by a dedicated bartender who will serve all your guests with fresh coconut water in beautifully designed peeled coconuts.
● The best part about Cocobar is that your guests are served with healthy and fresh coconut water that offers a quick detox, unlike the typical carbonated drinks that harm their body. Planning your wedding in Surat? Connect with Mr. Cocobar to get a beautifully designed Cocobar for your wedding beverage needs!
Tips to Make the Most Out of Cocobar
1. Use Cocobar for your Poolside Party
Cocobar can be set up for any wedding ceremony including pool parties. You can get the Cocobar designed for a poolside party theme and set it up so that your guests can enjoy a refreshing drink after a swim in the pool.
2. Serve Signature Wedding Beverage at Cocobar
Instead of serving carbonated and fizzy drinks as signature drinks, you can use the Cocobar as a dedicated wedding beverage counter where signature Stamp Coconut water can be served to your guests. This way the guests won't get confused about the signature drink and get a quick detox.
3. Use Cocobar for Photo Shoots Cocobar
can also serve as a unique backdrop for clicking some memorable pictures with your besties, fiancé or wedding guests.
4. Customize the Bar according to your marriage ceremony
Mr. Coconut can customize the Cocobar according to your wedding or the wedding ceremonies as well! Simply tell the team about your design needs and they will take care of the rest! So, what are you waiting for? Get in touch with Mr. Coconut today to book a beautifully customized Cocobar for your destination wedding!