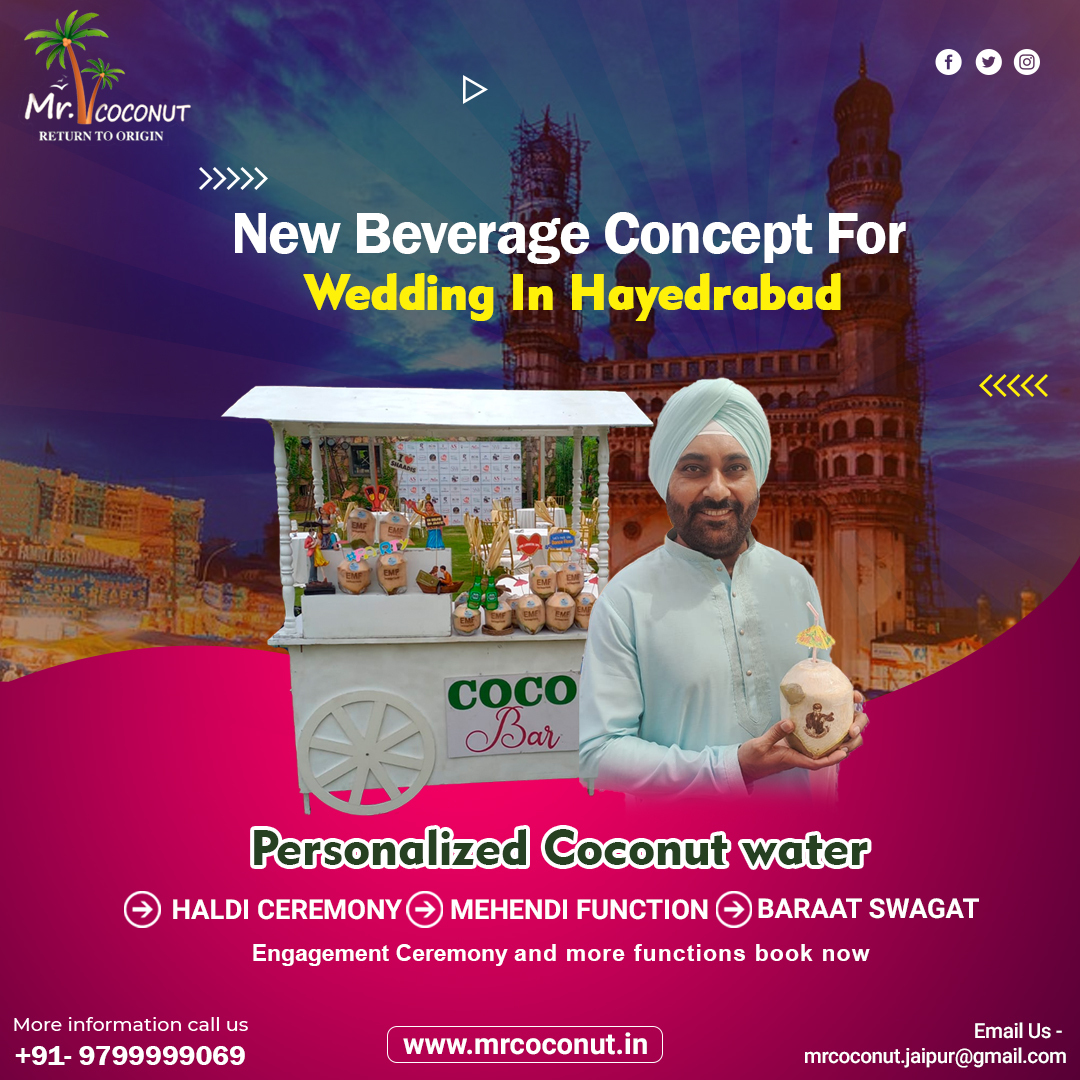 Destination Wedding at The City of Pearl "Hyderabad" with Mr. Coconut
Posted by : Mrcoconut / On : Aug 26, 2022
Indian weddings are always lavish and extravagant affairs. It is customary for Indians to hold elaborate wedding ceremonies in front of friends and family, from pre-wedding celebrations to post-wedding celebrations. To-be brides and to-be-grooms usually already have an idea of what kind of wedding they want, but choosing the right venue is the first step toward planning the perfect wedding.
It takes an entire lifetime to get your wedding planning right, whether you're planning a simple affair with close friends and family or a big fat Indian affair with everyone in your family. Your wedding venue shapes a lifetime of memories from your big day. There is a lot of interest in destination weddings in India but the whole phenomenon is associated with a lot of investment and resource waste. People should go with the destinations that offer a much more unique experience, have a lot of character, and are significantly cheaper to travel to! "Hyderabad" city gets a ton of attention when you are planning to have a destination wedding in South India Hyderabad is a popular city also known as the city of pearl and mainly popular for destination weddings, this city offers everything that you will ever need to plan for a great destination wedding!
Here is why to choose Hyderabad as a destination for a wedding

The city of pearl gives Royalty feeling
In Hyderabad, weddings will honor the ways of the mighty Nizams who once ruled the land with pomp, glitz, and grandeur. Royal weddings in Hyderabad have a genuine byzantine atmosphere, as they are surrounded by much pomp and mirth. There is nothing like a royal wedding in Hyderabad; it has a magical feel of royalty; it's the perfect place to have your wedding.
A destination wedding with Royal Set up
If you planning to host a grand and lavish wedding, then Hyderabad has a lot of the best venues in the city. This venue gives the royal touch and feels to your weddings like the queen and king feel once who lived there. These venues are perfect for the royal destination wedding. The city has many stunning locations outside the city destination wedding in Hyderabad and probably in the country as well. These venues are peaceful and calm away from the crowded city life. The beautiful venue has space to host many wedding events with anywhere around 500 to 3,000 guests at the wedding. They have multiple outdoor and indoor to celebrate any wedding event like Mehendi, Sangeet, Haldi, etcto make a perfect setup for a royal wedding.
Your wedding guests will enjoy Hyderabad unexpectedly
Hyderabad is more than just a perfect destination wedding location; it is also a perfect city for treating your guests. Your wedding guests will have an opportunity to discover the city that is a mix of ancient and modern India. In addition, Hyderabad offers a great shopping experience for your guests who love the local bazaars as well as a trip to the historic Golconda Fort and Charminar. Your wedding guest can explore the Koti market, Begum bazaar, Nampally, or antique market to get some antique items of decor.
Hyderabad – the city with many Weddings planners
Wedding planning is one of the most difficult tasks in life, but this task becomes even more challenging when the venue is in another country or city. In Hyderabad, there are many wedding planners to choose from. You do not need to worry if you choose to hire a professional wedding planner; just research and hire the best company to handle everything from your wedding venue and catering to your wedding photography and décor. If you are planning a destination wedding in Hyderabad, you may be able to find customized wedding packages based on your preferences, your choice, and your budget. Numerouswedding planners and professional planners can help you choose a venue, arrange hotel accommodations for your guests, cater, and decorate your wedding. Some wedding places even have their in-house wedding planners, so you can coordinate with them if you wish. Wedding planners make sure that all your and your guests' needs are met.
A destination wedding with Hyderabadi cuisine
Hyderabadi cuisine, which is also called Deccani cuisine, is a cuisine that is influenced by the native cooking style of Hyderabadi Muslims. However, it is a mixture of Turkish, Arabic, andMughal cuisines, as well as Marathwada and Telgu cuisines. As well as wheat, meat, and rice, Hyderabadi cuisine has a wide range of spices, herbs, and natural ingredients. From banquet food for weddings and parties to festival foods and travel foods, Hyderabadi cuisine offers different recipes based on the event and therefore is categorized accordingly. There are many famous Hyderabadi dishes such as Hyderabadi Haleem, Lukhmi,Tahiri, Hyderabadi Biryani, Qubani ka Meetha, and Shahi Tukda.
Hyderabad catering
Hyderabad wedding places provide their guest a lip-smacking delicious food and drinks from the city and other parts of the country as per the priority of the guest. But if you are in Hyderabad then you have a great opportunity to get a touch of nature through their local drink of south India with a personalized touch. If you hire a wedding planner for cateringor you are arranging yourself then you can incorporate Mr. Coconut Cocobar's service at your wedding and give your destination wedding a different look and feel with stamp coconut. Cocobar concept at weddings is a new beverage concept in weddings for the healthy style of mocktails and bar services. It helps to detox your body and keep you hydrated and fresh through the wedding. But If you are planning to go with multiple cuisines from across the country which includes food from South India, North-Indian, Rajasthani, Bengal, Indian Street food, etc. can be easily organized.
Customize your Destination Wedding packages
Those who are interested in hosting a destination wedding in Hyderabad and have a high wedding budget have a lot of options. Hyderabad offers you customizable wedding packages. There is no problem at all since the place has many luxury and royal wedding venues that suit your needs. Also, your wedding package can be customized according to your requirements and needs.
Royal setup for a destination wedding with Mr. Coconut
Hyderabad offers you venues to host a wedding in a royal way, from an intimate ceremony of 100 guests to a grand affair of 3000 guests. For these reasons, you can be sure that you will get hitched in a royal way in Hyderabad and enjoy the vibrant culture, beauty, food, forts, etc. You can choose any type of wedding, but it must be grand and pompous. Hyderabad is a great place to host a destination wedding because it has incredibly beautiful options. With a wedding planner make your wedding splendid with the amazing decor and catering. This wedding season they can go with Mr. coconut and add a new concept of beverage stall at the wedding which enhances the theme of your party and décor to that help the guest remembers your wedding for a lifetime. Mr. Coconut also launches their Coco bar service which is so trendy these days at Indian weddings. They provide a healthy style of mocktails in stamp coconut and bar services that are so tasty and healthy.
Mr. Coconut not only enhances your beverage stall but also gives a highlight to your wedding décor. You can also add stamp coconut as a wedding favorfor your guest with the engraved design of bride and groom, wedding theme, or any design that make you rememberable for everyone. So, this time enhance your wedding décor, favor, and beverage with Mr. coconut and give your guest a long-lasting impression that always is remembered for the rest of their life.