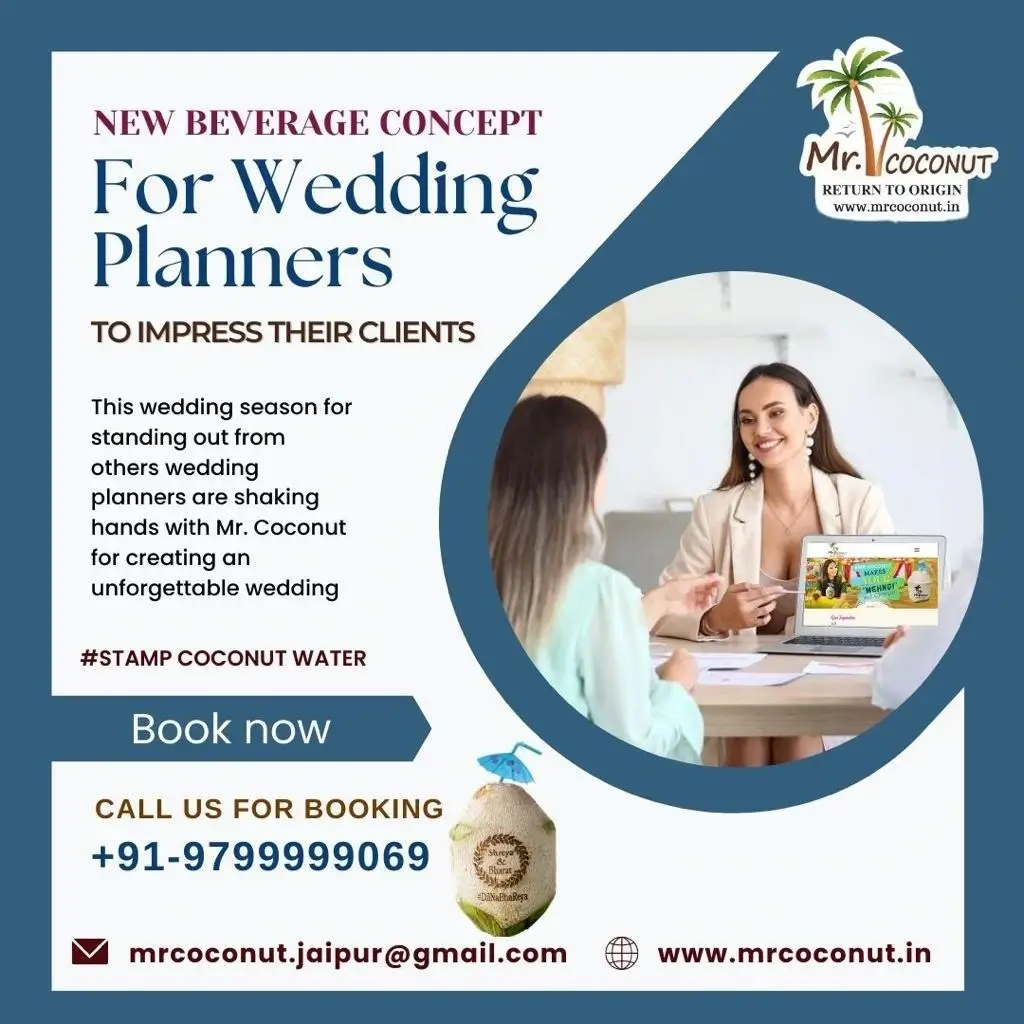 The Perfect Wedding Planner for a Perfect wedding with Mr. Coconut
Posted by : Mrcoconut / On : Dec 07, 2022
The big day has arrived! Congratulations! There's a lot of fun involved in organizing a wedding, but it takes a lot more effort than you think. The fact that hiring a wedding planner is a luxury may seem to make sense at first, but once you consider the savings you will get, it becomes clear that hiring a planner is an absolute necessity.
A wedding planner is a professional
The preparation of a wedding takes a lot more energy and time than most people realize, whether you are inviting 50 guests or 1000. Wedding planners have been involved in planning several weddings and understand the challenges of organizing an event that is one of a kind. Your day will be made as special as possible by acting as your budget manager, designer, on-site organizer, and more. This will also include are all the ingredients you'll are looking for.
Budgeting can be made easier with the help of wedding planners
How much money to allocate to each category of a wedding budget can be challenging How much money should you save and where should you indulge? What is the appropriate floral budget in your location? Are you want to provide the Pinterest feels that you appreciate? Like with Mr. Coconut personalized coconut water gives your wedding or its function a different look. Their Cocobar services serve the tender coconut in an amazing way. They can analyze your overall budget and come up with an amazing and memorable wedding plan that is within your financial means.
Planners will ensure the perfect execution of your wedding
Your long to-do list will not only be checked off with the help of a professional wedding planner, but it will also be executed well. Establishing trust in couples early in the process is crucial. Building a relationship and establishing trust is a crucial part of helping couples create beautiful, meaningful, and budget-friendly ideas, for a destination wedding in Jaipur, Delhi, Shimla, Goa, and Hyderabad but also selecting the right team of creatives to translate those visions into reality. Trust your team, and remember we are all here to celebrate your wedding.
Depending on your needs, wedding planners can help
If you are a perfectionist, you may want everything at your wedding to be flawless, so you'll need help. In order to make this process easier you'll need to hire a wedding planner. You don't know what to include in your guest welcome bags, how much information to include in your ceremony program, how much 'signage' is too much, etc. for example shaking hands with Mr. coconut's wedding planner can make the welcome goodies memorable for your guest for life long. Mr. Coconut serves the best monogram coconut in India that is to healthy and tasty. Their stamped coconut attracts the guest with the beautifully engraved design on the finally shaved and peeled coconut.
Value your money:
As wedding planners have a significant amount of experience in the industry, they can help you fix a budget for your wedding and list down the various ideas you could have within the fixed budget. As they know what the priority is or important for a wedding. And they know all tricks to manage the things in the budget as they have industry experience. This wedding seasons try to find a wedding planner who makes your wedding unforgettable for everyone and gives the best experience to all the guests whether it was a destination wedding or a local wedding, but it so is a fairy-tale one, especially for the bride and groom. So, hiring the best wedding planner is the most important task to make all the work done flawlessly. For making the wedding unforgettable, Mr. Coconut launches a new idea and trend in the wedding industry of Monogram coconuts that can be gifted as a wedding favor or as welcome goodie bags to our guests or we can serve as a welcome drink or incorporated on a counter in the wedding or its functions. They have beautifully engraved designs on the shell of young coconut it could be any design like the initials of the bride and groom, wedding theme, or picture anything but it is done very finely that will attract all the guests.
Wedding planners can go with this trend and stand out from the crowd by incorporating Mr. Coconut stamp coconut. With this you can for sure get so my appreciation from the host and guest for making the wedding rememberable for life long for everyone...!