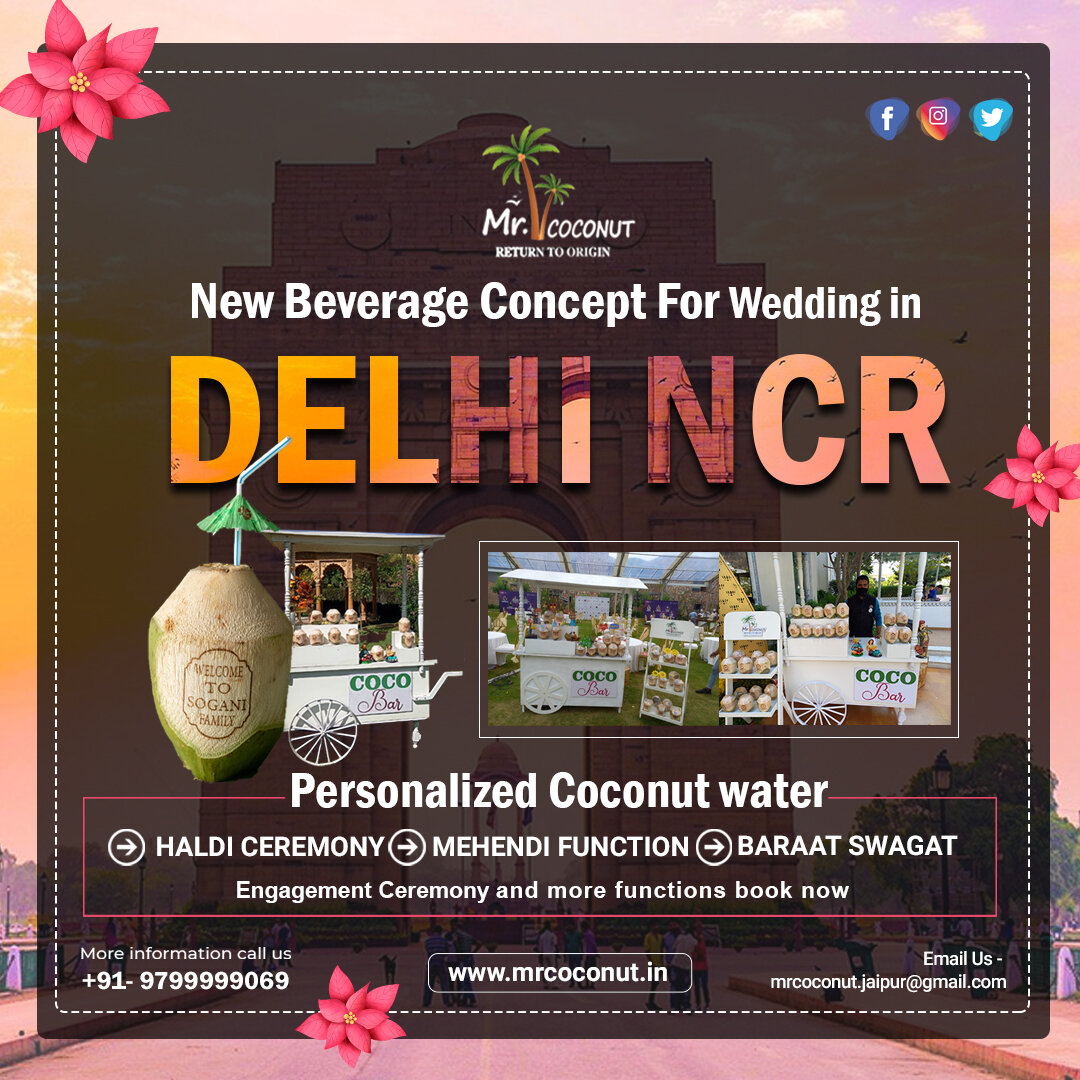 Amp Up Your Dream Destination Wedding in NCR with Mr. Coconut
Posted by : Mrcoconut / On : Sep 10, 2022
The Delhi-National Capital Region (NCR) is an impeccable holiday destination featuring the best of both worlds –Traditional Mughal legacy and Cutting-Edge Urban Development. From spell-binding architecture to vibrant nightlife, bustling flea markets and lip-smacking food, Delhi-NCR has it all for holidaymakers and destination wedding planners. Speaking of weddings, Delhi-NCR happens to be one of the top locations for destination weddings. Let's quickly look at how you can make your destination wedding in NCR interesting and unique with Mr. Coconut!
Destination Wedding in NCR – An Ideal Location for New Beginnings!
Delhi-NCR is regarded as one of the best places to host your dream destination wedding due to a variety of reasons like:
● The presence of a wide range of wedding & shopping markets
● Home to some of the best wedding planners in India
● State-of-the-art venues – Luxury Hotels, resorts, banquet halls & more
● World-Class Facilities for Guests
● In-house catering & décor – Multi-cuisine food & beautiful decorations
Delhi-NCR also boasts stunning architectural & historical sites as well as tourist attractions that can keep you and your guests engaged during the wedding preparations.
Top Destination Wedding Venues in NCR
Here are some beautiful and enthralling venues in the NCR where you can host your destination wedding:
● Crowne Plaza – Mayur Vihar
● The Leela Ambience – Gurgaon
● Noor Mahal – Karnal ● Four Points by Sheraton
● Tivoli Royal Court – Okhla
● Best Western Country Resort - Manesar
How Can Mr. Coconut Liven Up Your Destination Wedding?
Mr. Coconut is one of the leading brands in the country known for creating beautifully carved coconuts for weddings and ceremonies like Sangeet, Mehendi, and Baraat Swagat amongst others. The team at Mr. Coconut realized that at most weddings, guests are served sugary or fizzy drinks that are harmful. As they contain more sugar content that can lead to health risks in the future. That's why the team came up with the idea of personalized coconuts!
Beautifully Carved Coconuts – A Personal Touch from Mr. Coconut
Coconut water is abundantly available in India. However, serving the same coconuts at a wedding wouldn't be much of an eye-catcher. That's why Mr. Coconut brought intricately printed coconuts for marriages. These coconuts can be customized according to your wedding requirements. Mr. Coconut holds expertise in carving pictures of the couple, hashtags or logos of the event as per your preferences. So, instead of serving the same-old and harmful fizzy beverages, you can offer your guests a refreshing natural drink in the form of beautifully designed coconuts from Mr. Coconut!
Tender Coconut Water is One of the Best Natural Beverages
Many scientists and leading reports state that coconut water contains excellent hydrating properties. Coconut water is low in calories, contains good amounts of potassium and is free from fats & cholesterol. This promotes health and well-being, unlike the sugary & carbonated drinks that are made from chemicals.
The Coconuts are Sealed with Love & Care to Ensure Freshness
Mr. Coconut seals each stamp coconut with love and care to maintain the quality and freshness of the tender coconut water. So, when you or your guests unseal the customized coconut, they will get to drink fresh & top-quality coconut water at the wedding!
Cocobar – A Uniquely Built Coconut Water Counter for Weddings
Almost every destination wedding features a bar or a beverage counter manned by mixologists or bartenders. They usually serve cocktails, mocktails or other sorts of sugary drinks to guests. To give a healthy alternative to these beverage counters, Mr. Coconut came up with Cocobar – a beautifully designed beverage counter at weddings where you and your guests can detox by drinking fresh coconut water from custom-made coconuts.
A Unique Product for Wedding Planners & Themed Weddings
Top wedding planners who want to plan a destination wedding in NCR can include Mr. Coconut's personalized coconuts as an innovative product in their presentations for prospective clients. The meticulously carved coconuts can also be used as:
● Breakfast Beverage in Weddings
● Room Hampers in Destination Wedding
● Unique Wedding Favor Ideas for Guests and for other wedding purposes
The coconuts can also be used as new wedding décor ideas or beverage ideas for themed weddings to amp up the entire mood of the event! So, what are you waiting for? Get in touch with Mr. Coconut's team to book your Cocobar and personalized coconuts to Amp up your destination wedding in NCR!