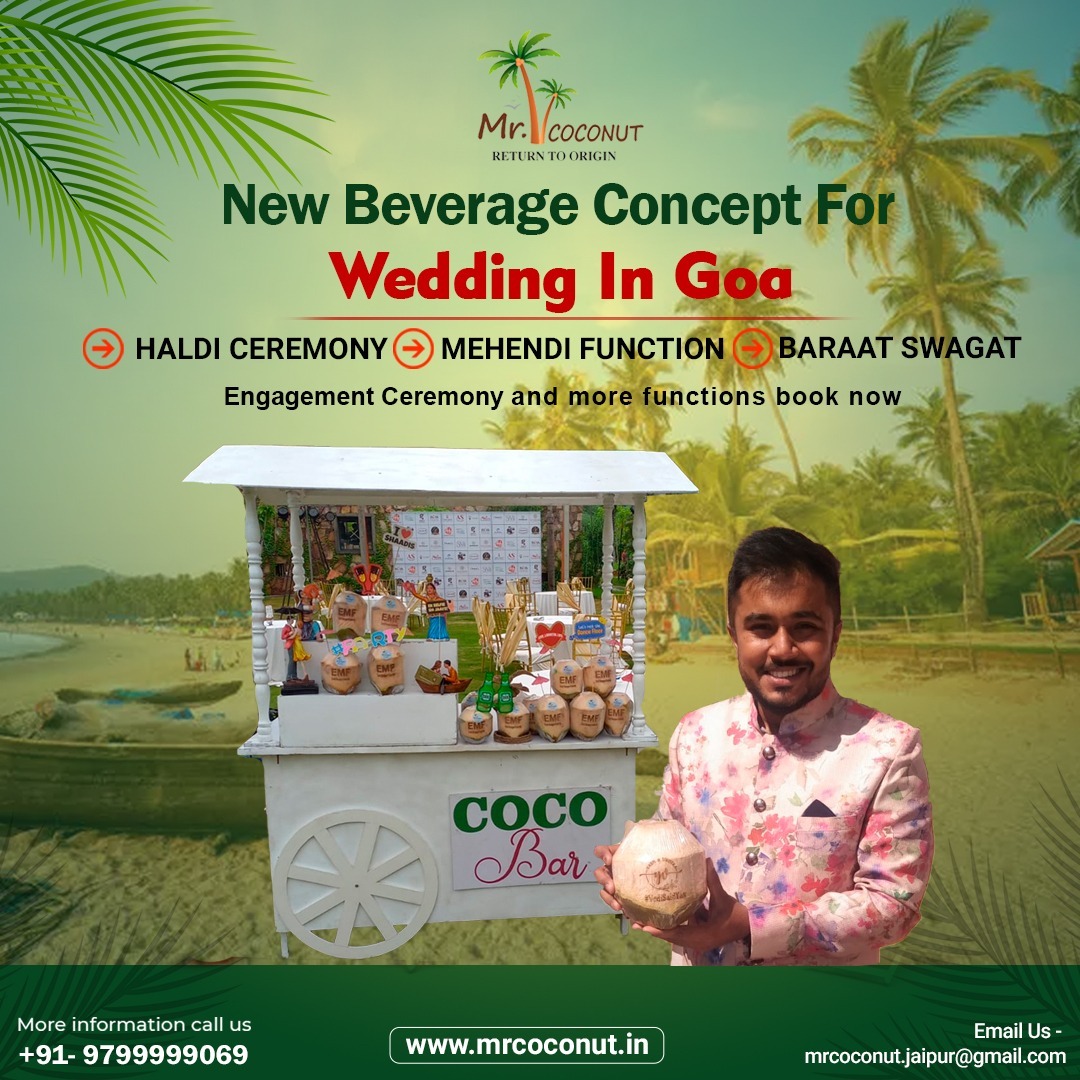 Add a personalized touch to a picturesque Goa wedding with Mr. Coconut
Posted by : Mrcoconut / On : Aug 23, 2022
These days, many couples and families are drawn to destination weddings because they want to experience their special day in their own special way. Many people dream about a dream wedding in a romantic locale. It is important for everyone to make this day memorable, so they want it to be something that reflects their personality, which is not always possible in their hometown.There are many wedding destinations that offer relaxation and natural beauty far from the hustle and bustle of the city. Couples are looking for wedding destinations that are out of the way of the noise and buzz of metro life. They may opt for a resort or cruise, or they might choose the best hotels in areas of natural beauty. There is no better place to tie the sacred knot than Goa if you are in search of such a destination.
Goa has a relaxing and chill environment, beautiful locale, and scenic beauty that consists of all things the couple is looking for. There is something unique and idyllic about the place which makes it perfect to host a unique and romantic wedding in Goa.Apart from that, there are many more other reasons for gaining popularity among people for choosing goa for their destination wedding.

Goa's weddings are splendid.
If you are planning a destination wedding in goa then you have many numbers of choices to go with like choosing a church wedding to a luxurious private resort indoor wedding, cliff side wedding to a tropical style wedding, and an exciting wedding to an island wedding. Try to choose south goa for your beach wedding because it is much cleaner and less crowded. They are splendid and much more economical than international destination beach weddings. South goa is so beautiful you can see and feel the unspoiled natural beauty. Along with the chanting Vedic mantras with a crystal clear blue sea, the golden rays of sun that sparkle in the flowing water, and a refreshing sea air that provides you a perfect setting for your marriage and that is more than enough to take you into an idyllic world.
Far away From the Exasperating Crowd
People who don't like their faces being touched can face difficulty coping with weddings and receptions. A wedding at home or in the neighborhood may require you to say 'hello' to people who may be completely unknown to you. In Goa, you may invite only a few close family and friends to your wedding. This reduces the cost of the event and allows the newlyweds to spend some intimate time together and enjoy their wedding. In addition to taking care of guests' comfort, the wedding planners give the couples and families plenty of time to interact.
Selecting the perfect location in Goa
Selecting the right wedding place is the most important thing when you opt-infor a destination wedding, it should be spacious and fit your style and be sufficient for your guest if you want stress free wedding your guest should be top on your priority. Goa has various luxurious and classy options you can choose from as per the number of attendees. Some of them are The Leela, Riva Beach Resort, Cidade de goa, The Zuri white sand, Grand Hyatt Resorts, Alila Diwa, etc.
Appoint the best wedding planner in goa for a fairy-tale destination wedding
These days the popularity of destination weddings is on the boom, and goa is also gaining much popularity as a best destination wedding place. Planning a destination wedding in Goa without the help of local planners is almost impossible. You must hire a wedding planner you trust and believe will be able to handle the planning. A good planner will lower vendor prices because they give vendors orders all year long and know the correct market rate. Also, a good planner can present you with innovative ideas and steer you away from a cookie-cutter, ordinary wedding. As well as keeping your budget in check, the planner will keep track of the process and keep track of your timeline. Having your wedding planned by someone who can negotiate the most favorable prices, negotiate the best venue deals, take care of guest management, arrange the décor and all other related things can make life much easier for you.
When it comes to professional wedding planners and event management companies offering end-to-end solutions, there are many options available to choose from. These companies are preferably local and have access to the best deals available for your wedding in Goa. The wedding planners in Goa can assist you with choosing a location, booking hotels, planning menus, and planning wedding rituals at a very reasonable cost compared to other wedding planners and their costs.
Come to Goa for a lavish destination wedding with Mr. coconut
Goa is so popular among the people for a destination wedding because it provides many unique facilities to you. Every couple wants that their wedding should be memorable, so they already have a preconceived idea that what their wedding is like. With the help of a wedding planner, you can make your wedding a westernized one or a truly Indian affair. You can go with the quiet beach wedding or inside the resort area with authentic food, beverages, new wedding decor ideas, and everything else for the wedding function like Mehndi, Haldi, Sangeet, Barat, and wedding reception.
A wedding planner helps to make your wedding splendid with the construction of tailor-made, "mandaps', jewelry, costume, foods, decoration, and a new concept of beverage stall. Yes, you hear right, wedding planners go with the new beverage idea or cocobar concept at weddings for the healthy style of mocktails and bar services.Mr. Coconut is also a new and trendy concept that people will love in a healthy and beautiful manner. Wedding planners collaborate with Mr. coconut because their Cocobar service provides healthy mocktails to the guest with a personalized touch thatis soo tasty and healthy. This personalized coconut watermakes your big day memorable for everyone. The stamp coconut water is not only to serve your guest, but it also enhances the wedding décor and uses as a favor gift for the guest which they always remember.
You can engrave the picture of the bride and groom, their name, or the theme of the wedding on the young shell of coconut water. These stamp coconut water make this special day unforgettable for the guest and for you. Mr. coconut serves only healthy and natural products without preservatives or chemicals. This will give your guests a lasting impression that they will cherish for the rest of their lives.