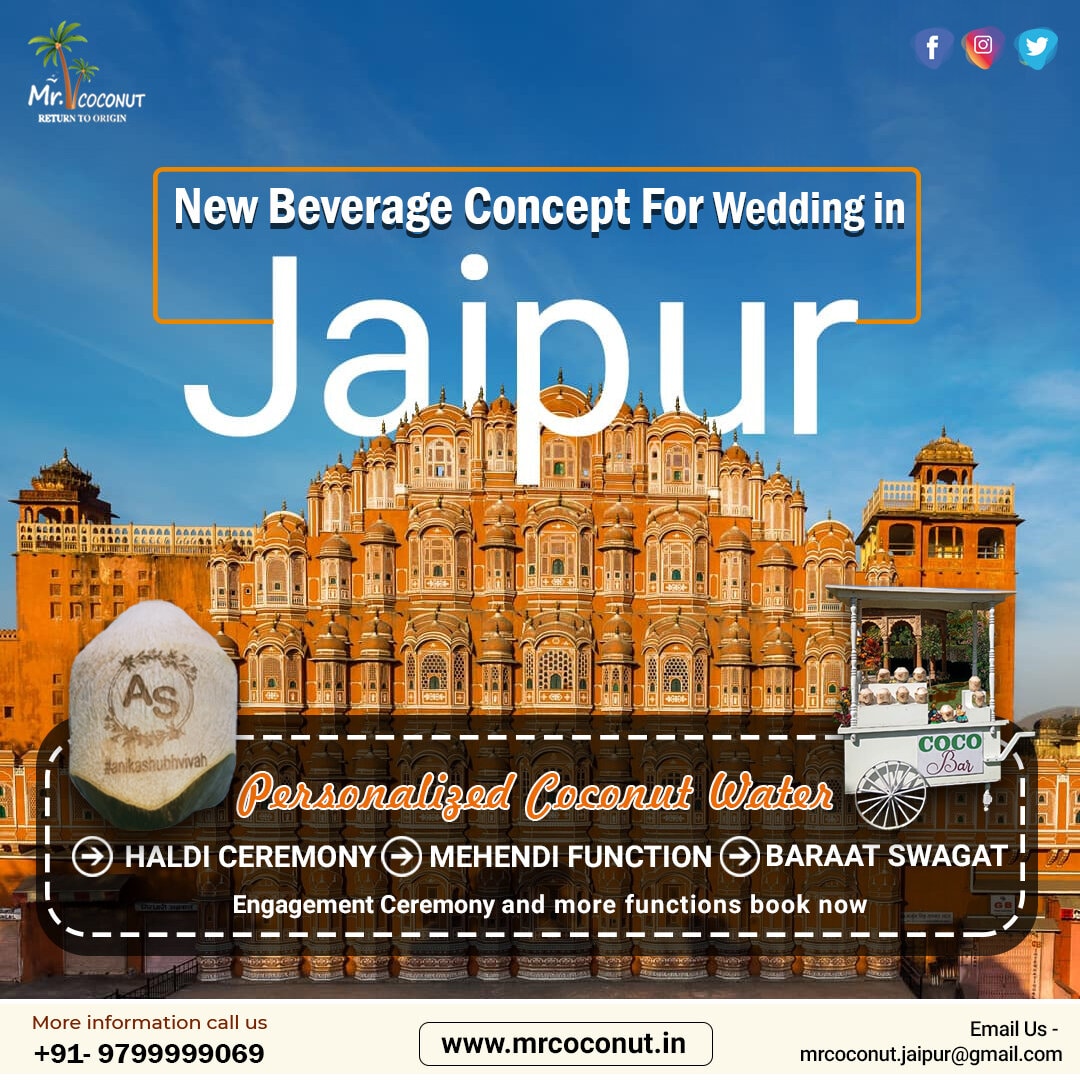 Revitalize Your Destination Wedding in Jaipur with Mr. Coconut
Posted by : Mrcoconut / On : Sep 07, 2022
Jaipur, the Pink City of India is a historic place that is quickly becoming one of the top destination wedding venues in India. The beautiful city Jaipur brings the best of traditions and modern elements which makes it an ideal spot for tourists and sybarites. Did you know? To welcome the Prince of Wales, Jaipur was painted pink (traditionally associated with hospitality). That's how Jaipur came to become the Pink City! Jaipur happens to be one of the very first planned cities in India and its planning was done according to Vastu Shastra. That's why you'll notice that most of the streets and markets are North to South and East to West. Looks perfect for a destination wedding, doesn't it?
Destination Wedding in Jaipur – Begin Your New Journey!
Jaipur is famous for a variety of activities and tourist attractions like:
● Historic Forts – Nahargarh Fort, Amer Fort, Jal Mahal & Hawa Mahal
● Shopping – Rajasthani Handicraft Emporium & M.I Road
● Nature Wonders – Ranthambore National Park
● Street food – Kachori, Dal Bati Churma, Gatte ki Sabji & more
● Festivals – Jaipur Literature Festival, Camel Festival & more
The city houses some of the best wedding planners in India so your wedding preparations will get sorted in no time!
Top Destination Wedding Venues in Jaipur
Here are some stunning venues where you can enjoy an unforgettable destination wedding:
● Marriott
● Leela Palace
● Le Meridien
● Rambhag Palace
● Hyatt Regency
● Fairmont
● Shiv Villas
How can Mr. Coconut Revitalize Your Destination Wedding?
Mr. Coconut is one of the few companies in India that specializes in providing beautifully carved coconuts for weddings and marriage ceremonies like Barat Swagat, Sangeet, Mehendi, Haldi & other events. The CEO of Mr. Coconut and his team came up with the idea of customizing coconuts when they realized that most weddings featured harmful fizzy/sugar drinks or alcoholic beverages. However, serving natural drinks was a costly affair. But, with coconuts, the team was able to bring a beautiful design element in the form of carvings that included personalization according to weddings and ceremonies.
Personalize Your Wedding Drinks with Beautiful Stamp Coconuts
Any guest would love it when they are presented with a personalized item. It could be a gift, a welcome drink or any other thing. And Mr. Coconuts intricately designed coconuts with tender coconut water are the perfect product for destination weddings. How? Easily get the coconuts customized with carvings displaying hashtags of the couple, photos of the couple or logos of the wedding ceremonies. So, whenever a guest gets the personalized coconut in their hands, they will instantly recognize the amount of effort and detail that you put in. They'll simply love it!
Cocobar – The New Age Coconut Water Stall at Marriages!
Serving custom-made coconuts to guests might seem like a difficult task. That's why Cocobar comes to your rescue! Just like you set up a beverage stall or bar with bartenders or mixologists, Mr. Coconut will set up a beautifully designed Wedding Beverage Counter at your destination wedding. The stall will be manned by a professional who will be serving delicious coconut water to all your guests. Let your guests get a quick detox at the Cocobar! They'll leave the stall feeling fresh and revitalized!
Promote Health & Well-Being with Delicious Coconut Water
Leading surveys and research state that tender coconut water is one of the most beneficial beverages in the world. Here's how coconut water can benefit you! Coconut water is low in calories which means your guests don't have to worry about putting on extra weight. It also has amazing hydrating & detox properties ensuring that your guests feel refreshed and reenergized quickly.
Ensuring Freshness & High-Quality Coconut water for Your Guests
Mr. Coconut deploys the highest quality standards when it comes to packing the coconuts or shipping them to your desired location. Therefore, when you get the coconuts in your hands, that's when they will be unsealed for the very first time! This is done to ensure high-quality coconut water will be served to you and your guests!
The Perfect Product for Themed Weddings & Wedding Planners
Mr. Coconut can design the coconuts in such a way that they can easily be used for themed weddings like South India, Hawaiian, Punjabi or Nature-themed weddings. Wedding Planners can also use these coconuts in their presentations to woo their clients with the unique prospects of personalized coconuts as décor and beverage items. Make your destination wedding in Jaipur unique and personalized with Mr. Coconut's beautifully customized coconuts. Connect with Mr. Coconut's team today!