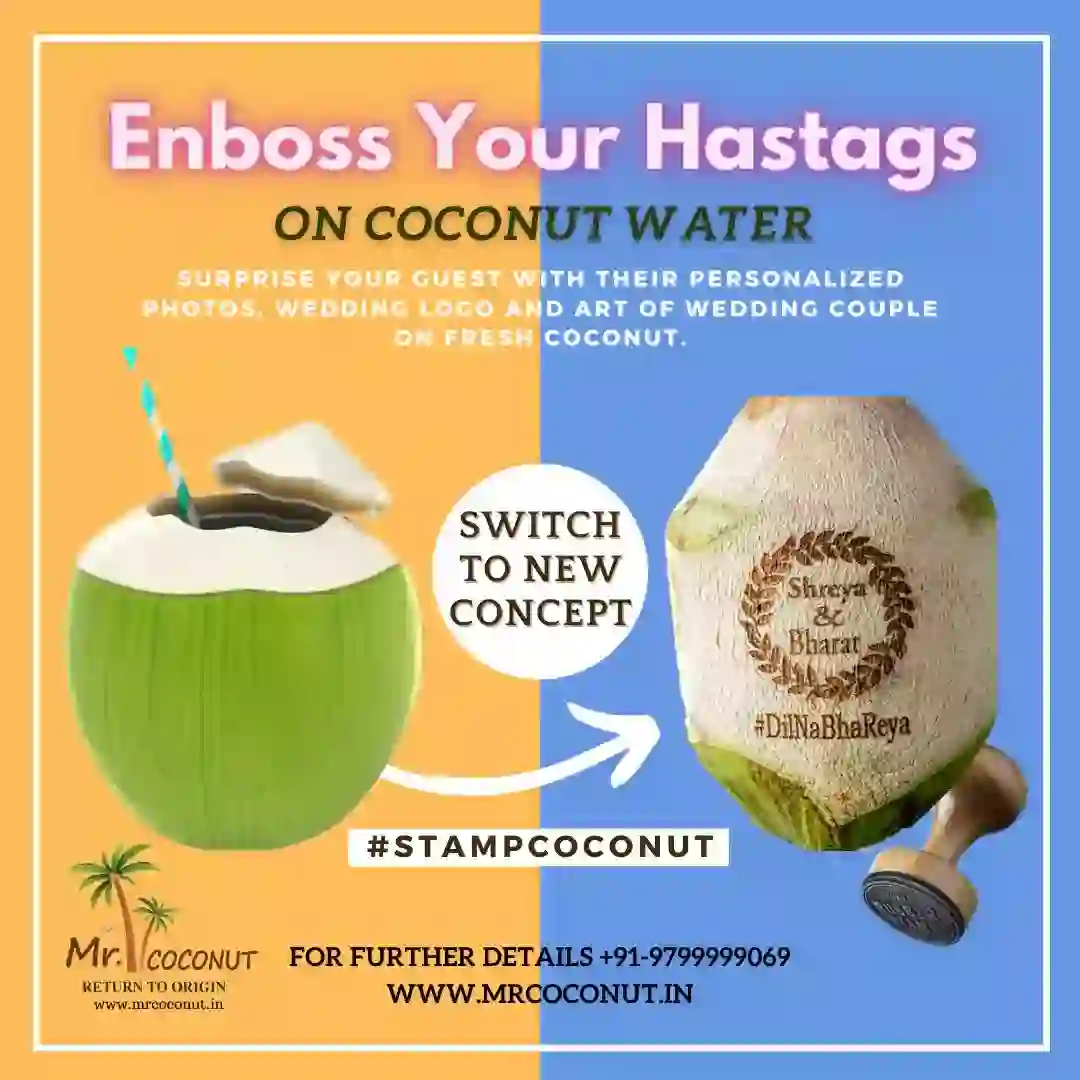 Stamp Coconut – Add a Royal Touch to Your Destination Wedding
By: Shivam Agarwal,

CEO & CO-FOUNDER MR COCONUT

| 12 October 2022
Every wedding entails months of preparation which includes different types of checklists for venues, food, decorations, guests and most importantly, drinks. You may leave these decisions to the in-house personnel. But curating each & every minute detail will help you make your wedding celebrations even more special. The venue you choose, the décor you finalize and the food & beverages that will be served to guests all form an important part of your wedding. Especially the drinks that are served can set the tone for your wedding. That's why you need to carefully curate your wedding drinks.
Planning your destination wedding in Jaipur? Hosting a traditional wedding in Mumbai?The most common beverage options are mocktails, cocktails and carbonated drinks. However, you can make your wedding unique and refreshing by including a signature wedding beverage.
Why Signature Drinks are a Big Hit at Weddings?
One of the latest trends in the wedding and catering industry is the serving of a signature wedding beverage to guests. And many couples prefer creating a customized signature drink to add a personalized touch to the wedding. It not only elevates the ambience of the wedding but also gives a royal feeling to the guests. Here are 4 top benefits of adding a Signature Wedding Beverage to your destination wedding:
● It helps your wedding become one of the most memorable events for your friends, guests and well-wishers.
● Ordering a signature drink at the bar becomes easier.
● Adding a Signature drink can be surprisingly affordable while helping you offer a personalized experience to your guests.
● It can also enhance the theme of your wedding events.
Most signature wedding beverages that you see at weddings are alcoholic or carbonated. They might serve as a short-term refreshment for your guests but the drinks do harm the body in the long run. You need to create and serve something natural that refreshes the mind and detoxes the body. This is where Mr. Coconut's beautifully designed Stamp Coconut comes into the picture!
Why Should Stamp Coconut Water be Your Signature Drink?
Nowadays, many couples are looking out for new wedding concepts and new beverage concepts whether it is a destination wedding in Goa or an intimate wedding in Mussoorie. Mr. Coconut's Stamp Coconut is the perfect choice for destination weddings as it packs the goodness of delicious coconut water in a beautifully embossed coconut.Tender Coconut Water boasts the following properties:
● Low calorie count
● Free from cholesterol & fat
● Good source of several nutrients
● Excellent detox capabilities
● One of the best sources of hydration
Mr. Coconut's CEO realized that these exciting benefits can be served to guests at the wedding while not compromising the theme or appeal of the coconut. That's why the team at Mr. Coconut came up with the idea of beautifully designed personalized coconuts.
Craft Your Stamp Coconut for a Personalized Experience
The Stamp Design over coconut is a new idea for Traditional Indian weddings that is quickly gaining popularity in weddings. As mentioned earlier, signature drinks help you add a royal touch to the wedding. Mr. Coconut helps you to achieve that elegant and luxurious wedding beverage option by embossing the coconut with:
● Hashtags of the event – A trendy design idea that gives a chic look to your signature drink.
● Couple Photos – A personalized touch to your wedding beverage
● Logos of the event – Perfect for ceremonies like Baraat Swagat, Mehendi, Couple Photoshoot, Pool Party and other events.
Let Your Guests Detox at the Cocobar – A Flagship Bar Concept by Mr. Coconut
Why serve your signature drink at regular bars when you can opt for a custom bar by Mr. Coconut? Mr. Coconut offers an intricately designed bar manned by a professional who will serve fresh, top-quality Stamp coconut water to your guests whenever they need it. Offer the best beverage service in marriage for your guests to give them a memorable experience! So, what are you waiting for? Get in touch with the experts at Mr. Coconut to book your personalized Stamp Coconut and the Flagship bar, Cocobar to give your destination wedding a royal touch.