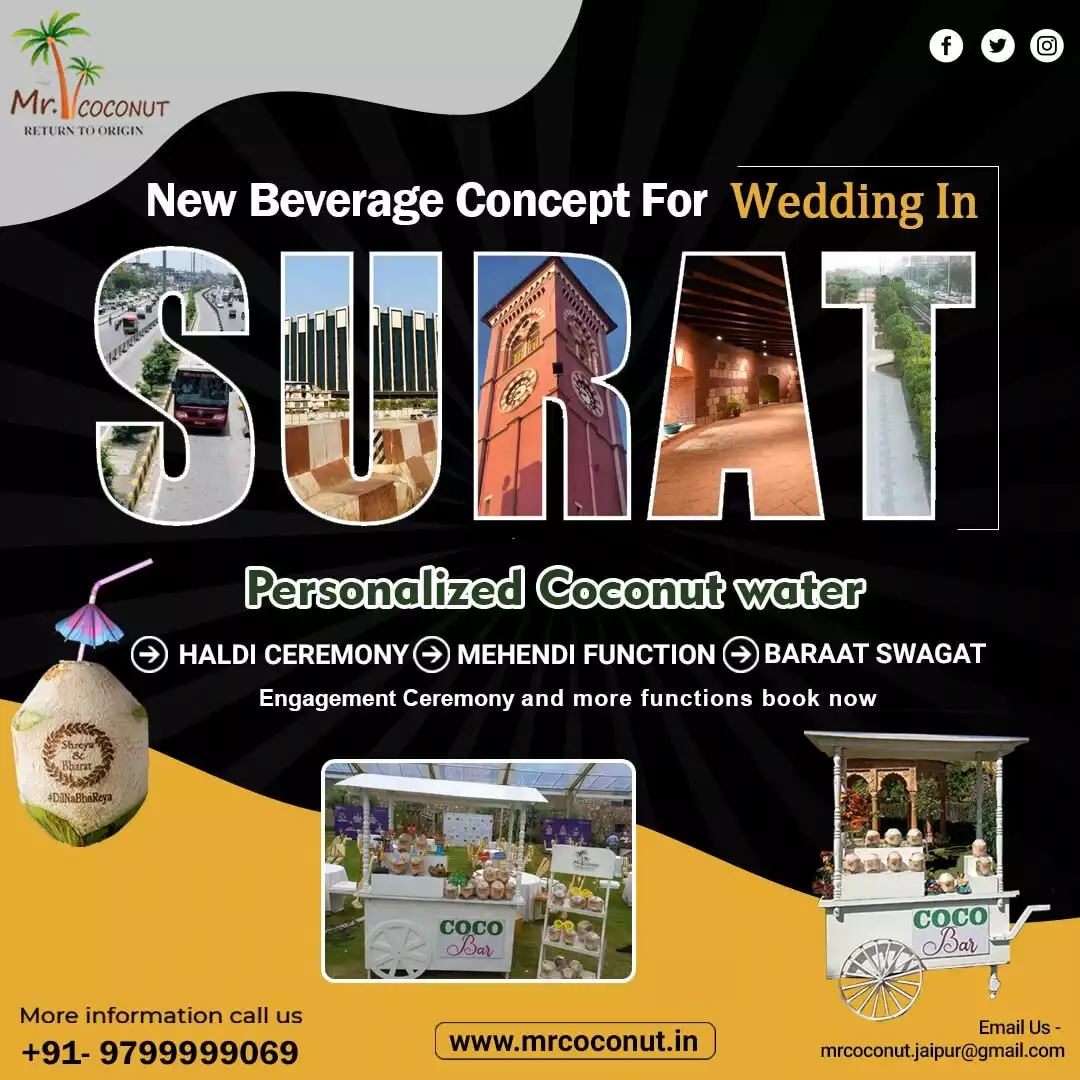 Premier destination wedding in Surat with personalized wedding favor
By: Shivam Agarwal,

CEO & CO-FOUNDER MR COCONUT

| 17 September 2022
It's no wonder destination weddings are becoming increasingly popular, after all, who wouldn't want a gorgeous, scenic, and memorable event in nature and surrounded by their loved ones?Gujarat's Surat is one of the most stunning wedding destinations for those looking to hold their most special moment in a place that is both aesthetically pleasing and wonderfully designed to make it an unforgettable experience for everyone. Surat is undoubtedly on the rise as a popular destination for weddings in India due to its mesmerizing natural reserves, breathtaking mountains, and soulful rivers as well as its historical statue. Besides being Gujarat's commercial center, Surat is also one of the most visited places in the state and is developing rapidly into a business hub. Aside from that, there are several fantastic wedding venues in the city that will help you create lasting memories that will inspire you for years to come. A few extravagant wedding celebrations have taken place there as well.
Surat – the best wedding destination that thrills
Dreams of a destination weddings are only the beginning of the road to a memorable ride. A memorable ride is shaped by planning, preparation, and surprises, both pleasant and not so pleasant.Whether you are planning a bridal shower or a bachelor party, Surat offers a wide range of wedding services customized to you and your special someone. Gather close friends and family for an evening of intimate gatherings or host an elegant reception at a location that appeals to you – contemporary or classic. Make it memorable, regardless of where you decide to hold the celebration. You can choose between lavish and royal places, as well as a large dining room and a lush green lawn for any glorious outdoor event.
Host a destination wedding in Surat with beach style
People look for unique places for their wedding to make the day memorable with a growing trend of destination weddings. Surat is a perfect choice for a destination wedding. Among such places, this serene state makes an ideal choice. This is because you can avoid the hassles of arrangements. As the bride and groom, you get to enjoy the merriment while the wedding planner takes care of all the work. They can choose from palaces, gardens, farmhouses, resorts, resorts to hotels, all of which are replete with lavish arrangements. Alternatively, you can hold your destination wedding on one of Gujarat's beaches to give it a different flavor and feel. Cocktail parties, games, crazy pops, dancefloor, and so much more, with Mr. coconut Cocobar's services you can enjoy the mocktails in beach style in a healthy way with their stamp coconut, you are sure to have a fabulous time hosting a wedding in Surat. This western coastal city has everything you need to make your special day memorable and gorgeous. You can dress in the style of a Gujarati soon-to-be-wed couple and get your guests dressed accordingly. A wedding is a once-in-a-lifetime experience, no matter what you do.
Enhance the Gujrati wedding food with Mr. coconut
One of the most important things about a wedding is the food, other than the bride, groom, and family. Gujarati cuisine can be described as sweet, savory, tangy, and spicy. Gujarati dishes come in a variety of flavors. Gujarati cuisine is a favorite among the growing Indian community, especially among vegetarians. In many Indian wedding catering services, Gujarati recipes are now on the menu. Therefore, you should hire Gujarati caterers who will serve you the best and most authentic food during your destination wedding. you can also enhance the Gujrati cuisine with tropical touch by adding Mr. coconut. They introduce a new concept of beverage stalls that serve healthy and fresh coconut water. You are thinking about what's new in that. They serve coconut water in a personalized way. Their stamp coconut can be customized in any design means you can engrave any design on the shell of young coconut. It attracts the guest the most and energizes them for enjoying the wedding in a healthy manner.
Complete your destination wedding with memorable wedding favor
As a small wedding detail, wedding favors are a great way to express your love to your guests while simultaneously adding a personal touch. You can gift your guest's Stamp coconut, whether it's symbolic of your relationship or something that ties into your wedding aesthetic because there's no tradition for favors. Mr. coconut stamp coconut is the most unique way to thank your guest because it is a healthy option for them. They use only tender coconut which is soo fresh. Giving personalized coconut to your guest as a wedding favor always help them to remember your wedding whenever they see the coconut water and surely, they love them!