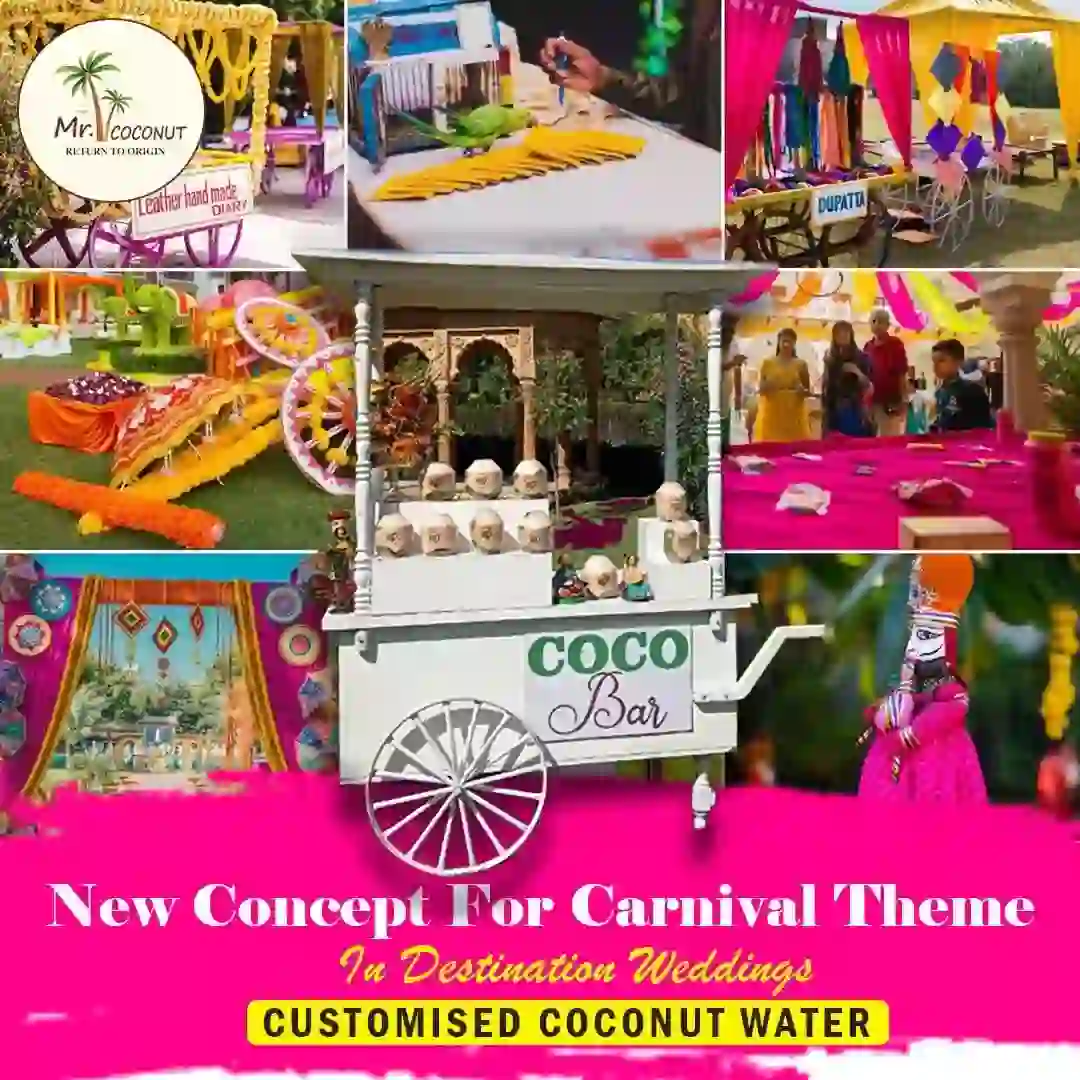 Make Your Carnival Destination Wedding Delightful with Mr. Coconut
Posted by : Mrcoconut / On : Sep 28, 2022
Extravagant Carnival Weddings are all the rage these days. From carnival-themed decorations to huge figurines, party-themed events and scrumptious food, every ceremony feels like a celebration in Carnival Weddings. While minimal weddings look cool and chic, their trend is fast fading out, thanks to the rise of Carnival weddings. Did you know? The First Carnival was held in Trinidad and Tobago in the late 18th century! In those days, Carnival was purely celebrated as a festival. The event quickly gained popularity in many European Nations. Today, Carnival is celebrated as a larger-than-life extravaganza with gigantic figurines, fun-filled events and delicious foods. So, how come the Carnival theme made its way into Destination Weddings? Let's find out!
Carnival Literally Means Celebrations & Revelry!
Weddings are all about celebrating the union of the couple. Guests arrive from all parts of the country to witness the matrimony. And as you know, most weddings have traditional ceremonies like Baraat Swagat, Haldi, Mehendi, Ring Ceremony and other events. Conducting them in a simple setting is not what modern couples are after. They want something new, fresh and trendy to make their special day even more memorable. That's where Carnival-themed weddings come into the picture. Creating a Carnival atmosphere in your destination wedding is a great way to infuse fun, entertainment and magic into each marriage ceremony. This is achieved by decorating the hall or the event area with carnival-based designs like huge figurines, chairs & tables decorated with bulb strings & shimmery tassels, miniature giant wheels and other exciting design elements. This makes your guests feel like they are in a huge celebratory event and each moment gets more memorable!
You Can Always Experiment with Carnival Themes
You don't need to stick to the exact carnival theme for your destination wedding. You can always make some interesting changes and infuse desi design elements into your carnival marriage. How? You can add a South Indian theme, Tropical Theme, Goan Theme or Punjabi theme to your carnival wedding to make it look desi and trendy. For example, in South Indian & Tropical themed weddings, you can add beautiful design elements like Flower Rangoli, Marigold-laden Mandaps, Bride & Groom Jhoola, Mogra-based Décor and most importantly coconut leaves, coconut trees and personalized coconuts. Planning a destination wedding in Goa? Mr. Coconut's carved coconuts can be the perfect beverage and decor item! However, if you are planning to organize a Punjabi themed wedding, it usually features a ton of ceremonies like Roka, Kurmai, Kirtan, Dholki, Mehndi, Rituals at Bride's Home, Mayian, Jaggo, Vatna, Chura & Kalira and many more. You can infuse a variety of desi elements like all-white décor, floral mandaps and beautifully embossed Stamp coconuts by Mr. Coconut to make your Punjabi Carnival Wedding unique and refreshing!
How can Mr. Coconut Make Your Carnival Destination Wedding Delightful?
Mr. Coconut's intricately crafted Stamp Coconuts are the perfect item for your Carnival Wedding! Picture this – Your guests have arrived at the wedding venue and they are thirsty. Simply giving them the same old carbonated drinks or mocktails isn't trendy anymore. But, if you serve your guests delicious tender coconut water in beautifully designed coconuts which have the pictures or hashtags of the couple, they will certainly feel a royal touch at your destination wedding. Organizing your wedding in Jaipur? Mr. Coconut's Stamp Coconut water can help your guests beat the heat naturally! Similarly, you decide to organize a fun-filled pool party and need some interesting design elements. Mr. Coconut's customized coconuts can be that perfect design element for your poolside signature wedding beverage or the photo booth where you and your friends can create amazing memories.
Give Your Guests a Quick Detox at the Cocobar!
Mr. Coconut also offers a beautifully designed bar for your destination wedding. This bar is manned by a professional bartender who will unpack and serve top-quality stamp coconuts to all your wedding guests whenever they need one. Did you know? Tender coconut water boasts amazing hydrating properties, is free from fat & calories and offers a ton of nutrients and antioxidants. This makes personalized coconuts, a perfect beverage for refreshments and a quick detox. Your guests will certainly appreciate this thoughtful gesture!
New Catering Ideas & Presentations for Your Destination Wedding
Planning to organize a Carnival Wedding in Hyderabad? Mr. Coconut's personalized coconuts can offer a quick detox to your guests. Mr. Coconut's personalized coconuts aren't just limited to décor. You can also include them for your catering requirements. In-house professionals at the venue can take care of all the catering needs. All you need to do is book the stamp coconuts and they will do the rest. Wedding planners can also add beautifully designed coconuts for their carnival wedding theme presentations. These are a few interesting and exciting ways through which Mr. Coconut's beautifully personalized Stamp Coconuts can add grace and elegance to your Carnival Destination Wedding.