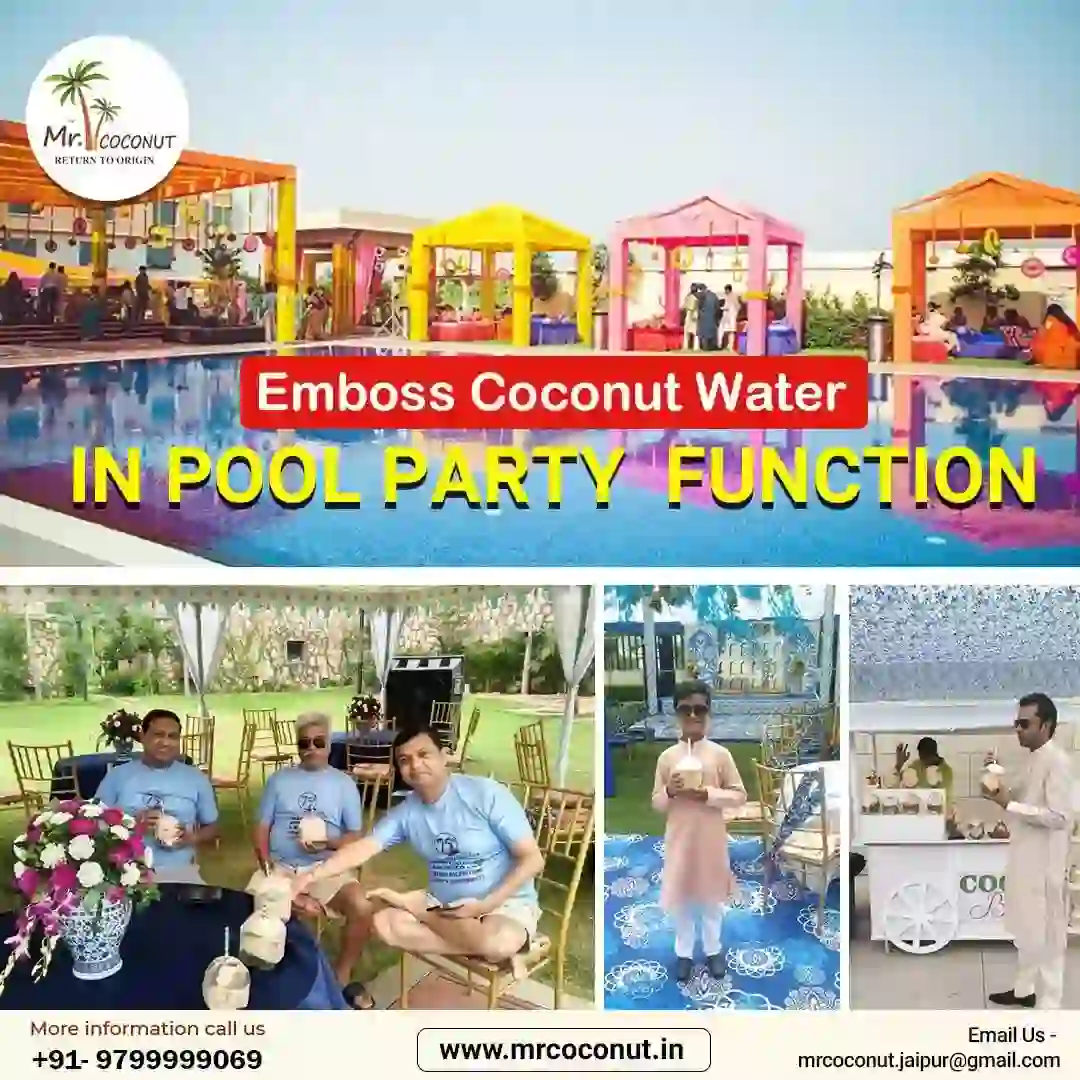 Redefine your Pool Party in Wedding with Mr. Coconut!
Posted by : Mrcoconut / On : Oct 06, 2022
Pool parties are becoming a staple in weddings as they provide a great start to the marriage ceremonies for not just the couple but also the wedding guests. Did you know? Many couples are preferring trendy pool parties as compared to traditional parties! That's because a stylish pool party makes your guests feel extra special and happy. The serene blue water of the pool elevates the spirit and if you add some exciting water activities to it, the pool party becomes a total entertainment hub for your guests. Here's how Mr. Coconut can help you make your Pool Party in Wedding delightful, refreshing and healthy!
Stunning Pool Party Ideas for Destination Weddings
1. Pick a Trendy Theme for Your Pool Party
Your Indian Wedding Pool Party can feature a trendy theme like:
● Spanish
● Boho
● Hawaiian
● Brazilian
● Beach
● Tropical
These themes will help you set the mood for the pool party and make your guests feel extra special. Adding a delicious & healthy drink like coconut water served in beautifully crafted Stamp coconuts from Mr. Coconut can make the entire experience exclusive and memorable.
2. Use Quirky Designs to Decorate the Pool Area
Although in-house professionals can take care of all the décor needs, you can pitch in and share some of your creative ideas to add a personal touch to the pool area. For a Hawaiian theme, you can go for luau colors like sunset orange, lemon yellow, and cherry red amongst others. If it's a tropical theme, you can include palm fronds or orchids. You can also add intricately designed Stamp coconuts from Mr. Coconut featuring pictures of the couple, hashtags or logos of the event.
3. You can't forget the #PoolPartyGames!
Wedding Pool Party games breathe life into your wedding celebrations. Without it, your guests will quickly get bored! You can add some fantastic games like beer pong, Tic Tac Toe, pool volleyball and many more. Bonus tip – Try adding a few water cannons to let your guests have fun inside and outside the pool!
4. Add Creative Sign Boards to Your Indian Wedding Pool Party
Beautifully crafted wooden sign boards around the pool can enhance the overall ambience of the pool party. You can design and add colorful direction sign boards showing the right direction for the pool area and other counters. You can also add a customized Design on Coconut (from Mr. Coconut) showing the logo of the event or a picture of the couple to add a personal touch to your very own pool party!
5. Your @WeddingPoolParty is Incomplete without Drinks
Almost every wedding features a wide range of drinks starting from juices and carbonated drinks to mocktails & cocktails served by professional mixologists and bartenders. Although these drinks are a staple to wedding events, you can make your pool party refreshing and healthy with meticulously crafted personalized coconuts from Mr. Coconut. You can also book a Cocobar which is a dedicated coconut water counter for weddings. A professional serves fresh and healthy coconut water to all your guests helping them get a quick detox while enjoying the pool party
6. Create an Exclusive #PoolPhotoBooth for Memorable Pictures
You can add a beautifully customized photo booth near the pool party area inspired by your pool party theme. The photo booth can contain the colors of your themed pool party, the dates of the wedding highlighted in bright colors or a big picture frame of the couple in the backdrop. You can also add a professionally designed Stamp Coconut in the photo booth to give it a personal touch. When your guests look back at the pool party pictures, they'll reminisce about the fresh coconut water served in beautifully crafted coconuts from Mr. Coconut.
These are a few exciting ways through which Mr. Coconut can help you reinvent and refresh your Pool Party Idea in Wedding.