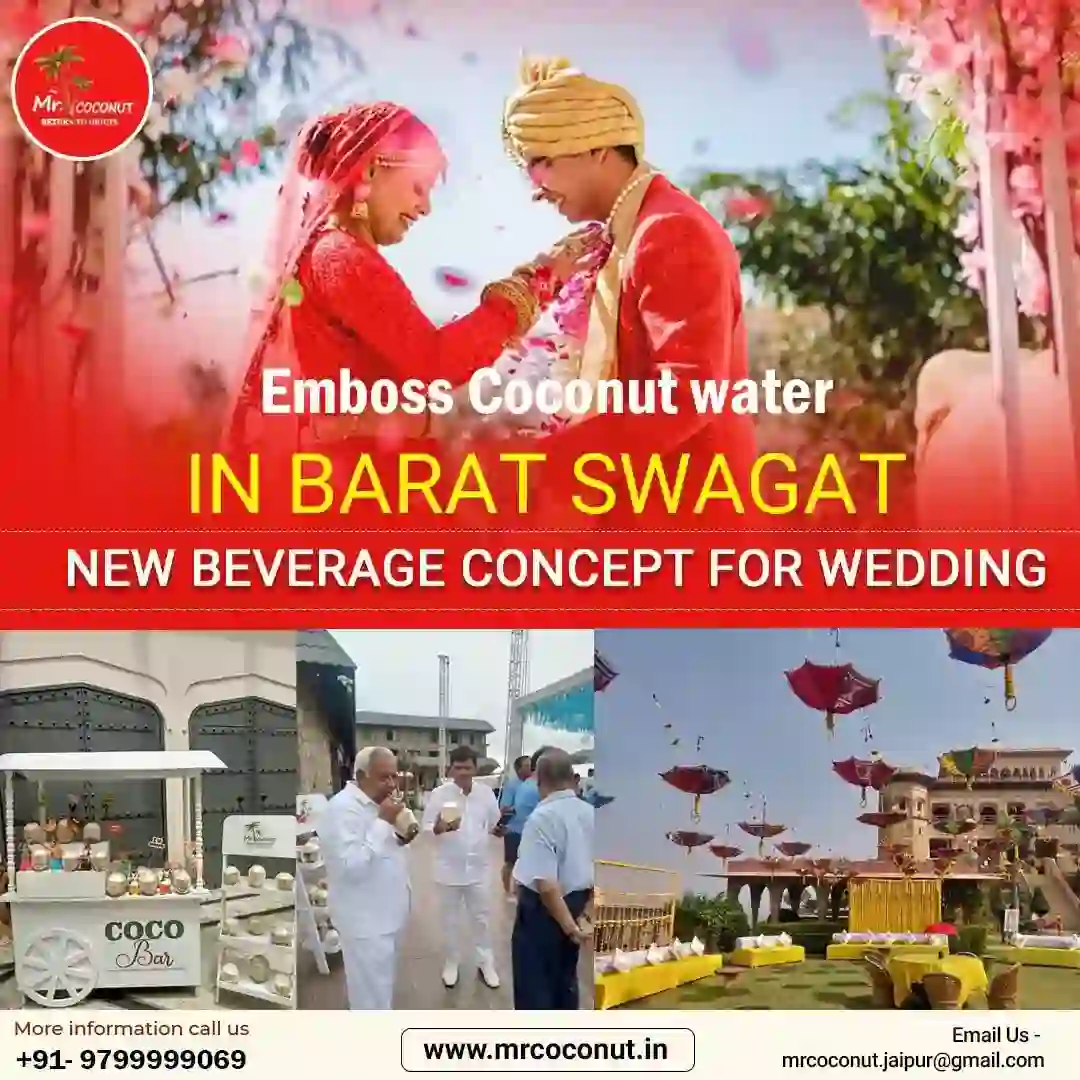 Revamp Your "Barat Swagat" with Mr. Coconut's Stamp Coconut
Posted by : Mrcoconut / On : Oct 05, 2022
Around 5-6 Million Barat Swagat ceremonies take place every year. How can you make your Barat Swagat unique and refreshing? Mr. Coconut has the answer. Its personalized Stamp Coconuts are the perfect product for your décor and beverage needs! Barat Swagat kickstarts the actual wedding day and is one of the most important traditions in marriage – be it a destination or a traditional wedding.
What is Barat Swagat?
Barat Swagat also known as "milni" is a beautiful tradition in which the bride's family welcomes the groom's family and their relatives. Barat Swagat consists of the following rituals and customs:
● Tie the groom's sehra/veil to the cloth turban.
● This is followed by all the baraatis wearing matching turbans.
● The groom then rides a horse or a vehicle to journey to the bride's house or the wedding area.
● After the groom and his family reach the wedding venue,
the bride's mother applies a tilak and performs an arti to welcome him and the guests. Apart from these, you will come across many other customs that differ from state to state.
Unique Barat Swagat Customs You Will Find in Different States
1). Punjab
Planning your destination wedding in Chandigarh? In Barat Swagat, the relatives of the bride and the groom exchange garlands. Additionally, the Milini or Barat Swagat also comprises Tilak and an exchange of Shagun and Coconut.
2). Rajasthan
The beautiful state of Rajasthan features different types of Hindu and Marwadi weddings. Planning a traditional wedding in Jaipur, Udaipur or Jodhpur? At Marwadi weddings, you'll generally see a lot of pomp and show. Additionally, the entrance of the wedding venue is adorned by a beautiful toran which the groom needs to hit while entering the wedding venue. This is done to ward off any evil eye.
3). Gujarat
Are you planning to host a wedding in Surat or other popular cities? In Gujarat, Barat Swagat ceremonies usually include the tradition of the groom touching the feet of his mother-in-law to seek her blessings while she tries to grab his nose. It's a fun way to kickstart the wedding ceremonies!
Revitalize Your Barat Swagat with Customized Peeled Coconut
Mr. Coconut is a renowned company in India providing a variety of intricately designed shaved coconut for weddings and wedding ceremonies like Barat Swagat, Haldi, Mehendi and others. Picture this, the Barat guests undertook a long journey to the wedding venue or the bride's house. All of them are tired and they want to have something refreshing. Simply serving them carbonated or fizzy drinks won't quench their thirst. In addition to that, these sugary beverages harm the body too. This is where Mr. Coconut comes into the picture! Mr. Coconut provides beautifully designed Stamp Coconuts that are filled with tender coconut water. But the main highlight of these coconuts is the personalized embossing according to wedding ceremonies like Barat Swagat. You can easily get the coconuts embossed with pictures of the couple, hashtags or logos to give a royal touch to your wedding.
Kickstart Barat Swagat with Personalized Coconuts
After all the traditions and customs of Barat Swagat are done, you can serve the guests lip-smacking coconut water in intricately customized coconuts to add a royal touch to the ceremony.
Give a Quick Detox to Your Baraatis at Cocobar
Cocobar is a flagship bar concept created by Mr. Coconut to redefine the way wedding beverages are served to guests. The bar is custom-made according to your wedding or ceremony requirements. The experts at Mr. Coconut can personalize the Cocobar according to the theme to give your destination wedding a personalized touch. On the other hand, coconut water boasts many amazing health properties like:
● Low cholesterol and calorie
● Excellent hydrating capabilities
● Good amounts of potassium
● Helps prevent kidney stones
● Aids in the good maintenance of skin
Serving tender coconut water to your Baraatis at the flagship Cocobar can help them enjoy a wide range of health benefits as compared to sugary beverages that can harm their body.
Quirky Ideas to Make your Barat Swagat Interesting with Mr. Coconut
1. Do a Dare Barat Swagat
You can put a dare for your Baratis where they have to dance or sing their way into the main wedding area. Once they do the challenge, you can present them with a personalized coconut as a healthy and refreshing beverage.
2. Barat Welcome Gifts
You can also use the Stamp Coconuts as a unique wedding favor and gift for the Baraatis after they reach the wedding location. Pair up the carved coconuts with unisex brooches or kadas to add a personalized touch to your wedding. So, what are you waiting for? Connect with Mr. Coconut to make your Barat Swagat unique and refreshing!