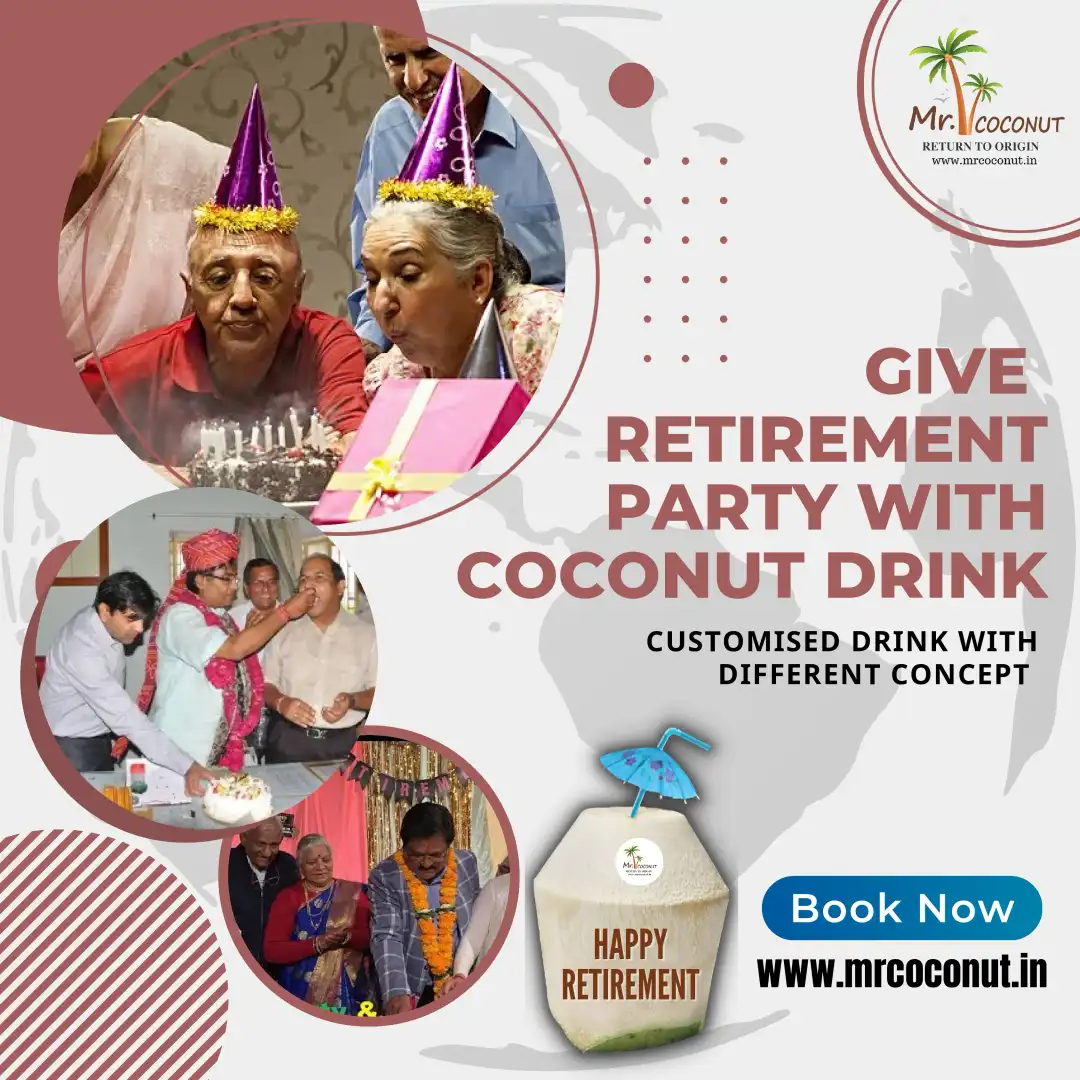 Give Farewell to your Seniors with Signature Custom Portrait Coconut drinks by Mr. Coconut.
Posted by : Mrcoconut / On : Mar 13, 2023
Whenever your mentor or boss plans to retire or switch to a better career option, it is the perfect moment for you and your co-workers to plan a perfect farewell for them. You might have learned about several new things from your seniors and have always appreciated the work ethics of your boss. Therefore, it will always become a bittersweet moment for you whenever the individual trained you and made you extremely competent in the job, which leaves you. We bring the most astonishing and mindblowing option for giving a perfect farewell to your senior with custom portrait coconut drinks in a perfect ambiance creating a coconut event. But, you have a boss from whom you start learning about new things. At the same time, the person is there for you whenever you require any help during work, while they would deserve the best farewell party. If you are searching for some astonishing ideas for throwing a cool farewell party with your boss, we have brought a few ideas just for you.
Make It Personal
You should arrange the best farewell party for the boss with a bit of personal and sentimental. You can start emailing your co-workers about offering the best testimonials regarding the work experiences with your senior. You can even ask people from the outside, with the immediate group offering better testimonies. These testimonies would involve the short and personal, which are read out quickly about the boss at the party. You can start creating these guessing games from it over a carved coconut drink.
Decide on a Theme with Mr. Coconut
The themed farewell parties appear cooler and fun to become part of. Furthermore, you should decide on the theme for coconut events, making organizing the party easier. Ensure to select the theme representing the personality of your boss. For instance, whenever your boss moves out for a better job, the theme is everything about your boss's accomplishments. But, if your boss is retiring here, you should start arranging the party revolving around the coconut theme of the party, with the reminder for your boss to start traveling around the world even after retirement.
Send out Invites in Advance
The highly vital things about the parties are the invites. You need not have to invite people from only the office; you can invite them from outside the office. You can also invite the family of your boss and close friends back to the party. It would make this party filled with fun and thoughtful. Creating these handmade invites and sending them out will make the invites remarkable and personal. Else, you should call the individual through social media portals. But you can create personal invites is the ideal idea.
Start involving other members of the team through planning
Since you are organizing the boss's farewell parties, it does not appear that you need to pay for the entire coconut event party. You can discuss with your entire team pitching in for the party here. You have to send the invites to your colleagues while asking them to pitch in for the party expenses. Else you can easily ask them to contribute to the part at best. Ask the individuals to start bringing the food, decoration, and drinks while requesting them to contribute to this party's set. It need not happen in this manner as people would start to pitch in the way it is.
Never do anything which your boss dislikes
Whenever your boss dislikes alcoholic drinks or loud music, you should consider a similar way to arrange this party. The entire aim of this party is to start making your boss feel happier and contented. Therefore, you should try avoiding all the things which are not suited to your liking. To understand the boss's likes and dislikes, you can ask your friends and family about the choices in drinks, food, and even music.
Remembrance of the better memories
The entire farewell party is a better opportunity for reminding the older memories with your colleagues and boss as it would greatly depend on the time you spend with the boss and employees. Therefore, you can share old memories where you should ask your employees where you should spend a lot of time with your boss. The ideal way to remind these old memories will create slideshows of the older stories and pictures. The slide show will not have to be long; however, it is meant as several online tools are available, making this a sentimental slide show for older memories.
Be careful about these gifts.
No Farewell party is complete without a gift. A memorable gift and a cherry on top would make the occasion more memorable. You can send an unnamed gift to the boss and ask him to guess who purchased that particular gift. This could be a nice farewell party game. Moreover, if you want to give something expensive to your boss, you can adopt the old contribution method. You can pitch in to buy something precious for your boss with peeled coconut.
Choosing the right drink to fill your custom portrait coconut drinks
Select the best coconuts to create a custom portrait coconut drink. Look for coconuts with a smooth, unblemished surface that is heavy for their size, indicating that they are full of coconut water. Then, using a permanent marker, draw a portrait of each senior on the coconut's surface, along with a personalized message or well wishes for their future endeavors.