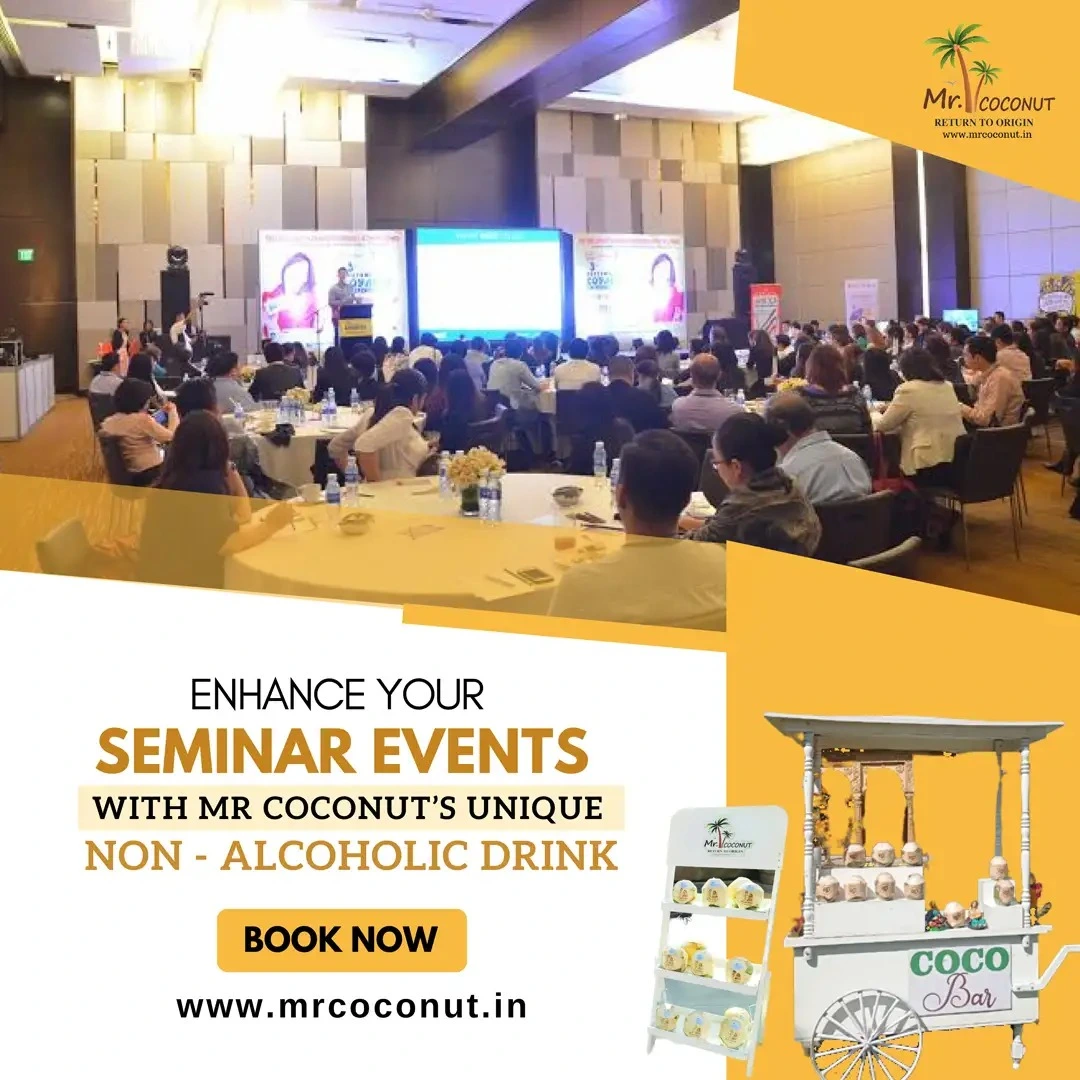 Enhance Your Seminar Events With Mr. Coconut's Unique Drinks
Posted by : Mrcoconut / On : Feb 04, 2023
A corporate event is organized by a company and emphasis its employees or clients. While you organize a corporate event, make sure it's something unique that is never seen. Why? Because you are celebrating company milestones along with clients and employees, something needs to be out of the box!
Host Creative Corporate Event Party with Mr. Coconut
Mr. Coconut's expertise in serving unique drinks for corporate events with a personalized touch. We will ensure the corporate event offers something other than the average food. Order customized coconut welcome mocktails from us and broke from the daily sluggishness of corporate life! Bring up some new ideas to the table. The way to a corporate party guest's heart is through their stomach. How about complimenting the delicious food with a non-alcoholic tender coconut water drink? Mr. Coconut promises to make the corporate events different. Let your employee wine and dine healthy while celebrating your company's achievements.
Tips to Plan a Great Corporate Mocktail
1. Define the Tone of the Event
First and foremost, you should think about the purpose of your corporate event/party. It can either be for the networking of existing clients or for launching a product. Also, ask yourself whether this corporate event would be a stand-alone event or followed by an annual company mocktail party. Consider these factors and decide the best time to host the mocktail. Mr. Coconut will serve an out-of-the-box drink your guests would love to taste! Our fresh customized coconut drink will set the tone of the event, which is very important for any successful corporate cocktail party.
2. Dessert Towers
While planning a corporate event, make sure to add a sweet treat. Dessert towers are the best way to embellish the finale of a corporate event. This dessert tower, combined with the branded coconut for events, highlights the table buffet. Make sure to expand beyond simple-looking corporate events. Include desserts like macarons, cookies, cupcakes, cake pops, tiered cakes, strawberries, truffles, and healthy, tender coconut water. Taste with health is what will make your employees happy!
3. Customize Your Welcome Drink
Pay attention to the company culture. After this, try to build that into the corporate event. Be mindful of the dietary arrangements & the welcome drinks for events for your guests. It is 2023, and everything is new and unique, so it should be your corporate event! Mr. Coconut can offer a variety of drink choices with a combination of snacks. Ask us to set up a coconut water stall during the drinking hour. We will add fun, non-alcoholic drink menu items. This alcohol-free alternative can be personalized with your company's logo or employee's name. Creative catering with personalized touch will only bring joy and fun!
Healthy & Unique Execution of Your Corporate Event
Coconut water is a refreshing drink that hydrates naturally and is considered a general health promoter. Make sure your corporate event is healthy! Employees get bored with the same old corporate events. So, make your mocktail menu noteworthy. Mr. Coconut is one of the few Indian brands providing welcome drinks for events that add a special touch to your business's fortuity. Our branded coconut water is refreshing. We are responsible for refreshing the mood of your employees, clients, and business partners. We understand that corporate events boost the company culture and award the employees and clients working with it. So, it's a must that the event is much more than 'traditional.' Mr. Coconut has experts to customize beverages drinks for events. You can ask us to inscribe your employees' names on the shell of the coconut. This will look only tempt but also enhance your seminar event.
Book the Perfect Venue, Call Mr. Coconut, & Upgrade Your Seminar Events!
Seminars are usually special events where attendees are taught a new concept. You are all ready to conduct the employees' new techniques, so why keep the event the same old? Book a perfect venue, like a hotel ballroom, for hosting a seminar event. When planning your seminar event, allow Mr. Coconut to select that complement the event's objectives and match or exceed your guests' expectations. Yes, we are talking about personalized coconuts. Our personalized coconut water will be the first impression your guests will have.
Conclusion
So, what are you waiting for? Let Mr. Coconut add tender coconut water to the corporate event beverage menu. The coconut drink will be a creative and integrated idea into the event theme. An innovative welcome drink will have guests talking for weeks to come! Let Mr. Coconut set up the mocktail servings that will make everyone happy and elevated.