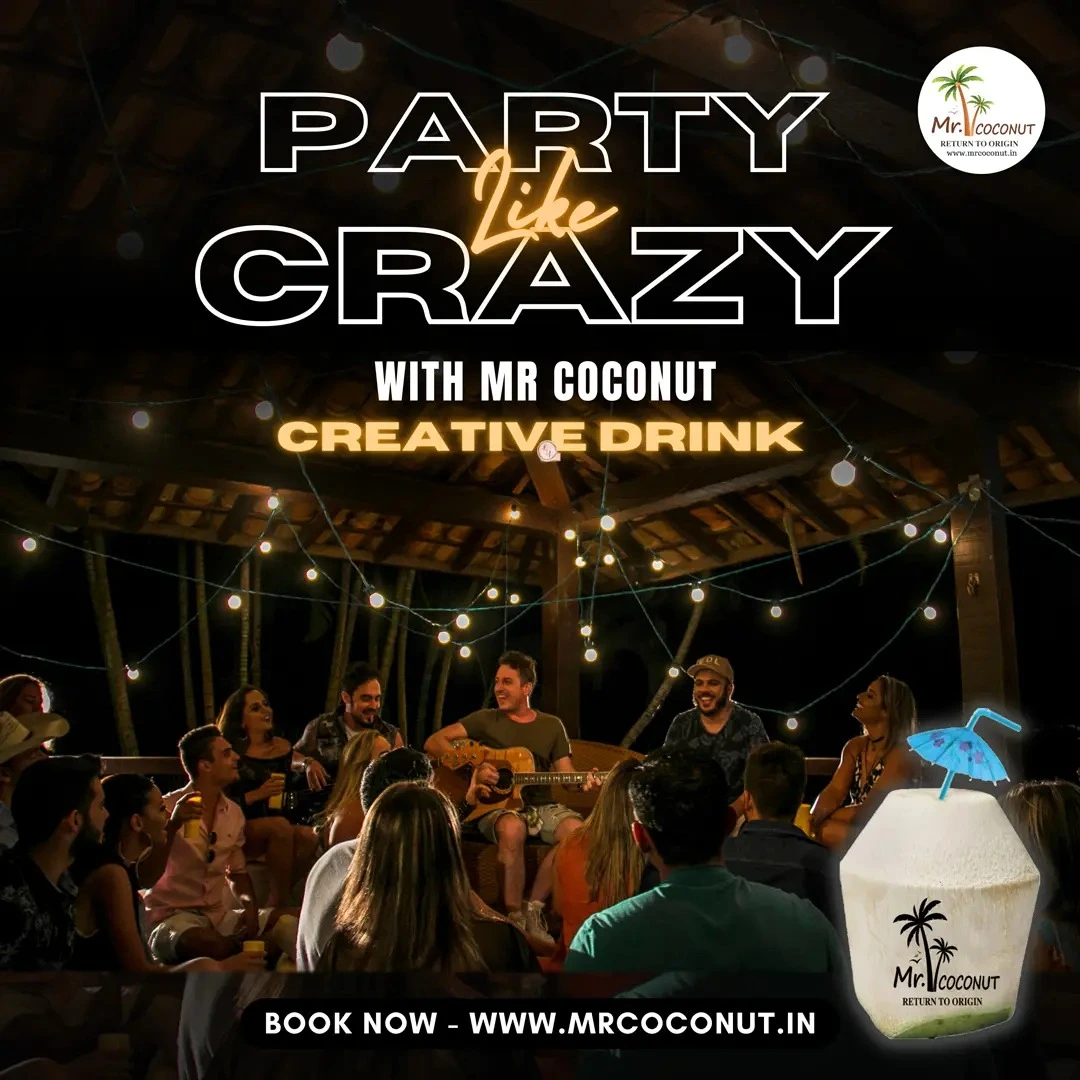 Party like Crazy With Mr. Coconut's Creative Drinks!
Posted by : Mrcoconut / On : Feb 15, 2023
A reception party is an informal event held after the wedding. Indians prefer keeping this reception party fun and enjoyable. Mr. Coconut comes up with creative drinks so that bride and groom can crazily celebrate with their guests!
Let Your Reception Party be More than 'Traditional'
The wedding reception usually includes a meal, dancing, and speeches. Nowadays, featuring flowers is also becoming common. But do you think your guests would be more than bored at the usual reception party? Let Mr. Coconut add the required 'craze and fun' into the function with our welcome drink ideas. To feature fresh blooming flowers throughout your wedding day is okay, but adding a twist to the drink options with fruit like coconut will have major big-day moments. The best thing about our personalized coconuts is how yummy they taste! Adding coconut drink options to your dinner menu or dessert options will be an instant hit with guests.
Crazy Reception Party Ideas with Mr. Coconut
A reception party is a symbol of the end of the wedding bells. All the guests, friends, and near and dear are invited to enjoy a grand party at this party. But what's the comfort of your guests taking part in your happiness until they are in a mood? Well, Mr. Coconut comes up with the idea of setting up a beverage stall for a reception. Your guests can now enjoy something beyond tasty bites – it's sweet & non-alcoholic sips! Our stamped coconuts can make for an impressive & striking centerpiece or bar decoration. Coconuts are healthy drinks for events that can rejuvenate your guests during the long reception party. With us, your friends, relatives, and party visitors can party like crazy. Plain water or soda can be unappetizing, but tender coconut water improves hydration and boost energy levels. Get your guests to land on the dance floor and enjoy the music!
Offer Signature Drink Instead of an Open Bar
If you want to play smart and healthy, include our non-alcoholic drinks ideas in your reception party. Signature drinks instead of an open bar are the best idea to host a fun party without spending a fortune. Order coconut water online from Mr. Coconut. Why? Because the limited bar serves beer & wine. And, to be honest, only some of the guests drink cocktails. Consider adding a twist to our customized nariyal pani as your signature drink. What's best about us is we can easily customize coconut drinks for your specific reception party theme. A carved place card or monogrammed couple's/guest's name is one way to make this trend your own! Mr. Coconut is one of the few Indian brands that can engrave Customized and Personalized Coconut. Order coconuts online, and our company will deliver A+ Grade quality coconut water with your requested design on the coconut shell. Serve something big, something fun, something notable at reception events.
Mr. Coconut Comes with the Best Wedding Reception Snacks & Drinks Ideas
Do you need more reception food ideas? Let us handle the most difficult decisions of planning a reception menu. How? Let's see together!
The most important thing while planning a reception menu is customizing it according to your preferences. For example, you can provide your caterer with a list of your and your partner's favorite foods. Remember to include the welcome drinks on the food menu. Mr. Coconut comes up with the welcome drinks ideas, i.e., serving tender coconut water. Our coconut water will be the best way to greet your guests with a light and refreshing tone!
The wedding Reception is a family event. So, it would help if you collected ideas from family members. Create a fantastic menu by soliciting ideas from each of your family members. Try including any unique family recipes on the menu. And then, conclude your wedding reception's menu with our carved coconut drink. Your guests are going to adore your food and drink ideas! If budget supports, stock up your reception bar with appetizers like bunch bar, popcorn, waffle, or tacos.
Replace old-fashioned Lemonade Stand with Coconut Water Stand
A lemonade is ideal for a summer wedding! But, to add a vintage touch, replace the old-fashioned lemonade stand with a coconut water stand. You can ask Mr. Coconut to set up a non-alcoholic beverage stall serving stamp coconut. A fruity water infusion will serve best on guests' plates! 4. What about Tropical/Beach Wedding Reception Party? If you have planned for a beach or tropical destination wedding reception, skip serving boozy drinks at cocktail hour. Instead, opt for Mr. Coconut. We will serve cooling coconut water directly from the freshly shucked coconuts. Our monogram coconut reads out the reception theme/couple's names/guests' names.