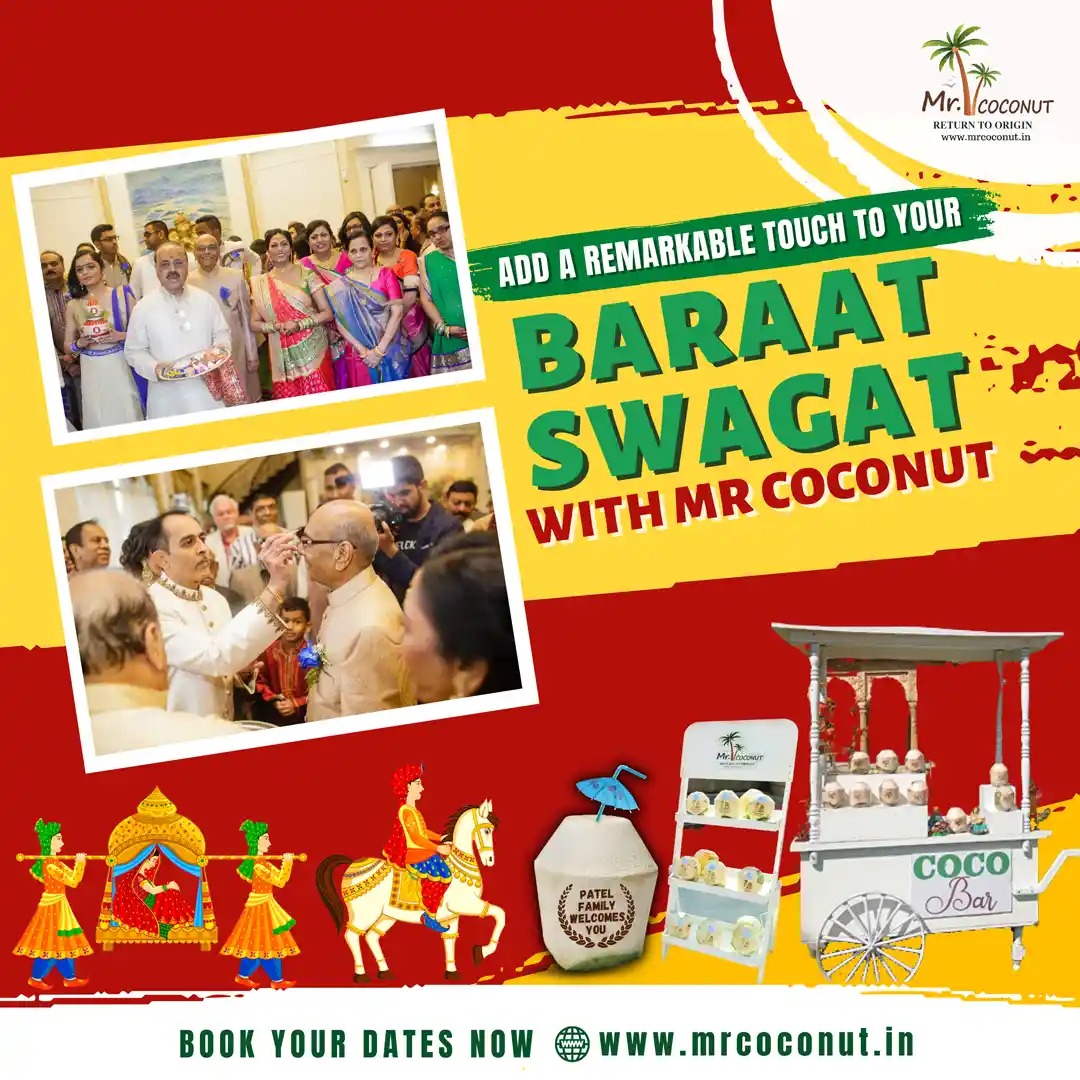 Add a Remarkable Touch to Your Barat Swagat with Mr. Coconut
Posted by : Mrcoconut / On : Feb 12, 2023
An Indian wedding ceremony is incomplete with Barat Swagat. Barat is one of the elated traditions where the procession proceeds from the Groom's house toward the wedding venue. Do you want to make your Barat Swagat something new and unique? Well, Mr. Coconut will help you to do the same. Our personalized coconut is the perfect drink that adds fun and energizes guests from the Groom's side.
How can Mr. Coconut Add a Remarkable Touch to your Barat Swagat Ceremony?
Welcoming a Barat means accepting the Groom at first. Make sure that the Groom's entry is spectacular so that everyone remembers it for a long. Mr. Coconut specializes in serving fresh and customized welcome drinks for Barat swagat. With us, you can give your Barat welcome goals a sensational touch. On the arrival of the Barat, Mr. Coconut serves something that energizes and brings a smile to the Groom's side. After all, bringing smiles to your guest's faces is your responsibility. And we would love to fulfill the same!
Mr. Coconut's Barat Swagat Ideas That'll Leave Your Guests Surprised.
When the Barat arrives, you can hand over personalized gift hampers as a lovely token. Ask Mr. Coconut to add a unique twist to the welcome gifts. We will offer stamped tender coconut water saying 'ladkewale' on the shell. This welcome gift will make your Barat swagat memorable.
Sweets for the Barat Welcome
What would be a better way to greet your baratis than with Sweets? You can consider adding Desserts on a toothpick. Here, Mr. Coconut assures that every guest feels valued! Our healthy drinks for Barat swagat would perfectly combine with the Mithai/sweets. This extraordinary combination of sweets and tender coconut drinks will class up your guests as they'll get more options. Kids are also going to love the lip-smacking nariyal pani.
A flower shower is an excellent Barat welcoming idea. You can elegantly do this. How? With Mr. coconut. Shower rose petals onto the guests who have come as the Barat. And somewhere in between, we will install our coconut water stall. Guests can enter one by one with monogrammed coconuts that have their names carved on the top. This is undoubtedly going to enhance the Groom's side entry!
Kickstart Barat Swagat with Mr. Coconut's Delicious Coconut Mocktails
Coconut cocktails are among the mouth-watering treats in the bar. Adding our coconuts as welcome drinks for Barat swagat is a great idea. We serve 100% fresh and natural coconut water that can surpass popular beverages like wine. And if you are having your Barat Swagat ceremony in Goa or Mussoorie, why not add a tropical drink? Coconut water is a refreshing drink idea and a must-have if you welcome Barat at the beach/destination wedding on a tropical island. Greet your guests to the Barat ceremony with a non-alcoholic drink. Add a cocktail hour where we will entertain guests with our display of tender coconut water straight from the source.
Something Healthy, Something Personalized for Your Barat Guests
Food is the main focus of any function. But, as a host, you should remember the important aspect of drinks. We understand that food entices the guest, but drinks are a lifeline! So, healthy coconut water is a must on the table to neutralize spicy food or quench one's thirst. Make your wedding guest impress by offering them monogram coconuts. Mr. Coconut provides carvings displaying #ladkewale or #ladkiwali of the Barat ceremonies. So, whenever a guest tastes the coconut water, they will love the taste and the presentation!
Mr. Coconut Brings The Beverage Stall for Barat Swagat
Want to bring forth cold, refreshing drinks for a fun Barat Welcoming ceremony? Serving cool and fresh coconut water can help guests chill out on a hot summer evening. The non-alcoholic Barat welcome drink idea is a great way to supplement the bar during your cocktail hour or at the start of the Barat welcoming ceremony. Mr. Coconut can customize your drink station to serve signature mocktails. We will set up our beverage stall for Barat swagat so that every guest enjoys the other wedding functions with the same energy and freshness! Ask us to serve custom-made coconuts to guests. It's a simple task for Mr. Coconut. We have expertise in designing personalized coconut for Barat Beverage Counter on your big day! Get your Barat guests to repeat the dance steps with the Bollywood songs. We will take care of how they feel fresh and revitalized.
Conclusion
So, the idea behind adding Mr. Coconut's drink stall is to allow guests to serve healthily and fresh. From non-alcoholic cocktails to crafted nariyal pani, there are many ways to delight your guests. It's time to add a fun and unexpected twist to the Barat Swagat! Call Mr. Coconut now.