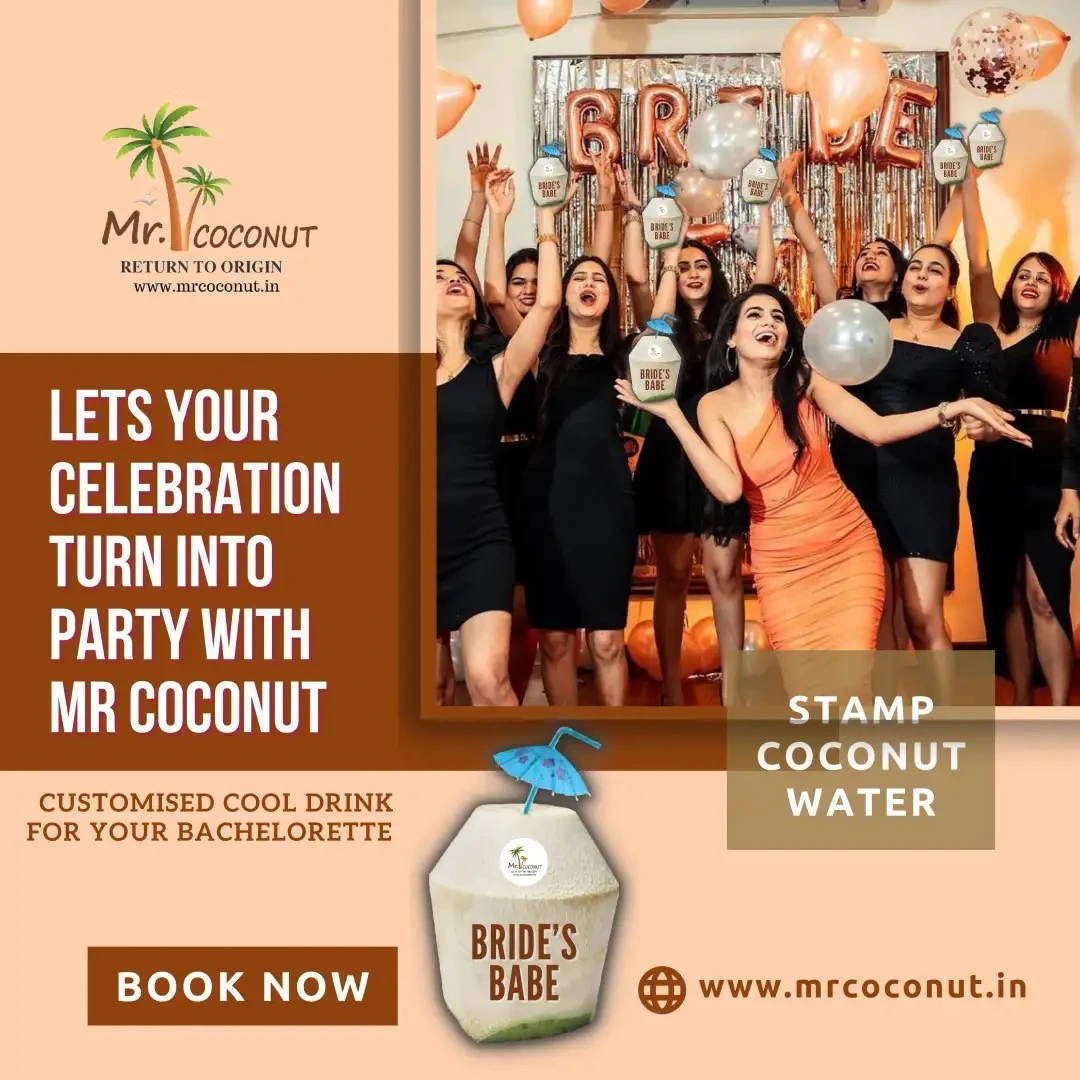 Let your Celebrations Turn into a Party with Mr. Coconut
Posted by : Mrcoconut / On : Feb 22, 2023
Saying "Happy Birthday" and blowing out candles is so simple. Let Mr. Coconut bring a twist to your birthday party with fantastic welcome drinks for Party. Remember, a party without a dazzling welcome drink is always a boring affair! Excellent welcome drinks jazz up and prepare your guests for the food to come. Its welcome drink brightens guests' moods and adds to enthusiasm.
It's Time to Twist Your Celebration into a Party!
Host a grand birthday party with Mr. Coconut, and you will be happiest than ever! How? We believe in sharing joy by treating guests to an over-the-top celebration packed with sweet drinks and customized gifts.
If you want your celebrations to be a rocking party, follow these steps –
1. Keep the Fun Going
A birthday party is super fun! Keep the fun going by serving a late-night treat, i.e., the Happy Meal. Mr. Coconut supplies branded coconuts for Party. Your guests can now sip the mouth-watering sweet drink with the toothsome food eatables.
2. Let them Drink More
. Ice cream and cakes should only sometimes get all the credit for fun. Use the coconut water stall for Party at Mr. Coconut to display customized and stamped drinks. The fresh coconut water with guests' names and birthday party theme will attract attendees!
3. Drink Pink
How about getting your party guests to drink pink? Wine and beer are 'okay,' but Mr. Coconut brings pink color freshly shaved coconut water. The enzyme in newly cut and served nariyal pani makes the drink pink. Our mocktail option is a cool and lavish drink option for your guests.
4. Retreat Smiling
Your birthday is fun, and your guests must leave the Party with a smile! Mr. Coconut comes up with notable Party favor ideas for the lots go loved ones coming to celebrate. How about sending them off with a thanks message? You can order monogram coconut from us. Ask us to carve the thank note on the fruit's shell. It is an easy, impactful, and inexpensive favor idea.
This Birthday, Choose Non-Alcoholic Drinks for Your Guests
A birthday celebration is a great time to paint the town red! And there are plenty of alcohol-free drinks to get the celebrations off with a bang. Mr. Coconut is an industry for supplying A+ Grade tender coconut water. Why not tailor the beverages for this Party? Consider serving all-time classics like tender nariyal pani! This non-alcoholic beverage can keep everyone happy and fresh. Consider including our coconut water as a signature mocktail that will match the Party's theme! It's a fantastic way to make the birthday party obtrude from the crowd. Champagne is the enthusiasm of any birthday celebration. But why always stop at a glass of alcoholic bubbles? Elevate a premium customized peeled coconut to bring some extra crackle to your birthday. Use the drink as your special mocktail!
How about a Sober Birthday Celebration? Mr. Coconut Brings the Tastiest Non-Alcoholic Drinks for Birthdays
If you love getting sober, you know, making smart and healthy decisions! Ask us to bring our beverage stall at a birthday where your guests can help themselves with 100% fresh and non-alcoholic coconut water. Drinking our tender coconut drinks makes you feel healthier. You become more refreshed and want to dance once more! A birthday without alcohol can be exciting, especially when you are with Mr. Coconut. You can make the day extra festive with fun mocktails and personalized touches. You gave up alcohol, good, very good! But giving up alcohol doesn't mean you have to give up the delicious flavors of a party drink. When you take a celebratory sip of this peeled nariyal pani, you'll forget all about the wine and vodka! Get a friend in the birthday celebration who likes fresh and refreshing drinks. Share the garden-fresh coconut water!
End up the Birthday Celebration with the Notable Return Gift
Who will take the extra stress to remember your grand birthday celebration in today's busy world? So, consider giving return gifts as a token of thank you and appreciation for the guests. Here, unique personalized gifts work the best. Mr. Coconut can suggest to you the best gift ideas. You can gift an engraved house décor, gold birthday party favor bags with satin ribbon, happy birthday custom gift box containing our monogrammed coconut! The message imprinted on the coconut fruit or other gifts will always be a beautiful token of your hospitality. Mr. coconut's stamp coconut is one of the most amazing giveaways for your birthday event. We promise to use only premium tender coconuts. These coconuts are personalized with the name and thank you message stamped on the young coconut shell. The return gift keeps the amusement and enthusiasm of the visitors alive until your next birthday party!