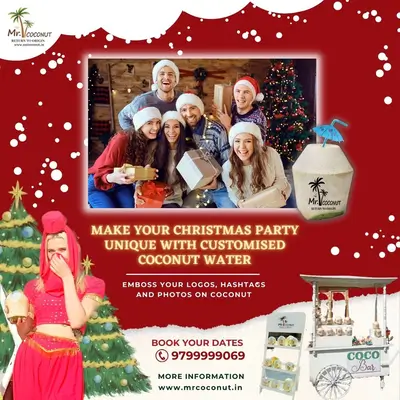 Christmas - A Festive Time to Organize Parties
By: Shivam Agarwal,

CEO & CO-FOUNDER MR COCONUT

| 26 December 2022
It's a cool evening, and you are at the Christmas party. The crowds, dance, and music may be fascinating, but the only thing on your mind is the drink in your hand. There are various drinks to choose from, and among those, you have to select beverages that are not only delicious but also make a good impression on those around you. If you are looking for an authentic coconut drink with a welcoming feeling, this Thai Coconut Drink is the best for you. It is delicious, light, and refreshing. This is the kind of drink that will make you talk about it. Pretty Cool! Mr. Coconut serves personalized coconuts, and we are sure your friends will admire your drink, you don't want to share it! Game on, enjoy!
What About a Coconut-y Christmas Celebration?
25th December is around, and it is time to plan and organize the Christmas Celebration. Decorations are all ready, and food is served. The party starts with every guest having a drink and having fun on the dance floor. And here, non-alcoholic welcome drinks are going to make the guest feel welcome and cheerful. The idea of a personalized invitation for a Christmas Party is to create an exclusive and experienced feeling that every guest can enjoy. The specialty of the personalized invitation is to design personalized gifts & personalized drinks. Let Mr. Coconut take care of personalized coconut drinks from now on. We're known for providing fresh coconuts for every customer. We shall offer custom designs to meet our customers' needs.
Amazing & Healthy Welcome Drink Ideas for Christmas Party 2022
Christmas is a time for friends, family, presents, and parties. How about presenting unique gift baskets along with a healthy treat or drink? Mr. Coconut is here to provide the best solution. We have an assortment of unique and personal coconut drinks with your guests' names carved on the shell. Say 'no' to beverages and cocktails that are carbonated or extra sugary. For this Christmas Party, opt for natural drinks. Mr. Coconut's welcome drink ideas are healthy, refreshing, and truly enjoyable. We promise to offer you delicious coconut water in customized coconuts. All the coconuts are served to our clients only after a 100% quality check. The optimal quality is guaranteed. All the carved coconuts are cut/peeled in front of your eyes and served instantly.
A Fresh Approach to Creative Christmas Eve Mocktails
Nariyal Pani is now a trend drink party at home, and it is still going strong this Christmas. Fresh Coconut Drink is a great drink with many dishes and snacks. For example, if you are preparing a mince pie for a Christmas party, then this coconut water can be served as a great replacement for alcoholic drinks. This will help to make your party more enjoyable for everyone not just for you. It's time to present your Christmas gift baskets right now! Let Mr. Coconut place a unique beverage stall and offer fresh coconuts to all the guests with a name carved on them. Their facial expressions would be priceless! This Christmas, gift unique gift baskets with a compliment of unique coconut drink to your friends and family. The unique mocktail coconut drinks that Mr. Coconut offers are not only refreshing in taste but also perfect for a special Christmas eve. We specialize in the manufacture of exotic non-alcoholic drinks & are a well-known name for personalized coconuts, carved, stamped, and monogram coconuts. Our brand name is synonymous with excellence & authenticity.
We Promise Revitalizing Your Christmas Celebration with Our Personalized Drinks
Mr. Coconut is one of the few Indian companies that have expertise in providing beautifully carved for Christmas Eve. The weather is getting colder, 25th December is near & it's Christmas time already! This year is considered the best time to host a party. Now, it's time to assign a creative task to Mr. Coconut. With our welcome drink ideas for winter, you are going to create a cheerful, festive, and delicious Christmas party. Would you like to prepare yummy flavors with your coconuts at home? Let us come up with a refreshing drink that could be the best Christmas party drink this time. This is the perfect drink for trying those delicious non-alcoholic drinks of your choice and making them look like alcoholic drinks.
So, book coconut water online from us in advance, and we will be happy to deliver it to your doorstep at this Christmas party function. Choose any designer coconut drinks, and we will carve your name on them. This one-of-a-kind drink is going to bring the party to life. With our personalized drinks, you can enjoy Christmas Eve with friends and family without worrying about drinks!