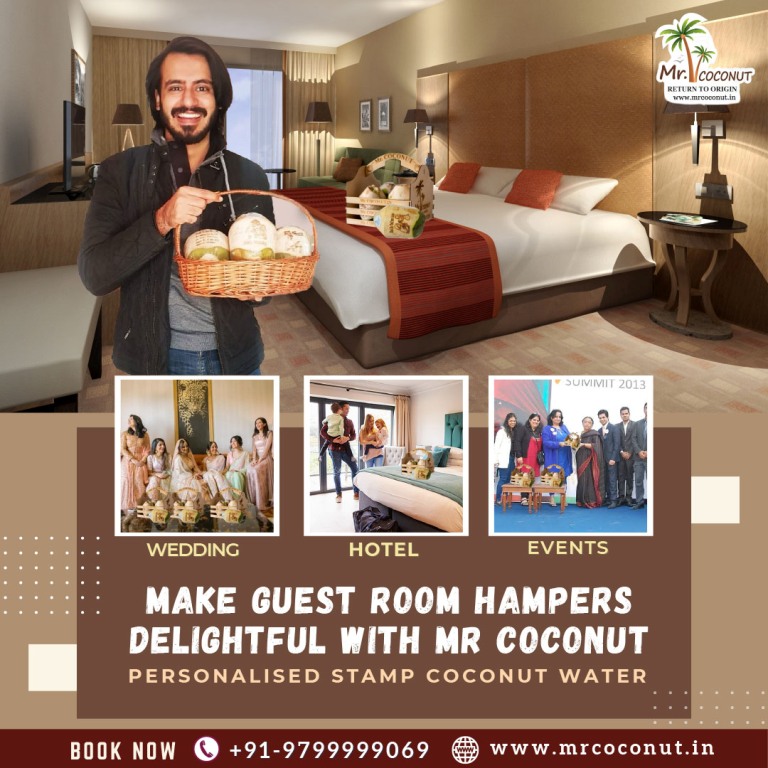 Make Wedding Guest Room Hampers Delightful with Mr. Coconut
Posted by : Mrcoconut / On : Nov 29, 2022
"Destination & Intimate weddings are incomplete without luxury hotels and welcome hampers. Mr. Coconut's beautifully embossed Stamp Coconut is the perfect welcome gift/room hamper that can make your guests feel warm and fuzzy when they enter their hotel rooms. Refresh your guests with a healthy drink after a long and exhaustive journey"
Be it a Destination Wedding or a Traditional one, you will be receiving a lot of guests. And you will most likely accommodate them in luxury hotels with top-class amenities.
Now, picture this - Your guests just completed a long and exhaustive journey. They need something that can refresh and energize them quickly. And as soon as they enter their hotel rooms, they are greeted by intricately crafted Monogram coconuts filled with fresh and tender coconut water. They take a sip and are instantly refreshed, thanks to the natural goodness of coconut water.
This is where Mr. Coconut comes into the picture!
Pamper Your Guests with Room Hampers in Destination Wedding
Room hampers are getting popular, especially in destination weddings and intimate marriages.
The idea of personalized hospitality and luxurious experiences is quickly gaining traction in the "Wedding Industry" thanks to the presence of wedding planners and personalized brands like Mr. Coconut.
But, before we jump into what Mr. Coconut is all about, let's quickly look at some interesting Room Hamper & Guest Welcome Ideas in Destination Wedding.
1. A Customized & Relaxing Bath & Body Spa Session
This is an amazing way to get your guests to relax after a long journey to your wedding location.
As soon as your guests unpack, lead them into a beautiful spa offering fabulous skin and hair care sessions. You can also curate some amazing body massage sessions followed by special spa boxes for a super luxurious & personalized relaxing session!
2. Gift Local Delights that Your Guests Can Take Back
You can gift beautifully crafted welcome hampers filled with munchies and goodies made from locally sourced materials. Or if you want to splurge, you can add some luxury drinks and snacks to pamper your guests.
3. Refresh Your Guests with a Healthy Drink – Tender Coconut Water
Instantly refresh your guests by offering them healthy & delicious coconut water in beautifully crafted coconuts.
These coconuts can be easily embossed with personalized designs like pictures of the couple, logos or hashtags of the event or a personalized welcome message for your guests.
You may wonder who makes these intricately designed coconuts. So, let's find out!
Mr. Coconut Can Make Your Room Hampers Interesting!
Mr. Coconut is one of the leading brands in India that holds expertise in offering a wide range of beautifully designed shaved coconuts for destination & intimate weddings as well as marriage ceremonies like Haldi, Mehendi, Ring Ceremony and more.
Mr. Coconut provides Unique Room Hampers for Destination Wedding
Mr. Coconut boasts a team of experienced crafters and designers who hold expertise in customizing the outer shell of the coconut according to your wedding requirements.
Mr. Coconut is currently serving a wide range of Tier-1, Tier-2 & popular cities which means we can serve you in almost every well-known destination wedding location.
Planning a destination wedding in Goa? Have a traditional wedding in Delhi? Or an intimate wedding in Mussoorie? Mr. Coconut can serve all these cities and more!
1. Mr. Coconut Customizes Coconuts in Different Styles
Mr. Coconut offers beautifully customized carved coconuts in different styles with:
Pictures of the couple
Hashtags of the ceremony like Haldi, Mehendi, Baraat & more
Logos of the ceremony like Ring ceremony, Engagement & more
With such a wide range of designs and customizations available, you can easily use the intricately crafted shaved coconuts as a unique and healthy welcome Drink in Wedding.

2. Get Cocobar – A Personalized Coconut Beverage Counter at Weddings
Mr. Coconut also offers an extensively customized coconut bar where your guests can relish tender coconut water in beautifully crafted coconuts.You can get the coconut bar customized according to the event to elevate the entire ambience of your wedding!

3. Peeled Coconuts are Perfect for Wedding Planners
Wedding planners looking for unique and interesting products for their clients can easily add Mr. Coconut's personalized coconuts into their product offerings. Customized coconuts are not only healthy but they also offer unique and personalized designs that are perfect for destination marriages.
So, what are you waiting for? Get in touch with Mr. Coconut's experts today to make your wedding guest room hampers unique and refreshing!