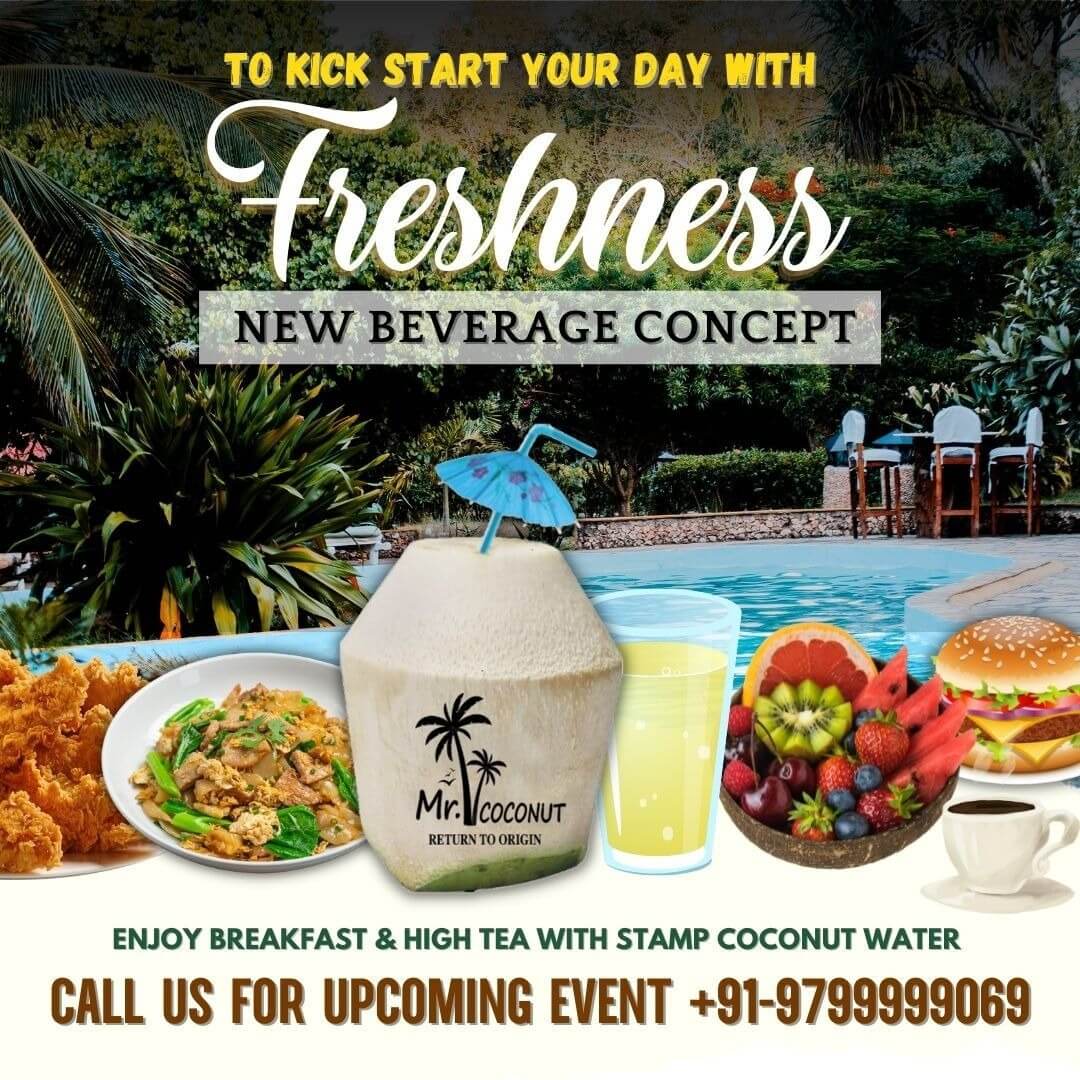 How Can Mr. Coconut Make Your Wedding Breakfast Healthy?
By: Shivam Agarwal,

CEO & CO-FOUNDER MR COCONUT

| 13 December 2022
Most wedding guests come from different parts of the country to take part in wedding ceremonies and marriages. They will be expecting some delicious food including the first meal of the day i.e., wedding breakfast. Looking for an interesting breakfast idea in destination wedding? Mr. Coconut's elegantly crafted monogram coconuts can make breakfast at weddings healthy and unique!
A wedding isn't a 1-day event. It includes different types of ceremonies like Mehendi, Haldi, Sangeet, Ring Ceremony & more. And in most cases, your guests arrive at the wedding venue at least 3-4 days before the wedding date to take part in all the rituals and ceremonies.
So, naturally, your guests will be expecting some delicious wedding foods and meals. And what better way to satisfy their taste buds than with a healthy and delightful wedding breakfast in the morning?
But, before we jump into the world of breakfast, you should know that the concept of wedding breakfast is different in India and western countries.
What does a Wedding Breakfast in India Look Like?
After a long journey, your guests retired for the day and took a good night's sleep in a luxurious hotel/resort. Now, they are up in the morning and they want something delicious that will get them pumped up for the rest of the day.
And when it comes to Indian breakfasts, wedding guests will expect a few delicious dishes that can satiate them. Indian breakfasts are usually filled with scrumptious dishes packed with a variety of nutrients and local spices.
So, what do typical Indian wedding breakfasts include?
Depending on where the wedding is taking place, a typical breakfast in Indian weddings can include Parathas (Punjab), Poha (Maharashtra & MP), Pyaz Kachori & Mirchi Vada (Rajasthan), Idli & Dosa (South India) and many mouth-watering dishes.
While these scrumptious foods are healthy, you can make your wedding breakfasts healthier with some delicious and tender coconut water. And if you get these coconuts with beautiful and personalized designs then they can add a unique design element to your wedding.
But, before we explore the world of personalized coconuts, let's quickly look at how western countries like the United Kingdom, the United States of America and other regions have their wedding breakfast.
How does the West Enjoy their Wedding Breakfast?
In many western countries and regions like the European Union (EU), a Wedding Breakfast is usually done after the marriage. Why so?
Since the 17th century, people in many western nations have been fasting before a wedding. This is done to prepare themselves for the holy matrimony. And after the marriage is over, the couple breaks the fast by having the first meal of the day.
"It is also the first meal as a couple after marriage!"
This is quite an interesting ritual when compared to Indian weddings.
But, whatever the tradition is, guests want something delicious and healthy for their first meal.
Personalized Coconuts can Make Your Breakfast Healthy!
Beautifully crafted peeled coconuts are full of fresh and tender coconut water that provide a wide range of nutrients. In addition to that, coconut water is low in calories and provides instant detox which can be a great addition to wedding breakfasts!
So, whether you are planning a Destination Wedding in Goa, an Intimate Wedding in Udaipur or a Traditional Wedding in Hyderabad you can easily incorporate meticulously designed shaved coconuts for your wedding breakfast!
Mr. Coconut provides Elegantly Designed Stamp Coconuts for Weddings
Mr. Coconut offers a wide range of intricately crafted Carved Coconut that is full of delicious coconut water. These coconuts can be easily customized with a wide range of designs for weddings like:
Pictures of the couple

Hashtags of the couple or the event

Logos of the event

Other design elements as per your wedding or ceremony needs
Mr. Coconut has a team of experts who understand all your design and customization needs for the wedding. After that, the experts accurately imprint/emboss the design over coconut.
Give a Quick Detox to Guests at Cocobar
Mr. Coconut also provides a beautifully customized coconut beverage stall in weddings that are handled by a professional bartender.
Whenever your guests feel thirsty or need a quick detox, they can head over to the Cocobar to grab a nut full of fresh and tender coconut water.
So, what are you waiting for? Connect with Mr. Coconut to make your wedding breakfasts delightful, unique and refreshing!