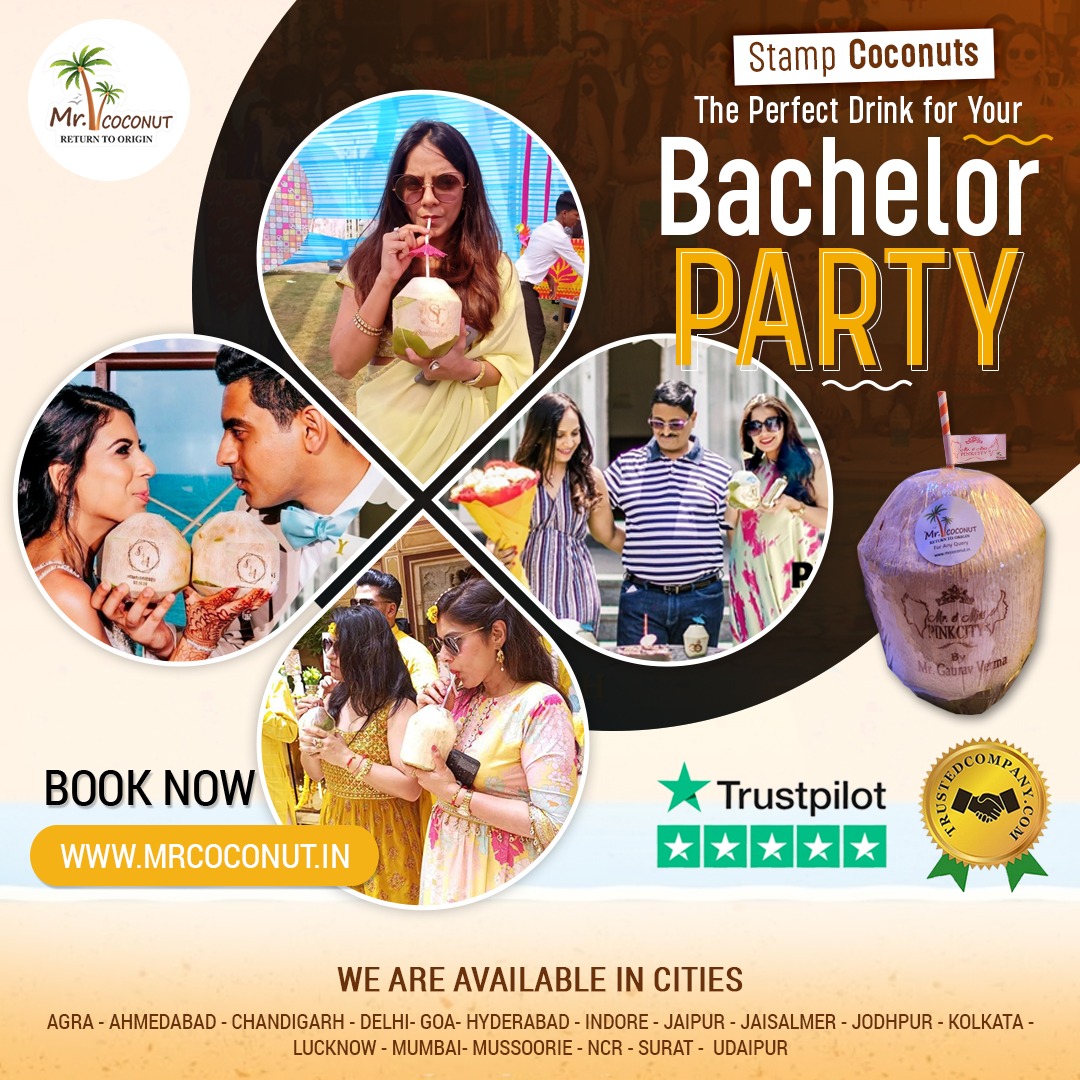 Stamp Coconuts: The Perfect Bachelor Party Favor for Friends!
Posted by : Mrcoconut / On : May 22, 2023
Introduction
Pre Wedding celebrations call for a bachelor party, and what would be better than adding fun-element to your party? A bachelor party is an opportunity that calls close friends & family together to spend quality time. Before you begin a new chapter in your life, a man plans for a fabulous bachelor celebration. Also known as a stag party, the groom's friends or best man typically organize a bachelor party. So, if your friend is getting married this year, it's time to plan something enjoyable and memorable with Mr. Coconut. After all, the party marks the end of his single life before entering into marriage! What to add to your party that'll make your friends and relatives remember your prewedding as fun? Let Mr. Coconut step in with the idea of printed coconut drinks. Visually attractive welcome drink multiplies the day of the party gathering with the crew. Invite guests & plan an epic bachelor party with us. How? Let's see.
Bachelor Party Ideas with Mr. Coconut's Personalized Drinks
Planning a bachelor party with Monogram Coconuts from Mr. Coconut sounds like a fun and unique idea! Yes, you heard it right. How notable would it be to serve fresh and healthy drinks to the loving and dear guests? Mr. Coconut is India's trusted custom coconut brand, serving thousands of fresh and tender welcome drinks for summer & winter. Below are some of the bachelor party ideas favor for friends in Delhi, Kolkata, or Mumbai.
● Tropical Beach Party with Mr. Coconut stamp coconuts
Transform a traditional bachelor party into a dashing tropical beach party. Let Mr. Coconut serve stamp nonalcoholic welcome drinks with a touch of tropicality. With our fresh and tender drinking option, a beach-themed mocktail, your guests will get the feel of a tropical paradise. Our coconut drink complements the snacks to the fullest.
● Create Personalized Gifts with Mr. Coconut Stamp coconuts
Stamp coconut makes for perfect personalized gifts for a wedding. As the party's host, you can get your guests something that will come in handy and is unique. How about Mr. Coconut's customizable coconut gift keepsakes for your friends? We're experts in customizing each coconut with the groom's name, the bachelor party date, or a fun message. Let your guests remember your celebration for a long time!
● Coconut Drink Station with Mr. Coconut
Bachelor Party is one of the most important celebrations, so it needs to be much more than 'simple.' Organize a coconut drink station with Mr. Coconut. We set up a coconut counter for parties called Cocobar. Our customized drinks can be the perfect highlight for your celebration!
● Set Up a mocktail Bar with Mr. Coconut
Welcome drink ideas make a tremendous difference in your entire party execution. How about taking the help of Mr. Coconut and transforming your bachelor party into a coconut-themed mocktail bar? We bring in a wide selection of personalized healthy drinks – coconut water, coconut tender drink, or fresh nariyal pani. Add the drink option with yummy snacks like pancakes, waffles, or French toast.
Personalized Coconuts for Bachelor Party Favours
Gifts are a way of thanking your guests who took some time to be a part of your happiness. Now that they have witnessed your celebrations, it's time to make them smile. Be it hampers or a gift basket, customization always works best.
Customized gifts from Mr. Coconut are a superb idea for bachelor party favors for friends. This gift option will be unique and memorable and reflect the fun and tropical theme of your bachelor party. Craft unique gift baskets with customized Coconuts to make the perfect personalized gifts your friends will cherish.
Why Mr. Coconut's Coconut Drinks Over Cocktail Drink Options?
It's 2023, why not surprise your guests with something out of the box? Every bachelor party usually serves cocktail drinks with snacks. Why not opt for Mr. Coconut Indian fruit juice stall, that's both healthy and super tasty?
With scrumptious food items, popping music, and near & dear friends, you cannot miss out on the added benefit of our healthy carved coconut. Choosing Mr. Coconut's tender coconut drinking water option for your bachelor party – in Jaipur or Goa – is available at affordable rates.
Remember to prioritize the versatility and all-nature-fresh options in your bachelor party. Our shaved coconut introduces a healthy and unique element to the celebration. Because when you serve fresh, you serve health! Our visually appealing presentation is the art & expertise. For this bachelor party, choose a refreshing alternative and a mocktail over traditional cocktail drinks.
Contact Mr.Coconut for your Bachelor Party Welcome Drink Ideas
In conclusion, an entertaining bachelor party is about creating unforgettable celebrations! The groom-to-be and his friends deserve to enjoy the bond, have fun, and create lasting memories. So, what are you waiting for now? Connect with Mr. Coconut and incorporate their personalized Coconuts into your party. Adding a unique touch is always crucial to make an event more memorable. Take your bachelor party to the next level, promote health among your guests, and delight them with a touch of novelty to the event! Get in touch with us right away!