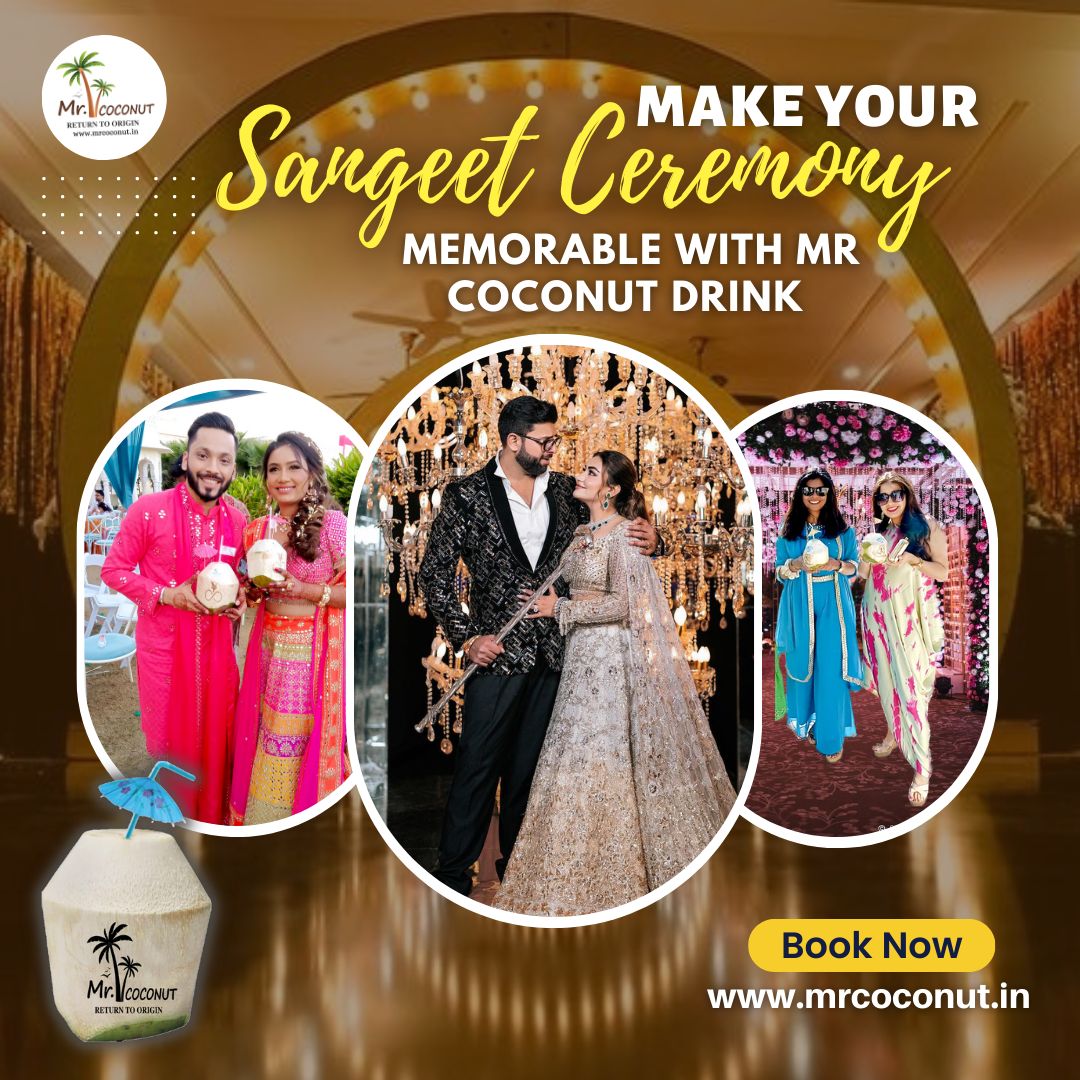 Infuse Customized Coconuts to Make Your Sangeet Celebration Memorable!
Posted by : Mrcoconut / On : May 05, 2023
Sangeet is an integral part of Indian weddings, and its no secret that people leave no stone unturned to make it the most memorable event of their lives. In recent years, the trend of customized coconuts has gained immense popularity among wedding planners and hosts to make the Sangeet celebration a unique and memorable experience.
Customized coconuts from Mr. Coconut is not only visually appealing but also adds an element of personalization to your Sangeet. They can be customized in various ways, making them a versatile choice for any wedding theme. Here are some ways in which you can infuse customized coconuts to make your Sangeet celebration memorable:

● Personalized Coconuts from Mr. Coconut for Invites
What better way to invite your loved ones to your Sangeet than with customized coconuts from Mr. Coconut? You can get the initials of the couple, the wedding date, and other details carved on the coconut and send them as invites to your guests. These can be kept by your guests as engraved gifts even after the ceremony is over. This unique and thoughtful gesture will not only set the tone for your wedding but also be a memorable keepsake for your guests.
● Customized Coconuts for Decor from Mr. Coconut
Customized coconuts can add a touch of elegance and charm to your Sangeet decor. You can go for peeled or printed coconut decors from Mr. Coconut and customize them according to your needs. You can get them painted in the colors of your wedding theme or carved with intricate designs. These coconuts can be used as centerpieces, hung from the ceiling, or placed strategically around the venue to create a cohesive and personalized look. They also act as a guest welcome idea at the wedding in Jaipur, a new concept invented by Mr. Coconut. These can also act as personalized gifts for guests at the Sangeet ceremony.
● Personalized Coconuts for Photo Booths
Photo booths have become a must-have at weddings, and customized coconuts can be a perfect addition to your Sangeet photo booth. You can get the couples names, wedding dates, or fun phrases carved on the coconuts and use them as props for your guests to click pictures while sipping Mr. Coconut & nonalcoholic welcome drinks. These pictures will not only be cherished by the couple but also by the guests for years to come.
● Customized Coconuts for good signature drinks for wedding
Welcome drinks for Indian weddings are a staple concept, and customized coconuts can be a unique way to serve them. At Mr. Coconut, you can get the coconuts hollowed out and filled with your drink choices, such as coconut water or a tropical mocktail. These coconuts can be personalized with the couple & s names or the wedding date, making it a perfect welcome drink idea for your Sangeet.
● Personalized Coconuts for Unique Wedding Favors and gifts
Wedding favors and gifts are a way of thanking your guests for participating in your special day. Customized gifts from Mr. Coconut can be an excellent choice for wedding favors, as they are not unique but also functional. You can get them filled with chocolates, nuts, or any other treat and personalized with the names of the couple or a heartfelt message. You can also fill them with shaved or monogrammed coconut water to give a unique refreshment gift to your guests. These favors will not only leave a lasting impression on your guests but also be a sweet reminder of your wedding day. Make your Sangeet A Memorable One with Mr. Coconut Personalized Coconuts Are you searching for the ideal way to infuse a tropical vibe into your wedding? Mr. Coconut has provided thousands of fresh and tender coconut waters with a personalized touch at a wedding ceremony, whether sangeet, Mehndi, or Barat, or as a wedding favor in Delhi, Kolkata, or Mumbai. Customized coconuts are a versatile and unique addition to your Sangeet celebration. They can be customized in a variety of ways, making them perfect for any wedding theme. From personalized invites to wedding favors, customized coconuts can add a touch of elegance and personalization to your Sangeet celebration. So, infuse customized coconuts into your wedding planning to make your Sangeet a memorable and cherished event for years.
With delicious food items and delightful drinks, Mr. Coconut & customized coconuts are a striking centerpiece or bar adornment; Mr. Coconut can enhance the uniqueness of your wedding. An added benefit is that the coconut can be tailored to meet your wedding requirements. Multiple options are available for the design on your special occasion, including logos and names that have been engraved or printed, as well as a photo of the bride and groom. No matter what, it is certain that this will be the center of attention at your wedding.
Mr. Coconut endeavors to provide the finest quality of fresh, tender coconut water that is opened right in front of you. This will leave an enduring memory in the minds of your guests that they will treasure
forever.