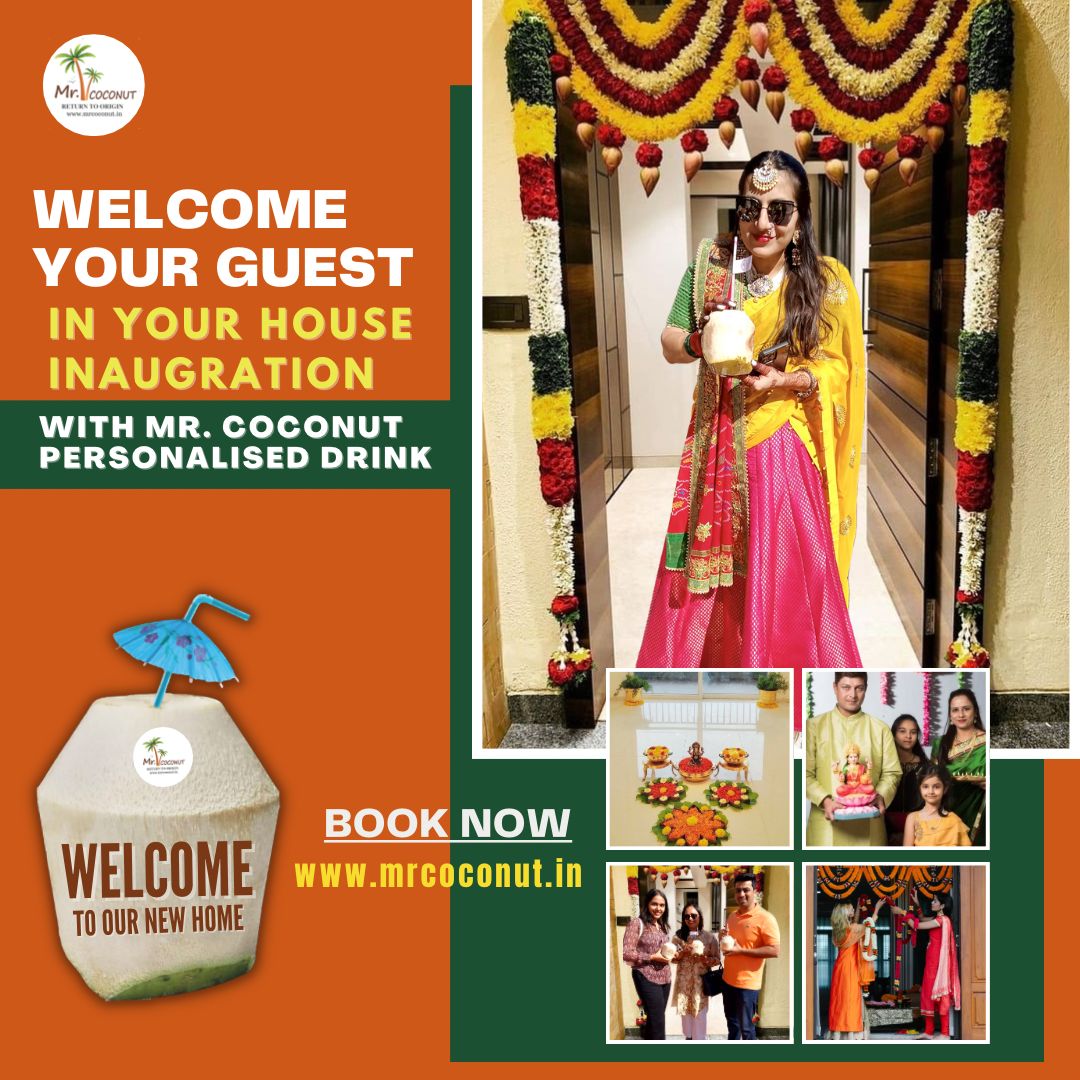 Top 8 Ideas to Throw the Best House Inauguration Party with Mr. Coconut
Posted by : Mrcoconut / On : Apr 28, 2023
Who does not love to arrange something together once they have moved into their new home?
Moving out to a new place is the best reason for throwing an iconic party. House inauguration party
will allow you to share the joy of becoming a new homeowner with your relatives and friends while
you get to make your house feel a lot more like home. Mr.Coconut will help you arrange the best
housewarming party with some amazing coconut ideas to help you have a memorable time with
your loved ones!
Without any further ado, we bring some great tips to help you organize the best housewarming
celebration you could ever have imagined!
The Innovative Minds of Mr. Coconut's Custom Coconuts
1. Create Your Customizable Guestlist
The initial step involved organizing a welcome home party in Mumbai, possibly by creating your
guest list. Therefore, before starting with anything else, ensure that you have noted the list of guests
you would love seeing at your party and hand it out to us, as Mr.Coconut will help plan it all out for
you!
Remember to have the Unique coconut beverage stall serve fresh coconut water in the custom-
made peeled coconut designs crafted by our talented designers. Create a refreshing feeling among
your guests with the splendid ideas that come straight out of the house of Mr. Coconut!
2. Create A Strategy and Send Out the Invites
After preparing your guest list, you must pick the date and time for arranging this party. Send your
house inauguration card and mention whether you are arranging it in the daytime, where your
guests would arrive and leave by the afternoon, or planning to organize a fancy dinner party with
cocktails and wine. You can proceed to host a theme-based party with Mr. Coconut & help.
3. Pick a Party Theme
You might even consider having a theme-based house inauguration celebration in Delhi. A theme is
never required for a good party; however, at Mr. Coconut, we receive many requests for arranging a
theme-based event to spice up the housewarming parties in Kolkata with our coconut water stall.
Sometimes, the theme can offer conversation fodder, food ideas, and music ideas that would make
the rest of your planning easier, especially when you have a Unique coconut catering stall right
beside you.
If you are selecting a theme, the primary things are to arrive at one that is fun but not obnoxious. A
good theme with the best house inauguration decoration is never overdone, which makes things
easier for new acquaintances to speak to each other. The negative theme would often kill this party,
mainly for the theme that involves guests doing things they would often find annoying and awkward
later on.
4. Create Some Innovating Seating Arrangements
To organize the best housewarming party, Mr.Coconut can help you have several forms of seating
arrangements prepared for your guests. We can lay out the dining chairs and benches in the living
room or place a couple of cushions on the floor where your guests can relax with the housewarming
signature drinks.
5. Arrange the Best Party Area
As you would serve snacks, it is always fine to scatter them all around the house welcome party
areas in varied spots. For instance, you can set the house inauguration drinks around the kitchen
island and a couple of snacks on beautiful plates. The main idea is that Mr.Coconut helps encourage
your guests to spread out and mix. It is the ideal way to spend much of the event hovering around
the snacks laid out everywhere.
6. Organizing Food and Drinks
The initial things that the individuals are lining up for are the foods and drinks, so we can help you
with the house inauguration beverage stall to flaunt the ideal spots of your home. If you have a
balcony with a great view, you can set up a bar at the front. Consider keeping these appetizers on
the new marble island if you have a kitchen in order.
The carved coconut ideas can entice your guests to have a refreshing non-alcoholic drink at our
stalls. Our monogram coconut will help you get an entirely new feeling.
7. Relax
Never should you rush to get prepared before your guests arrive. Have a great time preparing for the
party, although Mr. Coconut is here to take the load off your shoulders. Make sure you have a house
inauguration gift prepared to gift to your guests as a souvenir to create this memorable event.

The final thing we would love to mention at Mr.Coconut is that you should avoid overthinking.
Arranging a House inauguration party is now possible with the help of our experts. You can relax
and have a lot of fun this season with our unique coconut ideas that we bring for you. So, plan out a
perfect housewarming party with the help of our experts. Reach us now to book our exclusive
coconut water stall!