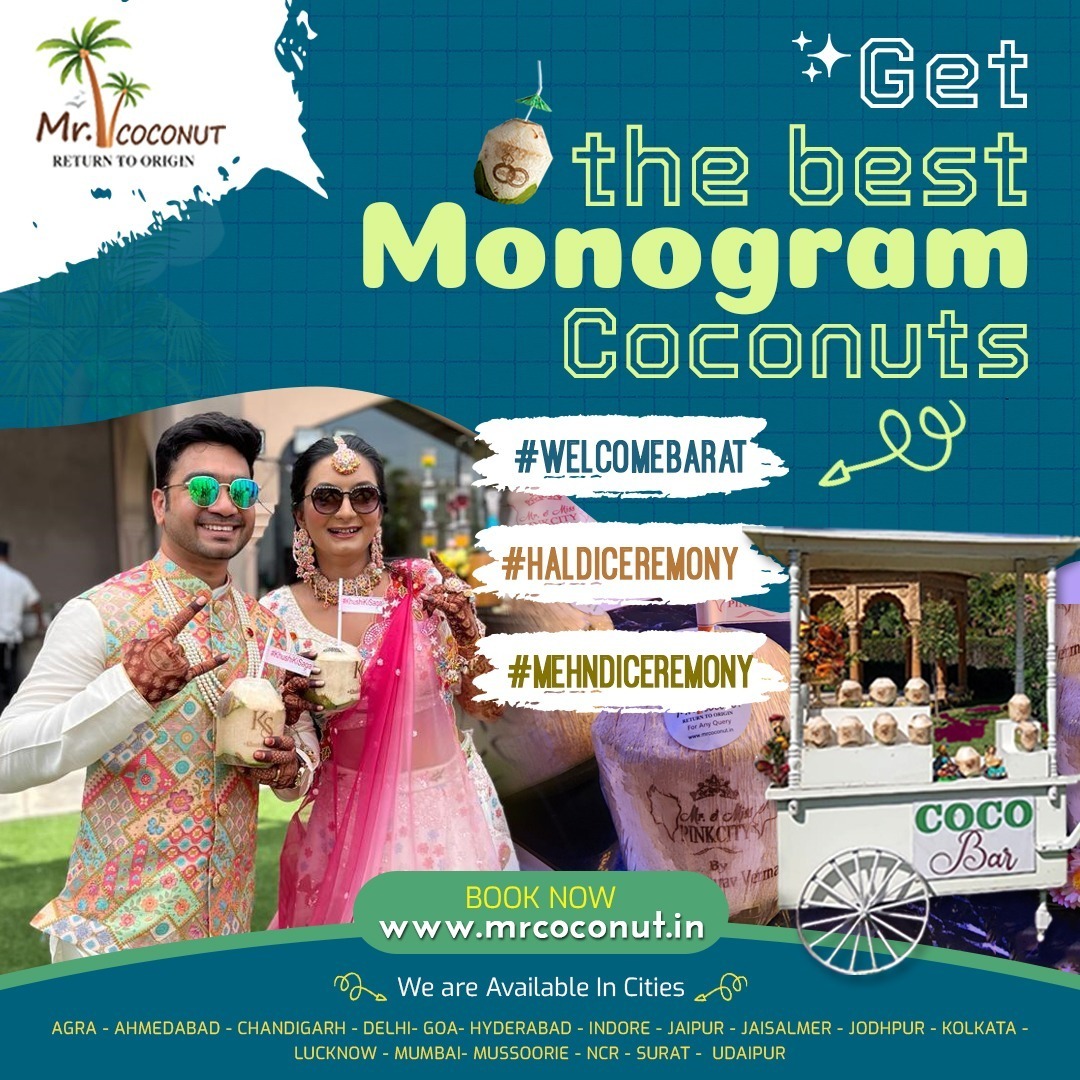 5 Creative Ways to Add Monogram Coconuts into Your Wedding Reception
Posted by : Mrcoconut / On : May 13, 2023
Personalization's have gained immense popularity in weddings, leaving little or no scope to exclude a personal touch from any aspect of the event. Personalization is apparent in numerous aspects of weddings, including the attire of the bride and groom, the footwear of the bride, the invitations, and even the vows. Like your wedding attire and necessities, your decoration must reflect your unique identity. For this reason, we provide a personalized coconut item from Mr. Coconut that can offer an appropriate degree of customization to your decoration.
In recent times, there has been a trend of incorporating monograms into Indian wedding decor in Kolkata, Delhi, and Mumbai, which has gained immense popularity. While certain individuals are embracing minimalism in their monograms, opting solely for the bride and groom's initials, others are incorporating their wedding hashtag as a monogram, highlighting a contemporary trend. In addition, decorators enhance the elegance of the space with an assortment of flowers, lighting arrangements, candles, and other ornamental features. If you're also interested in adding this trendy feature to your wedding decoration, we at Mr. Coconut is here to guide you on how to include your monogram in a personalized way. Jump right in and jot down every thought! Coconut monograms are a unique and creative way to add a tropical touch to your wedding reception. Here are five creative ways to incorporate monogram coconuts into your big day:
Coconut Place Cards

Add a personal touch to your wedding reception by using monogram coconuts from Mr. Coconut as place cards for your guests. The guests can get their hands engraved in these unique coconuts and take them back after the ceremony. You can also decorate the coconuts with tropical flowers or other embellishments to match your wedding theme. These can be fantastic engraved gifts for your guests after the wedding reception.

Coconut Centerpieces

Create beautiful and unique centerpieces by using monogram coconuts. Fill a clear glass vase with sand and place a few coconuts inside. Add tropical flowers or foliage to complete the look. This will give your reception tables a beachy and natural vibe. Add peeled coconut from Mr. Coconut to give a wider presentation to the final look of the decor.

Coconut Wedding Favors and gifts

Give your guests a memorable and useful wedding favor by gifting them monogram coconuts from Mr. Coconut. These can be personalized with the couple's initials and wedding date. Such unique wedding favor ideas for guests make them feel special and engrave their memory with your happy moments! You can also add a small card with instructions on how to open the coconut and enjoy the delicious meat inside. It would become the best wedding drink for your party, curated by Mr. Coconut. Your guests will love taking home a piece of your tropical theme wedding.

Coconut Cake Topper

These monogram coconuts can be used as a cake topper after they have enjoyed having the refreshing tender coconut water in them offered by Mr. Coconut. You can even place the coconut on top of the cake and surround it with fruit baskets and tropical flowers or foliage for a beautiful and unique look.

Coconut Bar or having the Cocobar drink from Mr. Coconut

Create a fun and unique bar area at your reception by using monogram coconuts as cups. Cut off the top of the coconut and hollow out the inside to create a cup. Fill the coconut cups with your favorite tender coconut water from Mr. Coconut or cocobar drinks from Mr. Coconut. You can also add personalized straws with the couple's names or initials. This will give your guests a fun and memorable experience while staying true to your tropical theme.

Where to get the best Monogram Coconuts?

Monogram coconuts are a fun and creative way to add a tropical touch to your wedding reception. From place cards to centerpieces to wedding favors, there are many ways to incorporate these unique decorations into your big day. Whether you're getting married on a tropical island or want to bring a bit of the beach to your wedding, monogram coconuts are a great way to do so.

The Monogram Coconuts from Mr. Coconut are exquisitely designed and serve as perfect customized gifts for your invitees. Coconuts are not only a source of refreshment and numerous benefits but also serve as a memento of the occasion, with monogram, stamp, print , or carved designs. Having a wedding reception in the upcoming days? Get in touch with experts at Mr. Coconut, and they will take care of all your nonalcoholic welcome drink needs with elegantly crafted Monogram coconuts.