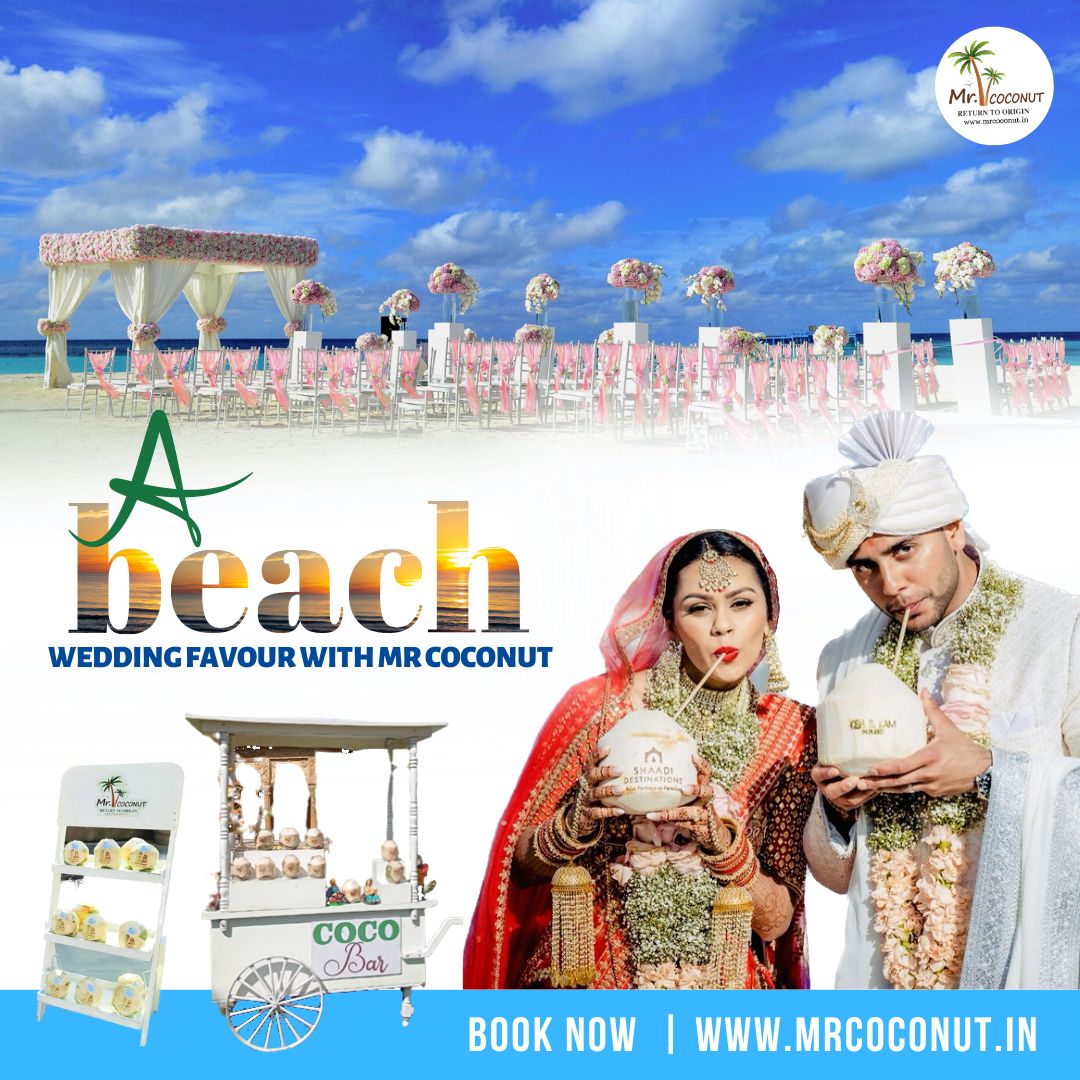 The Ultimate Beach Wedding Favor: Personalized Coconuts for Your Guests
Posted by : Mrcoconut / On : May 09, 2023
Beach weddings are always beautiful, but they can be even more special with personalized wedding favors. One unique and unforgettable option is to give your guests personalized coconuts. These are a fun and creative way to thank your guests for being a part of your special day, and they're also practical since coconuts can be used in many different ways.
This is where Mr. Coconut offers one of the best destination wedding ideas – Personalized Coconuts. What's so interesting about Mr. Coconut's unique coconuts? How can you make your beach wedding an unforgettable one with this drink? Read on to find out!
Personalized Coconut: Interesting Wedding Favors and Gifts
Here's why personalized coconuts are the ultimate beach wedding favor:
They're unique wedding favor ideas for guests

Giving your guests personalized coconuts is a unique and unexpected wedding favor. They're not something that guests are used to receiving, which makes them stand out from the typical wedding favors. Mr. Coconut brings you a wide range of customized coconut according to the needs of your guests. Guests will love the novelty of receiving a personalized coconut and will appreciate the thought that went into such a creative gift.

They're customizable with Mr. Coconut

Personalized coconuts can be customized in many different ways. Mr. Coconut allows you to have an engraved coconut with your name engraved on it to make each guest feel special for the wedding they are attending. You can add your partner's name, wedding date, and even a message or quote that's meaningful to you.

Mr. Coconut's coconuts are eco-friendly

Coconuts are a natural and sustainable material, making them an eco-friendly option for wedding favors. They're biodegradable and can be composted after use, so you don't have to worry about contributing to landfill waste.

Mr. Coconut offers you healthy, tender coconut drinks, which are both tasty and healthy. When you offer these drinks as breakfast beverages at the wedding in Kolkata to your guests, they, too, will feel refreshed.

They're versatile

Coconuts can be used in many ways, meaning your guests can enjoy them long after your wedding day. They can be used as decorative items in the home, as serving bowls for food or drinks, or even as a planter for small plants. Your guests will love the versatility of their personalized coconuts from Mr. Coconut and will find many different ways to use them. This would be a new idea for traditional Indian weddings in Mumbai that Mr. Coconut has invented in their services.

Mr. Coconut drinks are a taste of the tropics

Coconuts are synonymous with tropical destinations, so giving your guests personalized coconuts will transport them to a sunny beach. It's a reminder of your wedding day and the memories you created together. Guests will love tasting the tropics in their own homes, and it will be a reminder of your special day for years to come. Mr. Coconut brings you the tropical taste with their Monogram coconut drinks as welcome drinks at weddings, which gives them such a beautiful experience of a beach wedding

Mr. Coconut is affordable

Personalized coconuts are an affordable option for wedding favors and gifts. At Mr. Coconut, these coconuts are cost-effective and can be bought in bulk, so you can give them to all your guests without breaking the bank. They're also easy to transport and won't take up too much space in your luggage.


Mr. Coconut drinks can be prepared with ease

Preparing personalized coconut drinks for your wedding guests is easy. All you need to do is order the coconuts from Mr. Coconut, choose your design, and have them personalized. For drinks, you can either go for customized Cocobar drinks too! You can then set them out on a table for guests to take at night's end. It's a hassle-free option that won't add any stress to your wedding day. You can also easily serve them as nonalcoholic welcome drinks to your guests in the Indian fruit juice stall at your wedding!

They're a conversation starter

Personalized coconuts are a conversation starter. Guests will be intrigued by the unique wedding favor ideas for guests and want to know more about them. It's a great way to get guests talking and mingling with each other, which is perfect for breaking the ice and creating a fun and relaxed atmosphere. Mr. Coconut also offers customized printed coconut, which the guests can take back as a souvenir of the wedding.

Where to get Personalized Coconut for Ultimate Beach Weddings?



Personalized coconuts are the ultimate beach wedding favor. They're unique, customizable, eco-friendly, versatile, affordable, and easy to prepare. They also provide a taste of the tropics and are a great conversation starter. Your guests will love the thought and creativity that went into such a unique wedding favor, and they'll cherish their personalized coconuts for years to come. So if you're planning a beach wedding, consider giving your guests personalized coconuts as a fun and unforgettable way to say thank you.


Mr. Coconut is a leading brand in the personalized coconut industry, providing exceptional services to clients all over India. You can visit our website to avail of the services by sharing your customization needs for wedding ceremonies such as Haldi, Mehendi, Sangeet, etc. The coconuts can be delivered to your desired location hassle-free. We understand that beach weddings are meant to be exclusive and intimate, and we strive to make it possible. Creating unique and enjoyable experiences by gifting personalized coconuts from Mr. Coconut will be cherished by all.