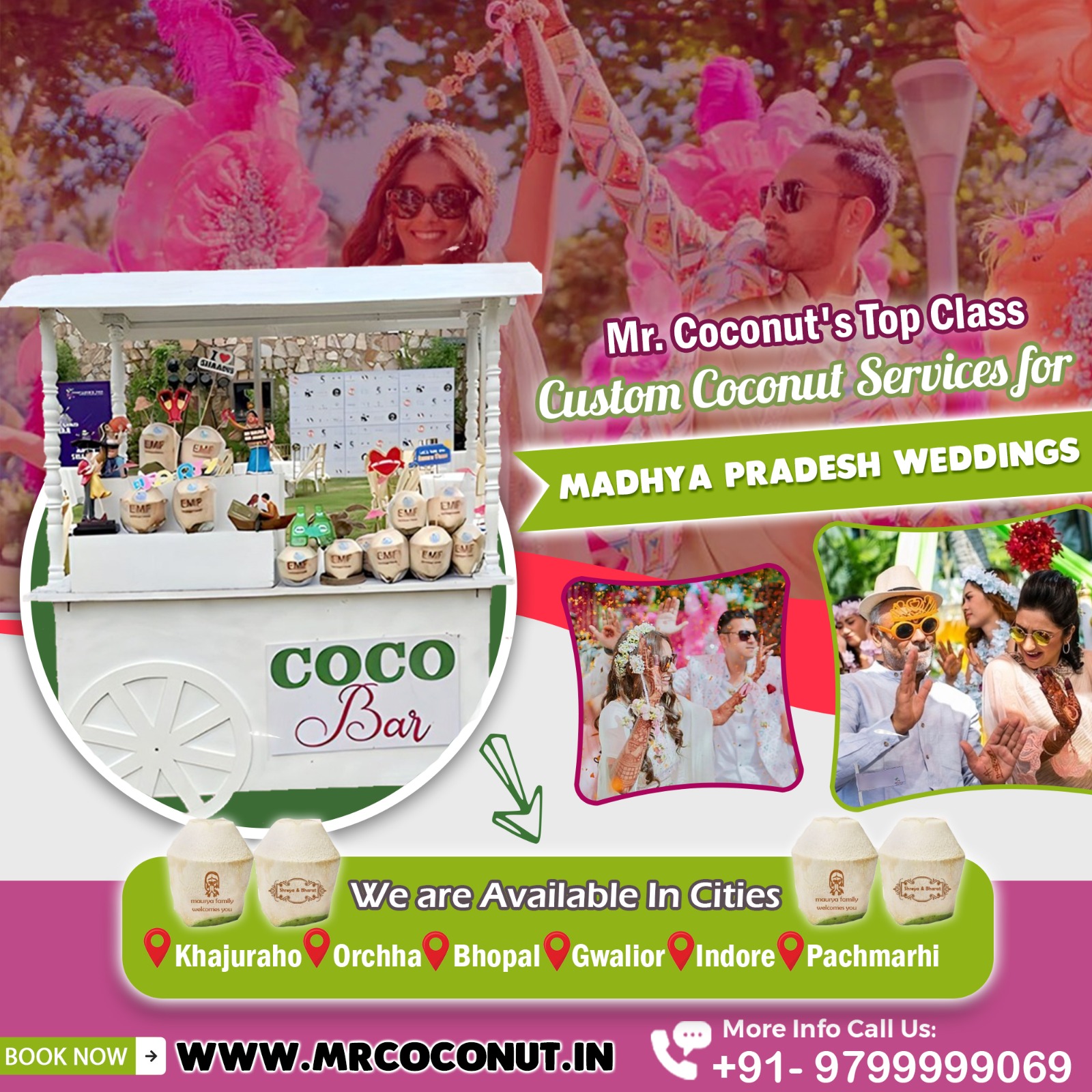 Monogram Coconuts – Trendy Customized Coconuts for Weddings Now Available in Madhya Pradesh
By: Shivam Agarwal,

CEO & CO-FOUNDER MR COCONUT

| 06 September 2023
Coconuts have long been a symbol of prosperity, fertility and celebration in Indian culture. From breaking a coconut to serving coconut-based dishes at weddings, coconuts hold a special significance.
However, times have changed and so is everyone's preference. Now, instead of just using plain coconuts, there is a new trend of customized coconuts specifically designed for weddings in Madhya Pradesh. Monogram Coconuts allow couples to add a personal touch to their wedding decor and favors. These coconuts can be engraved, embossed or printed with the couple's names, wedding hashtag, logo or any design of choice.
Mr. Coconut is the innovative brand behind this unique concept and offers a wide range of bespoke coconut customization services for weddings across Madhya Pradesh.
Why Should You Add Customized Coconuts to Your Wedding in Madhya Pradesh?
Weddings in India are celebrated with great fervor and enthusiasm. Families leave no stone unturned to make it a memorable affair for the bride, groom and all attendees. From decor to cuisine to entertainment, every element is carefully curated.
In recent times, customized and personalized wedding favors have become hot favorites! Couples want to add a touch of uniqueness to make their D-day stand out. This is where customized coconuts from Mr. Coconut come into the picture.
Engraved coconuts printed with couples' names or initials make for great & unique wedding favors. Guests can take them home as keepsakes. Having the wedding hashtag engraved on coconuts adds an interactive element as well. It encourages guests to share photos on social media!
Monogram coconuts and portrait coconuts engraved with couples' pictures make for personalized coconut favors. They can also be placed as natural decor elements in the mandap or wedding venue. The simplicity and elegance of coconuts coupled with intricate designs create a visual delight.
Mr. Coconut offers tailored coconut customization services for weddings across Madhya Pradesh. Our expertise allows us to deliver creative coconut designs specifically curated to couples' needs, wedding themes and event design requirements:
1. Customized Coconut Options from Mr. Coconut
Mr. Coconut provides different customization variations to choose from:
Photo coconuts - The couple's portrait or any meaningful picture engraved onto the coconut
Monogram coconuts - Couple's initials carved in a stylized manner
Hashtag coconuts - Adding the wedding hashtag makes for great social media integration
Personalized coconuts - Meaningful phrases or text engraved onto the coconut
The team at Mr. Coconut uses techniques like printing, stamping, carving and embossing to create customized coconut designs. Couples can select the size, quantity, and customization technique as per their preference.
Mr. Coconut provides expedited delivery of customized coconuts across tier-1, tier-2 and tier-3 cities of Madhya Pradesh. So, couples can use tailored coconut favors to enhance weddings in:
Major metros like Indore and Bhopal
Heritage towns like Orchha and Khajuraho
Spiritual cities like Ujjain and Omkareshwar
Hill stations like Pachmarhi
And other cities big or small!
3. Cococart – Add a Personal Touch to Your Wedding Celebrations!
An added advantage of Mr. Coconut is our Cococart offering. It is a customizable coconut water stall for weddings.
The Cocobar can be designed as per the wedding theme. This unique coconut stall adds a tropical touch and provides refreshing coconut water to guests. The cart also doubles up as a fun photo booth!
Madhya Pradesh brims with stunning options for destination weddings. From serene hill stations and regal heritage sites to modern venues, couples are spoilt for choice!
Let us explore top cities for tying the knot in Madhya Pradesh along with recommended wedding venues:
1). Engrave Coconut in Khajuraho – Land of Temples & Grandeur
Khajuraho is renowned globally for its brilliant temples. Intricately carved erotic sculptures adorn the temple walls. Beyond temples, Khajuraho offers an old-world charm coupled with modern amenities for hosting lavish weddings.
Top Wedding Venues:
Radisson Jass Hotel Khajuraho - 5-star luxury with sprawling lawns
Ramada Khajuraho - Eco-friendly resort with a poolside venue
Lalit Temple View - Overlooking the Western Group of Temples
Usha Bundela - Palace turned boutique hotel perfect for royal weddings
2). Personalized Coconut in Orchha – Regal History & Natural Beauty
The medieval town of Orchha offers the perfect blend of history, architecture, culture and natural splendor for dream-like weddings. The palaces and cenotaphs form a scenic backdrop for wedding functions.
Top Wedding Venues:
Amar Mahal - Grand palace on the banks of the Betwa River
Orchha Resort - Sprawling property with lawns and pool villa
Bundelkhand Riverside - Luxury eco-resort surrounded by nature
3). Peeled Coconuts in Bhopal – The City of Lakes
As the name suggests, Bhopal is known for its beautiful lakes. Couples can host weddings on scenic lakefront venues amidst the tranquillity of nature. Traditional markets and lip-smacking cuisine add to the Bhopal experience.
Top Wedding Venues:
Jehan Numa Palace - 19th-century palace transformed into a hotel
Courtyard by Marriott - 5-star hotel with stylish indoor and outdoor venues
Landmark Garden & Celebration - Sprawling lawns for customizable dream weddings
4). Monogram Coconut in Gwalior – Home of Music & Majesty
The rich history and regal architecture of Gwalior's palaces make it ideal for royal weddings. Magnificent forts, temples and monuments provide unparalleled backdrops for pre-wedding photoshoots. Gwalior's musical legacy also promises entertaining weddings.
Top Wedding Venues:
Taj Usha Kiran Palace - Grand heritage palace turned into a luxury hotel
Tansen Residency - Classy indoor spaces inspired by the musical legend
Clarks Inn Suites – World-Class venue for traditional style or destination weddings
5). Customized Coconut in Indore – Commercial Hub with Traditional Roots
Indore strikes the perfect balance between cosmopolitan comforts and small-town warmth. The foodie paradise offers natively flavored cuisines and sweet delicacies for wedding spreads. Indore is also close to scenic getaways like Ujjain for pre-wedding festivities.
Wedding Venues:
Rajwada Palace - Historic palace with traditional interiors
Sayaji Hotel - Renowned luxury hotel with modern event spaces
Grand Shenai - Luxe venue with exotic decor elements
Hotel President Park, Narsingh Vatika and Talwali Palms
6). Emboss Coconut in Pachmarhi – The Queen of Satpura
Nestled in the Satpura ranges, Pachmarhi is Madhya Pradesh's only hill station. The pleasant weather, cascading waterfalls and misty valleys of Pachmarhi provide a fairy-tale setting for weddings. Adventure activities allow guests to let their hair down.
Top Wedding Venues:
MPT Club View - British-era clubhouse oozing colonial charm
Rock-End Manor - Boutique forest lodge with wilderness luxury
Hotel MPT Highland - Scenic outdoor spaces surrounded by nature
Apsara Vihar - Budget hotel with gardens overlooking waterfalls
Customized Coconuts Add Magic to Weddings in Madhya Pradesh
While the wedding venues provide mesmerizing backdrops, thoughtful touches like emboss coconuts from Mr. Coconut add that extra personalization. Here is a Dream Madhya Pradesh Wedding where our elegantly shaved coconuts delighted the couples and guests:
Fairytale Wedding of Raj & Naina Made Complete with Customized Coconuts
Naina and Raj's wedding in Orchha was nothing short of magical. Held at the riverside lawns of Bundelkhand Riverside, the decor exuded royalty. Adding to the enchantment were the expertly peeled coconuts placed around the venue. Embossed with the couple's portrait, these portrait coconuts symbolized their fairytale romance. Guests relished the tender coconut water in delightfully designed coconuts. Many of them took home the engraved coconuts as return gifts too!
Conclusion
With our bespoke coconut customization services, innovative Cococart and reliable delivery; Mr. Coconut can elevate your dream Madhya Pradesh wedding. Our expertise ensures that the coconuts resonate with you and your guests; becoming prized keepsakes.
So, if you are planning your wedding celebrations in Madhya Pradesh, get in touch with Mr. Coconut today to personalize your big day with custom coconut favors and carts!