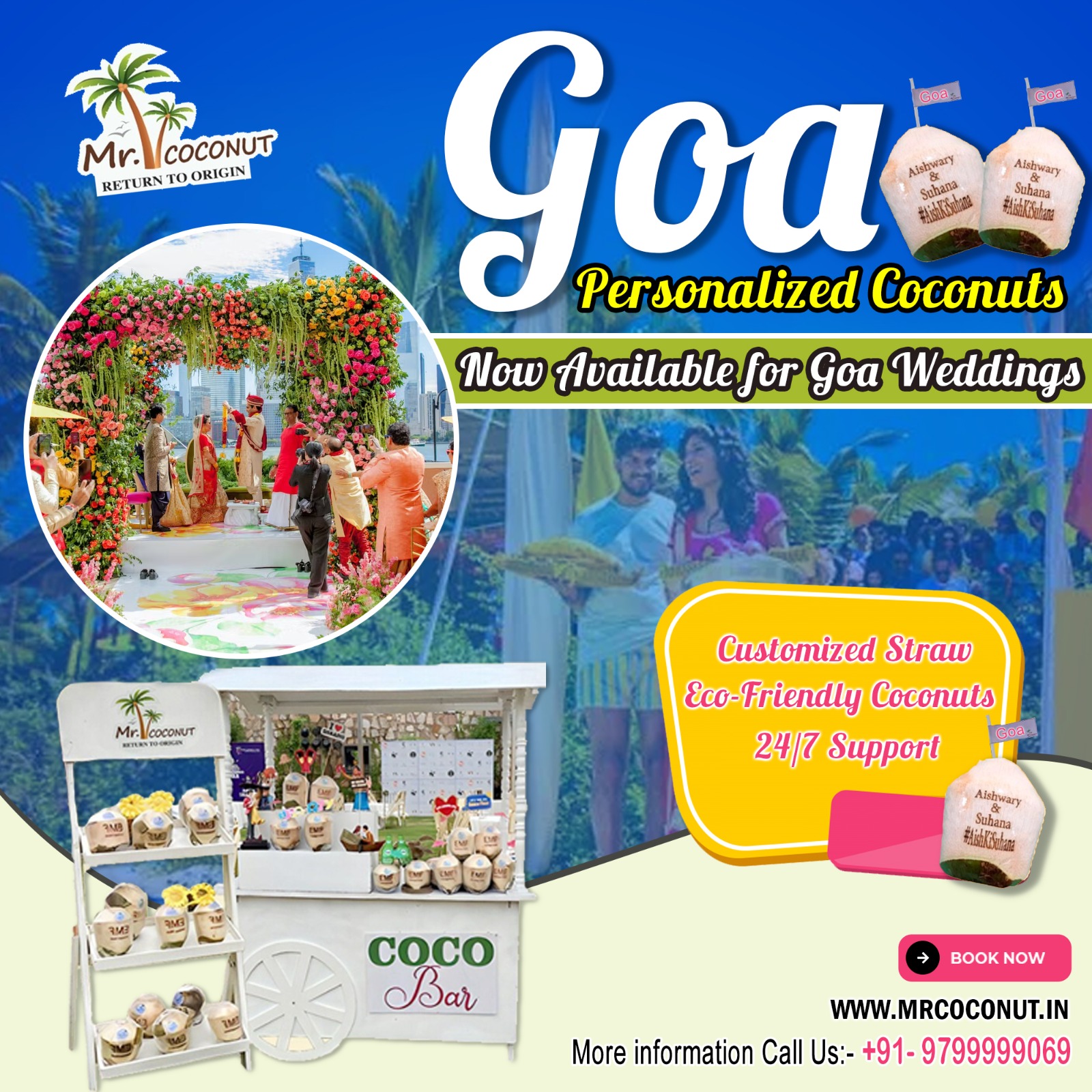 Personalized Coconut- Unique Destination Wedding Coconuts Now Available in Goa
By: Shivam Agarwal,

CEO & CO-FOUNDER MR COCONUT

| 30 August 2023
Goa, with its sun-kissed beaches and laidback culture, is undoubtedly one of the most popular and charming wedding destinations in India. From grand venues overlooking the Arabian Sea to quaint churches nestled among spice plantations, it offers a gorgeous tropical backdrop for weddings.
However, planning a destination wedding in Goa comes with its own set of challenges. One major concern is coming up with unique ideas to make the celebrations truly memorable for your guests. This is where Mr. Coconut steps in to add that extra special touch with our innovative range of customized coconuts.In this post, we will explore how monogram coconutsand engraved coconuts can be an ideal & unique wedding favor or welcome drink for your wedding in Goa.
Mr. Coconut: Making Goa Weddings Trendy with Monogram Coconuts
Mr. Coconut is an innovative brand offering a wide range of personalized and customized coconuts for weddings and celebrations in Goa. You can choose to customize coconuts by:
Engraving Names, Initials or Monograms
Printing Portraits, Pictures or Logos
Creating Unique Designs with Hashtags
Embossing or Carving Creative Patterns
These customizations add a personal touch and make for perfect wedding favors, welcome drinks, or decor elements. Coconuts also have deep cultural significance in Indian traditions. Serving personalized coconuts at weddings in Goa can be a respectful nod to local customs.
Benefits of Having Personalized Coconuts in Goa Weddings
A Memorable Souvenir with Customized Coconuts
Guests will cherish the customized coconuts as a keepsake of your special day. The monograms and designs etched on the coconut will remind them of your wedding for years to come.
Unique Welcome Wedding Drink
Offer guests refreshing coconut water in customized coconuts when they arrive to add a touch of distinction. It also helps them quench their thirst and beat the heat.
Customized Cococart– Innovative Coconut Stall Concept
Mr. Coconut also provides a full customizable Coconut Water Stall called Cococart that serves delicious & tender coconut waterto all your guests at Goa wedding. Give your guests a delightful treat with fresh coconut water served in masterfully peeled coconuts!
Eye-Catching Décor
Masterfullycustomized coconuts make for head-turning decorative accents in your Goa wedding They can complement your wedding theme beautifully!
Promotes Sustainability
Coconuts are natural and eco-friendly. Choosing them over plastic bottles or cans reduces waste generation!
So, give your guests a taste of Goa's tropical charm with personalized coconuts for your destination wedding celebrations in Goa!
Top Goa Wedding Destinations for Custom Coconuts
Goa offers picturesque beaches, charming colonial architecture, and luxurious resorts ideal for destination weddings. Here are some top Goa wedding locations where customized coconuts would be the perfect wedding drink or unique decorative elements:
Engrave Coconut in Panaji
As Goa's capital, Panaji features Portuguese-style houses, cobbled streets and riverside charm. Exchange vows in its Baroque churches or tropical gardens, then gift Panaji-engraved coconuts to your guests!
Nestled in tranquil Salcete, you'll find the intimate tropical oasis you've been dreaming of. Say your vows under swaying palms with just your nearest and dearest beside you.
Personalized Coconut in Mandrem North Goa
Mandrem's peaceful atmosphere and pristine beach in North Goa provide a serene wedding setting. Give guests engraved coconuts from your Mandrem nuptials!
Monogram Coconut in Cavelossim Beach
Cavelossim's bright white sands and sparkling blue waters create dramatic views for exchanging vows near South Goa. Coconuts engraved with your Cavelossim wedding date make special keepsakes for your guests!
Customized Coconut in Vainguim Beach Panjim
Panjim's European-style architecture, leafy promenades and vibrant culture hold appeal for brides and grooms. Share customisedPanjim coconuts with your honoured guests.
Portrait Coconut in Palolem Beach Canacona
Palolem Beach is fondly called the "Paradise Beach" with its curved bay hemmed by palms. Pick coconuts with your names and Palolem for a dreamy wedding remembrance for your guests!
Emboss Coconut in Bambolim
The seaside town of Bambolim boasts old churches, beach shacks and water sports along the Arabian Sea. Coconuts engraved "Wedding in Bambolim 2023" captures the essence of your dream wedding beautifully.
Hashtag Coconut in Morjim
Morjim Beach is a secluded stretch in North Goa famed for its breathtaking sunrises and sunsets. Gift skillfully crafted carved coconuts personalized with your wedding date in Morjim to your esteemed guests.
Shaved Coconuts in Candolim
Candolim charms with its laidback beach vibes, plentiful shacks and water sports opportunities by the seaside. Give Candolim-engraved coconuts as wedding souvenirs to your guests!
Custom Coconuts in Mormugao
Mormugao delights with its quaint villages, saltpans, and proximity to the airport and railway. Gift engraved Mormugao coconuts as welcome wedding beverageto your guests!
Photo Coconuts in Margao
Also known as Madgaon, Margao is Goa's second largest city with Portuguese mansions, markets and temples to explore. Serve custom Margao coconuts as wedding return gifts to your guests.
Popular Wedding Venues in Goa for Dream Nuptials!
Goa has some breathtaking venues for dream weddings. Here are some of the best options:
Wedding Venues in North Goa
North Goa is known for its popular beaches, stellar seafood, and bustling nightlife. Some of its top wedding venues include:
Taj Fort Aguada Resort - Hold grand celebrations at this lavish resort's beachfront lawns overlooking the Mandovi River.
AlilaDiwa Goa - Tie the knot amidst lush rice plantations and serene lakes in South Goa. The resort offers indoor and outdoor event spaces.
The Park Calangute - Host glamorous receptions at this 5-star poolside venue near Calangute beach. Its Mediterranean architecture and sunken amphitheater are ideal for weddings.
Acron Waterfront Resort - This resort in Baga offers aFlexible indoor and outdoor venues for both small intimate and lavish wedding celebrations.
Riva Beach Resort - Have a dreamy beach wedding ceremony on the sandy shores of Dando beach at this boutique resort. Its beachfront lawn is perfect for celebrations!
Wedding Locations in South Goa
South Goa is home to beautiful churches, expansive beaches, and verdant fields. Top options to host weddings here include:
Taj Exotica - This luxury resort has stylish indoor and beachfront venues overlooking Benaulim beach for fairytale weddings.
The Zuri White Sands - Tie the knot on its palm-fringed beach in Varca with stunning views of the sea for a dreamy tropical wedding.
Novotel Goa Shrem - From its beach lawns to halls with infinity pools, this Cavelossim hotel offers memorable event spaces.
DoubleTree by Hilton - Have a stylish wedding at this contemporary hotel near Candolim, with a chapel, banquet hall and open-air lawn to choose from.
Kenilworth Beach Resort - Exchange vows by the beach with the ocean breeze at this picturesque resort in Utorda. Its seaside lawn is great for outdoor celebrations.
Best Coconut Water Brand CEO Shivam AgarwalShares Success Stories of Customized Coconuts in Goa Weddings
Geeta & Raj's Cavelossim Beach wedding with Printed Coconuts
For Geeta and Raj's wedding on Cavelossim Beach, South Goa, Mr. Coconut printed coconuts with a customized design merging the couple's portraits. These creative coconuts were the highlight of their welcome dinner on the resort's seaside lawn.
Naina & Kabir's Hashtag Coconuts for Bambolim wedding
Naina and Kabir went for quirky hashtags like #NainaWedsKabir and #KabirKaCoconut on their customized coconuts for their wedding at a Bambolim resort. These made for brilliant signage all around the venue and ice-breakers for guests to bond over!
Conclusion
A destination wedding in Goa becomes truly extraordinary with Mr. Coconut's novel Monogram coconuts. Surprise your guests with themed custom coconuts that add a memorable local touch and make your celebrations more vibrant. Let the Mr. Coconut team deliver delight with our artistic coconut customizations tailored for your big day. Contact us today to bring your dream Goa wedding to life!