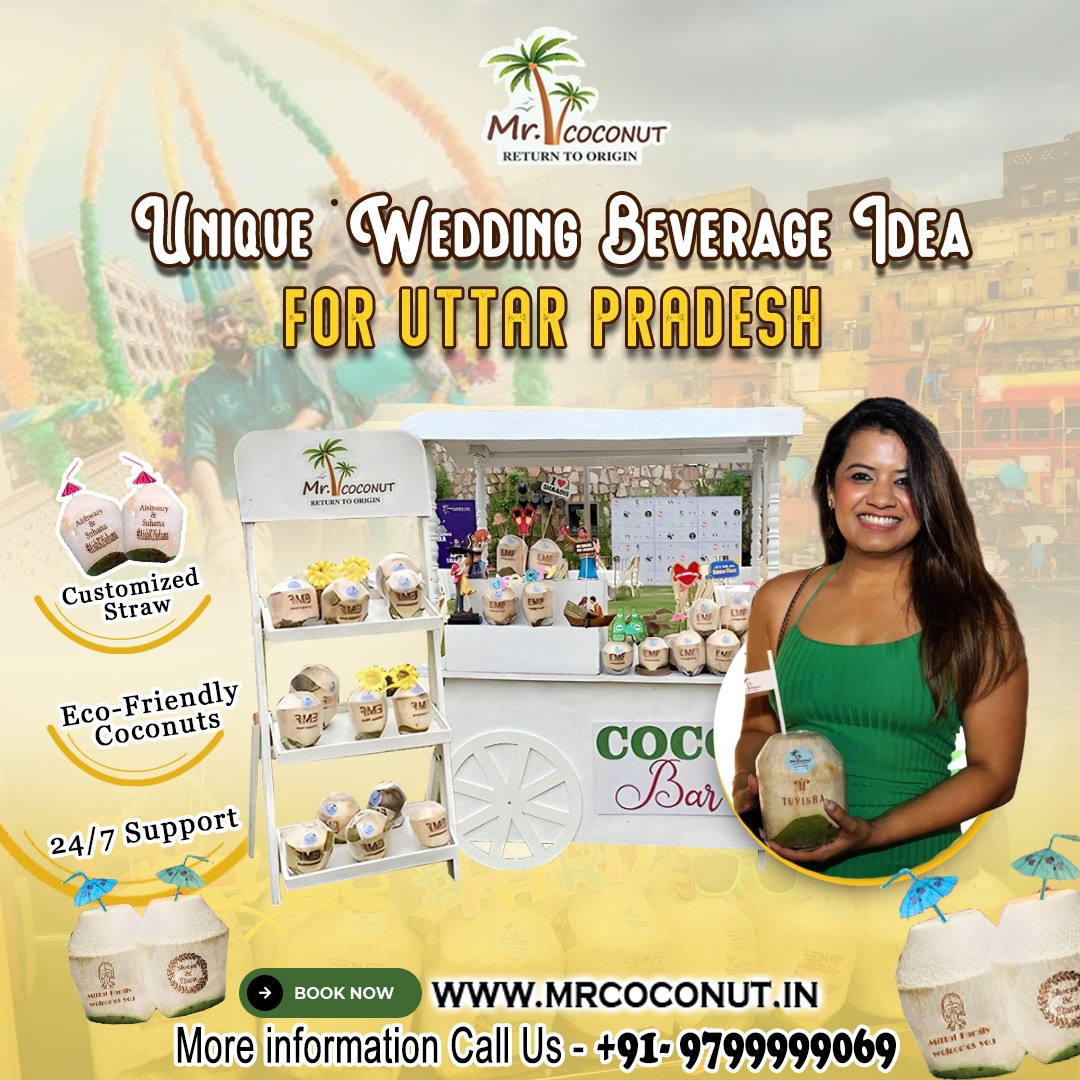 Emboss Coconut – Unique Wedding Beverage Idea for Uttar Pradesh
By: Shivam Agarwal,

CEO & CO-FOUNDER MR COCONUT

| 26 August 2023
Coconuts have long been a symbol of celebration in Indian weddings. From welcoming the groom's procession to quenching the thirst of guests, coconuts hold a special significance. But gone are the days of plain coconuts. Now, couples are embracing personalized and customized coconuts to add that extra touch of class and distinction to their big day.
Enter Mr. Coconut - an innovative brand offering beautifully customized coconuts for weddings in Uttar Pradesh. From embossing the bride and groom's initials to creating edible portrait coconuts, Mr. Coconut elevates the humble coconut into a treasured keepsake.
In this post, we will explore the concept of personalized coconuts by Mr. Coconut and how they can enhance your wedding in Uttar Pradesh.
Mr. Coconut brings personalized coconuts to the forefront as the perfect unique wedding favor or gift. Our services elevate the plain coconut from a common fruit to a custom-tailored showpiece!
From metro cities like Lucknow and Kanpur to holy towns like Varanasi, Mr. Coconut caters to couples across Uttar Pradesh. We understand the regional beauty and diversity of the state. Our experts then customize coconuts that allow you to integrate local flavors into your celebration.
Our brand's meticulous customization process ensures that no two coconuts are alike. Your guests will be amazed at the small details and artistry infused into each Monogram coconut.
Gone are the days of generic coconuts. A personalized carved coconut from Mr. Coconut is a cherished memento of your special day. Our designs and prints will dazzle your guests and conjure fond memories for years to come.
Mr. Coconut offers various customization techniques to create stunning handcrafted coconuts. Here are some of the popular options perfect for Uttar Pradesh weddings:
Embossing involves creating a raised design on the coconut surface using precision tools. Couples can emboss their names, wedding dates or any meaningful symbol like the Om or Trishul. The embossed impression leaves a unique tactile impression for guests to admire.
Engraving creates a recessed design by expertly shaving away the outer husk. This technique reveals the engraved designs beautifully. Engrave names, initials or the wedding hashtag in English or Hindi.
Print or stamp custom designs, monograms, photos and text using food-grade organic stamps. Get creative with geometric patterns, floral motifs or images of the wedding venue printed onto the coconuts.
Portrait Coconuts
Portrait coconuts feature edible printed images of the couple on the coconut shell. They serve as natural photo keepsakes for guests. Portraits and photos can be carved onto the husk as well.
Display your wedding hashtag prominently on coconuts. Guests can use it to share photos and videos on social media. It's a fun, trendy touch for millennial couples!
Monogram coconuts feature the couple's initials embellished with motifs like flowers or vines. They add an elegant signature touch to the wedding decor.
With these myriad designs, couples can create coconuts as favors, welcome gifts, or decorative accents that wow their guests.
Mr. Coconut offers a customizable coconut stall called Cococart for weddings in Uttar Pradesh.
Cococart allows couples to design a branded coconut water stall matching their wedding theme. It serves as a refreshing drinks counter for guests to enjoy fresh coconut water and a quick detox.
The Cocobar can be embellished with floral garlands, drapes, signage and lighting per the wedding aesthetics. The bride and groom's names or hashtags can be prominently displayed.
The Cococart also doubles up as a lively photo booth spot for guests. Friends and families can snap pictures sipping on coconut water and surrounded by the vibrant cart decor.
Some advantages of having a customized Cococart:
Provides natural hydration to guests during long wedding ceremonies
Adds an interactive element and photo-op to the wedding
Showcases the couple's unique personality and style
Serves as an eco-friendly, sustainable option with biodegradable straws
Offers delicious freshly unsealed coconuts rather than packaged drinks
A bespoke coconut cart ensures your guests remember your wedding for this fun and unique experience. It's sure to be a big hit in Uttar Pradesh's warm, balmy climate!
Mr. Coconut Serves Emboss Coconuts to Major Wedding Destinations in Uttar Pradesh
Uttar Pradesh boasts a wealth of breathtaking wedding venues perfect for personalized coconuts. Here are some top locations where Mr. Coconut can serve your wedding with custom tender coconuts:
Lucknow is renowned for its lavish, extravagant weddings steeped in tradition. From regal decorated elephants to intricate floral mandaps, opulent weddings reign supreme here. Popular venues include Taj Residency, Lebua Lucknow, Golden Tulip, Radisson Hotel and Novotel Hotel. Customize coconuts with royal insignia to complement Lucknow's grandiose weddings!
As a holy city, Varanasi sees many ritualistic weddings on the banks of the Ganges. Intimate ceremonies with close friends and family are common. Hold your wedding at venues like Brijrama Palace or Radisson Hotel and gift engraved coconuts with shlokas to guests.
Kanpur is a leading industrial metro with lavish destination weddings. Venues like Regenta Inn, The Landmark Hotel and Green Park offer modern amenities for luxurious events. Print photos of the couple or city onto coconuts for memorable souvenirs.
Agra sees many royal processions and destination weddings focused on the Taj Mahal. Customize coconuts with the Taj's silhouette or portraits against the magnificent monument. Top venues include The Oberoi Amarvilas, Trident Agra and Crystal Sarovar Premiere!
Peeled Coconuts in Noida
As Delhi's suburb, Noida caters to extravagant, high-energy weddings. Radisson Blu, Lemon Tree Premiere and Jaypee Greens are great venues to customize fun, quirky coconuts perfect for modern couples.
Hashtag Coconut in Prayagraj
Prayagraj hosts many spiritual weddings for the holy Triveni Sangam. Gift engraved coconuts with messages like "Chalo Sangam" for guest invitations. Hotels like Hotel Allahabad Regency and The Grand Jalsa offer elegant venues.
Shaved Coconuts in Meerut
Meerut sees grand North Indian-style weddings immersed in tradition. Couples can customize coconuts with beautiful bridal mehendi motifs or the vibrant baraat procession. Hotels like Hotel De Casa offer modern amenities and stunning decor.
Whether a lavish hotel wedding or an intimate temple ceremony, personalized coconuts add charm and delight to celebrations
Best Coconut Water Brand CEO Shivam Agarwal Shares Custom Coconut Stories by Clients from Uttar Pradesh Weddings
Gaurav and Riddhima, Kanpur
IT professionals Gaurav and Riddhima infused their hotel wedding with modern tech touches. Their personalized hashtag coconuts #GauriGetTechWed showed off their quirky personality. Guests flaunted the coconuts in fun social media posts during the celebrations.
Kunal and Aditi, Agra
Kunal and Aditi hosted a destination wedding at Oberoi Amarvilas with the magnificent Taj Mahal in the backdrop. They treated guests to edible shaved coconuts with their photo against Taj's splendor. It was the perfect Indian wedding favor from the City of Love!
Raj and Simran, Noida
Raj and Simran's wedding at Jaypee Palace was a lavish Bollywood-themed affair. Their colorful custom peeled coconuts featured retro Bollywood movie posters with the bride and groom's face etched onto the coconuts! Retro filmy magic at its best.
Transform Your Uttar Pradesh Weddings with Customized Coconuts
These stories show how Mr. Coconut can make your wedding extraordinary with personalized coconut gifts. Let your guests relish the tender coconut water in Custom Coconuts at your wedding in Uttar Pradesh while keeping your love story close to their hearts and in their hands!