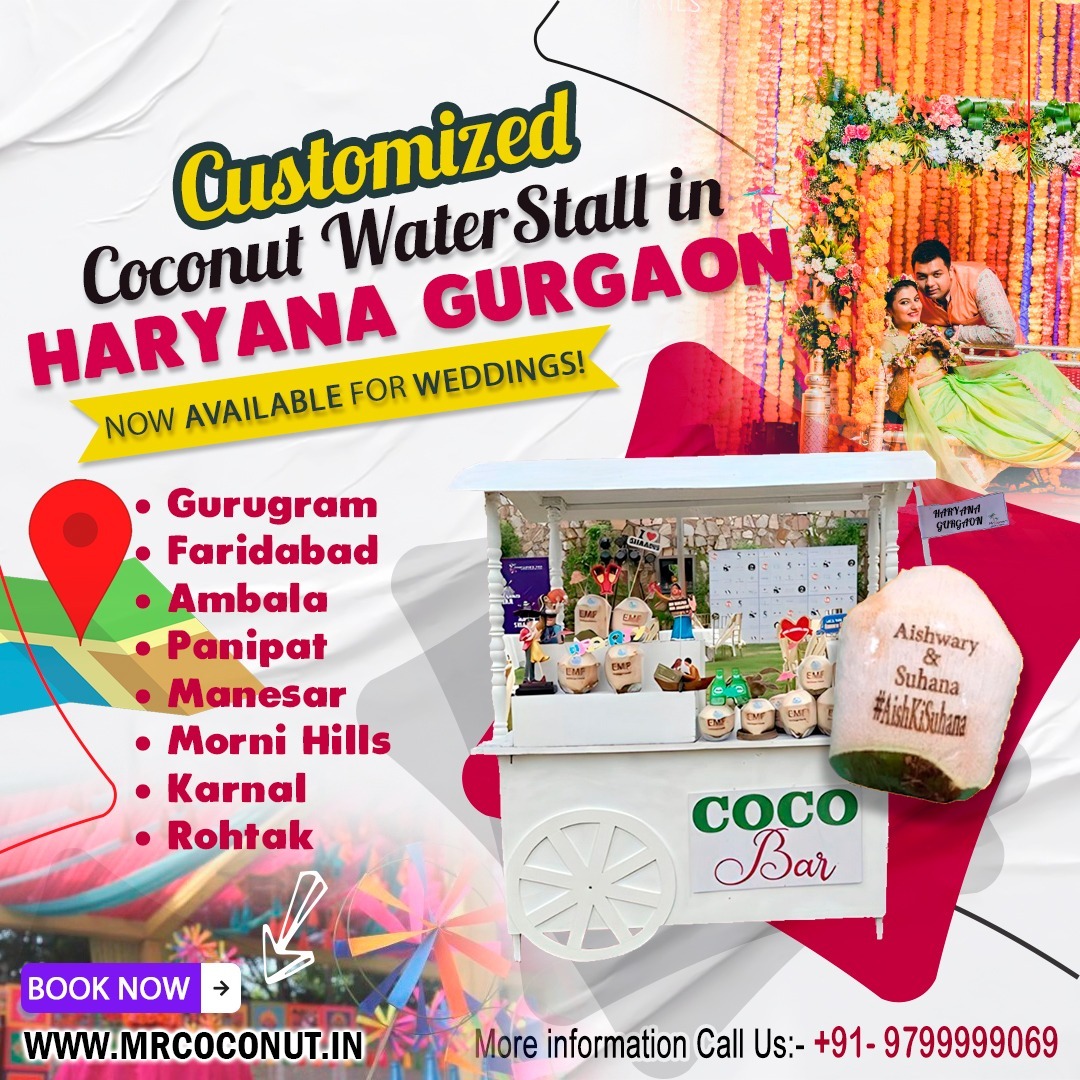 Customized Coconut Water Stall in Haryana Gurgaon Now Available for Weddings!
By: Shivam Agarwal,

CEO & CO-FOUNDER MR COCONUT

| 05 September 2023
Are you planning a dream wedding in Haryana? Look no further than Mr. Coconut personalized engraved coconuts to add a touch of class and distinction to your special day. These elegantly peeled coconutsmake for a unique wedding favor or decorative element that your guests will absolutely adore.
Mr. Coconut is an innovative customized coconut water brand offering a wide range of personalized coconuts like Embossed Coconuts, Monogram Coconuts, Shaved Coconuts and more for weddings and wedding celebrations across Haryana. From elegantly engraved coconuts to creatively printed coconuts, Mr. Coconut has revolutionized coconut favors for Haryana weddings.
Mr. Coconut provides stamp coconutsto add a unique touch to Haryana weddings.
Our experts customize coconuts by printing, stamping, carving or embossing them with couple's photos, hashtags, logos or monograms. These personalized coconuts make for wonderful wedding favors or decorative elements.
Mr. Coconut ships to major cities across Haryana. These include:
Gurugram
Faridabad
Ambala
Panipat
Manesar
Morni Hills
Karnal
Rohtak
Delight Your Guests with a Customized Coconut Stall #COCOCART
For an extra special coconut experience, we also offer customizable coconut water stalls called Cococart for weddings. Guests can enjoy fresh coconut water from the customized Cococart that matches the wedding theme and decor.
Cocobaralso doubles up as a photobooth spot and provides a refreshing drink option for attendees. Truly, Mr. Coconut takes coconut customization to the next level for Haryana weddings!
Best Customized Coconut Water Brand CEO Shivam Agarwal Shares Top Wedding Destinations in Haryana
Haryana boasts some of the best luxury wedding venues in North India. Here are the top wedding destinations in Haryana and the hottest wedding venues at each location:
1). Engrave Coconut in Gurugram– Add a Personal Touch!
Known as the Millennium City, Gurugram dazzles with its glitzy nightlife and modern amenities, making it the perfect place for lavish weddings. Impress guests with engraved coconuts or portrait coconuts featuring your images at venues like The Leela Ambience, The Westin Sohna Resort & Spa, and Hyatt Regency Gurugram.
2). Personalized Coconut in Faridabad– Unique Concept for Your D-Day!
For weddings with old-world charm just outside Delhi, Faridabad fits the bill. Surprise your guests with embossed initial coconuts from Mr. Coconut at gorgeous venues like Tivoli Royal Palace, Rigveda Farms or Sarovar Portico.
3). Peeled Coconuts in Ambala Weddings
From its historic roots to mouthwatering street food, Ambala provides a slice of quintessential North India for intimate weddings. Delight attendees with monogram coconutsat venues like Armaan Resorts, Clarks Inn or New York Palace.
The historic city of Panipat blends small town warmth with modern comforts for mid-sized weddings. Impress your guests with hashtag coconuts from Mr. Coconut at The Riyaad, Sham Bagh or Geeta Sarovar Portico.
5). Customized Coconut in Manesar–Refresh Your Guests!
Looking for a destination wedding amidst tranquil farmhouses? Head to Manesar! Surprise attendees with Mr. Coconut's custom coconutdesigns at stunning venues like Rudra Farms, Park Inn by Radisson or Karma Lakelands.
6). Portrait Coconut in Morni Hills–For Your Dream Wedding
Plan an enchanting hillside wedding in Morni Hills with sweeping mountain views. Delight guests with portrait coconuts at venues like Golden Tulip, The Fort Ramgarh or Roche Harbor.
7). Emboss Coconut in KarnalFairytale Weddings
For a wedding fused with small town intimacy and modern luxuries, Karnal is perfect. Impress your guests with embossed coconuts from Mr. Coconut at Raj Gharana Jyoti Garden, Heritage Lawns or Manka By Cherish.
8). Hashtag Coconut in Rohtakfor a Memorable Wedding
Rohtak provides a laidback vibe with 3-star hotels suitable for mid-range weddings. Surprise your attendees with customized coconuts from Mr. Coconut at The Radiant Lawns & Banquet, Noor Garden or The Myra.
Adding personalized coconuts from Mr. Coconut gave these couples' Haryana weddings a unique twist!
Rohan and Riya's grand wedding at The Westin Sohna Resort was made even more special with Mr. Coconut's engraved coconuts featuring their names and wedding hashtag #RohYaGotHitched. Guests loved clicking selfies with the customized coconuts!
Rahul and Rhea's Faridabad Wedding
Mr. Coconut's embossed coconuts with Rahul and Rhea's initials were the perfect exotic favor at their wedding at The Riviresa, Faridabad. Attendees couldn't stop gushing over these novel coconut favors.
Raj and Rashmi's traditional wedding at The Ambala KC Garden was enhanced by Mr. Coconut's portrait coconuts featuring images of the bride and groom. Guests excitedly showed off their personalized coconuts on social media!
Make your Haryana wedding memorable with Mr. Coconut's engraved, embossed or portrait coconuts. Our team will customize coconuts with your pictures, names or hashtags for a unique favor or decorative element. Contact Mr. Coconut today to get a quote!