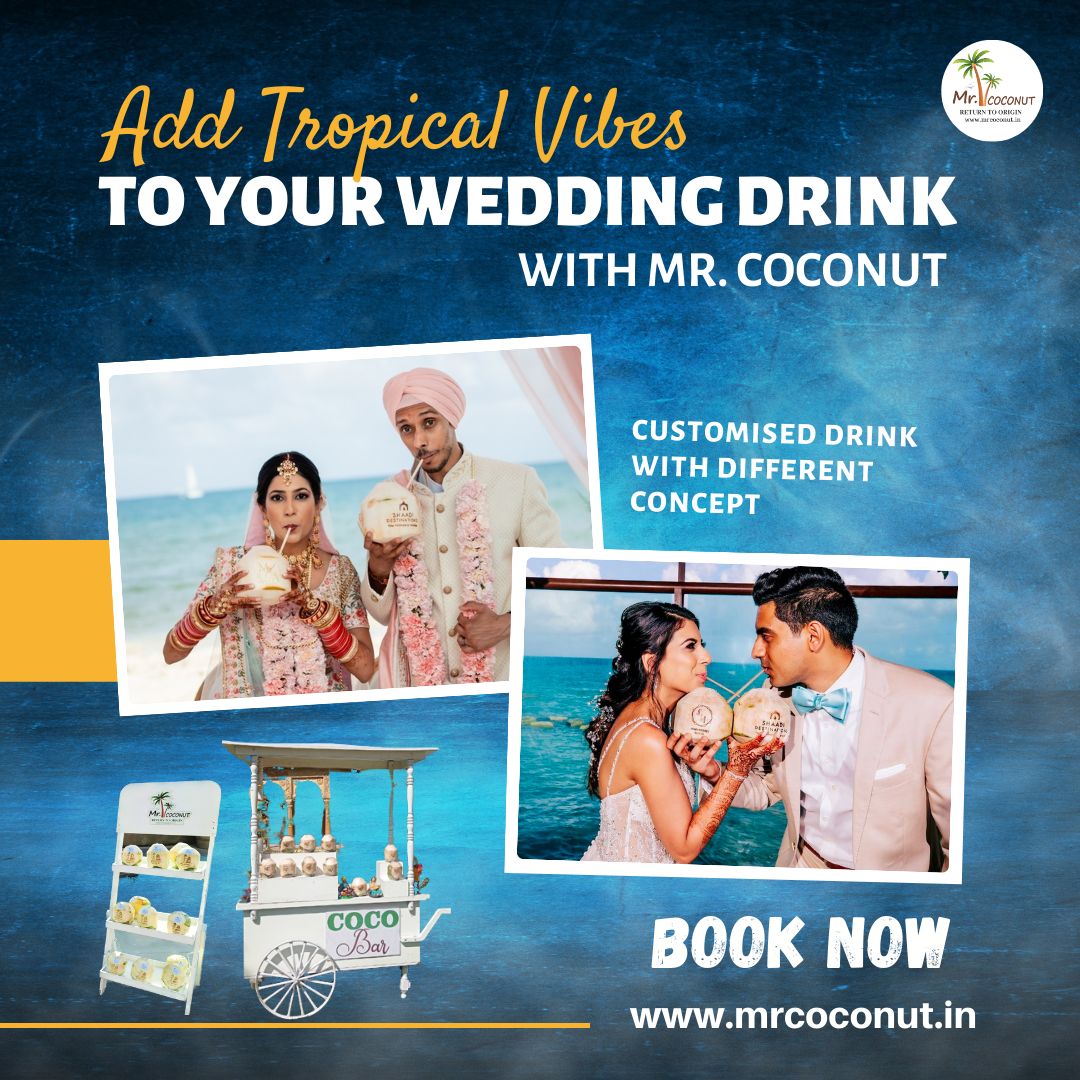 Add Tropical Vibes to Your Wedding Welcome Drink with Mr. Coconut
Posted by : Mrcoconut / On : Mar 29, 2023
Your wedding day is one of the most important days of your life, and your guests play a vital role in making it a memorable experience. Their presence adds an undeniable charm to the event, and it's only fitting that you treat them well and make them feel special. After all, they've taken time out of their busy lives to be with you on your big day. And you can add refreshing tropical vibes and traditional elements to your wedding welcome with wedding welcome drinks from Mr. Coconut!
To make your guests' welcome experience truly unforgettable, it's important to provide them with a warm and heartfelt welcome. If you're feeling overwhelmed and unsure about how to go about it, don't worry - we've got you covered!
Our carefully curated list of super amazing ideas & lip-smacking wedding welcome drinks is sure to make your guests feel valued, well-served, and cared for. So why wait? Give your guests the welcome they deserve and create memories that will last a lifetime.
Serve Tropical Wedding Welcome Drinks by Mr. Coconut!
Refreshments are a must-have at any wedding, and what better way to impress your guests than by offering them a unique and healthy beverage option? Instead of serving the usual fancy drinks, why not consider creating a trend with customized coconut water drinks? Monogram Coconut water is a great option for adding tropical vibes to your wedding. The tender coconut water is served in a young shell that is beautifully engraved with a design of your choice, creating a truly unforgettable experience for your guests. Not only is it a fancy and unique way to welcome your guests, but it's also a healthy alternative that everyone will love. So why not set up a Beverage counter at weddings or Cocobar (provided by Mr. Coconut) at the entrance and make a statement with Personalized Coconut water drinks at your wedding? Your guests will certainly appreciate the thoughtful gesture and the tropical vibes of Unique Wedding Drinks from Mr. Coconut will add a refreshing feel to your wedding!
Interesting Wedding Welcome Ideas for Your Guests
1. Add #FolkDance to Your Wedding Welcome Traditions!
If you're planning a destination wedding in India, incorporating folk artists into your welcome ceremony is an excellent way to keep the essence of your chosen theme alive and impress your guests. Planning to tie the knot in an Intimate Wedding in Delhi, a Themed Wedding in Ramnagar or Wedding Celebrations in Rishikesh? Traditional folk-dance performances are sure to captivate your guests and
leave them with unforgettable memories. Don't miss out on the opportunity to infuse your wedding celebrations with the rich cultural heritage of India and create an experience that your guests will cherish for years to come. And when your guests get tired, they can always head over to the beautifully crafted Cocobar filled with refreshing & customized Stamp Coconut Water drinks!
2. Give a Dhamakedar Welcome with Dhols & Nagadas!
If you want to create an unforgettable guest experience, forget about the fancy decorations and opt for a dhamakedar and jordhar welcome instead. Bring in the desi dhol-walas and drummers to infuse the air with the electrifying beats of the ghatam and dhol, making your guests feel right at home. Trust us, there's nothing like the pulse of desi music to get your guests pumped up and ready to celebrate. But don't stop there, take your hospitality game to the next level by providing Unique Wedding Favors for Guests filled with snacks and goodies. Whether it's a late-night munchies craving or an early morning energy boost, your guests will appreciate the thoughtful gesture. And for an extra touch of personalization, consider adding Mr. Coconut's Carved coconut water, engraved with the theme of your wedding on a shaved coconut or peeled coconut. It's a unique and refreshing treat that your guests will surely enjoy.
3. Give an Aromatic Welcome by Tying Gajras on Guests' Wrists
Immerse yourself in the rich tradition and culture of a proper traditional wedding by adding a touch of elegance and warmth to your guests' arrival. The most traditional way to greet your guests is by adorning their wrists with Gajra strands, symbolizing good luck and prosperity. These delicate and fragrant beauties, woven into strings, are a perfect way to express your appreciation for their presence on your special day. Add a touch of elegance to your guest welcome with welcome wedding drink ideas from Mr. Coconut served in masterfully made Monogram Coconuts.
4. Greet Your Guests with Rose Water Sprinkling & Tilak
Make your wedding an unforgettable cultural experience by adding a touch of tradition to your celebration. Greet your guests with a sprinkle of fragrant rose water and an application of tilak on their foreheads. These timeless Indian customs symbolize spiritual significance and are a beautiful way to honor your cultural heritage on your special day. So, whether it's a Destination Wedding in Mumbai or a Traditional Wedding in Kolkata, incorporate these welcome traditions and wedding welcome drinks from Mr. Coconut. They will certainly refresh and impress your wedding guests!