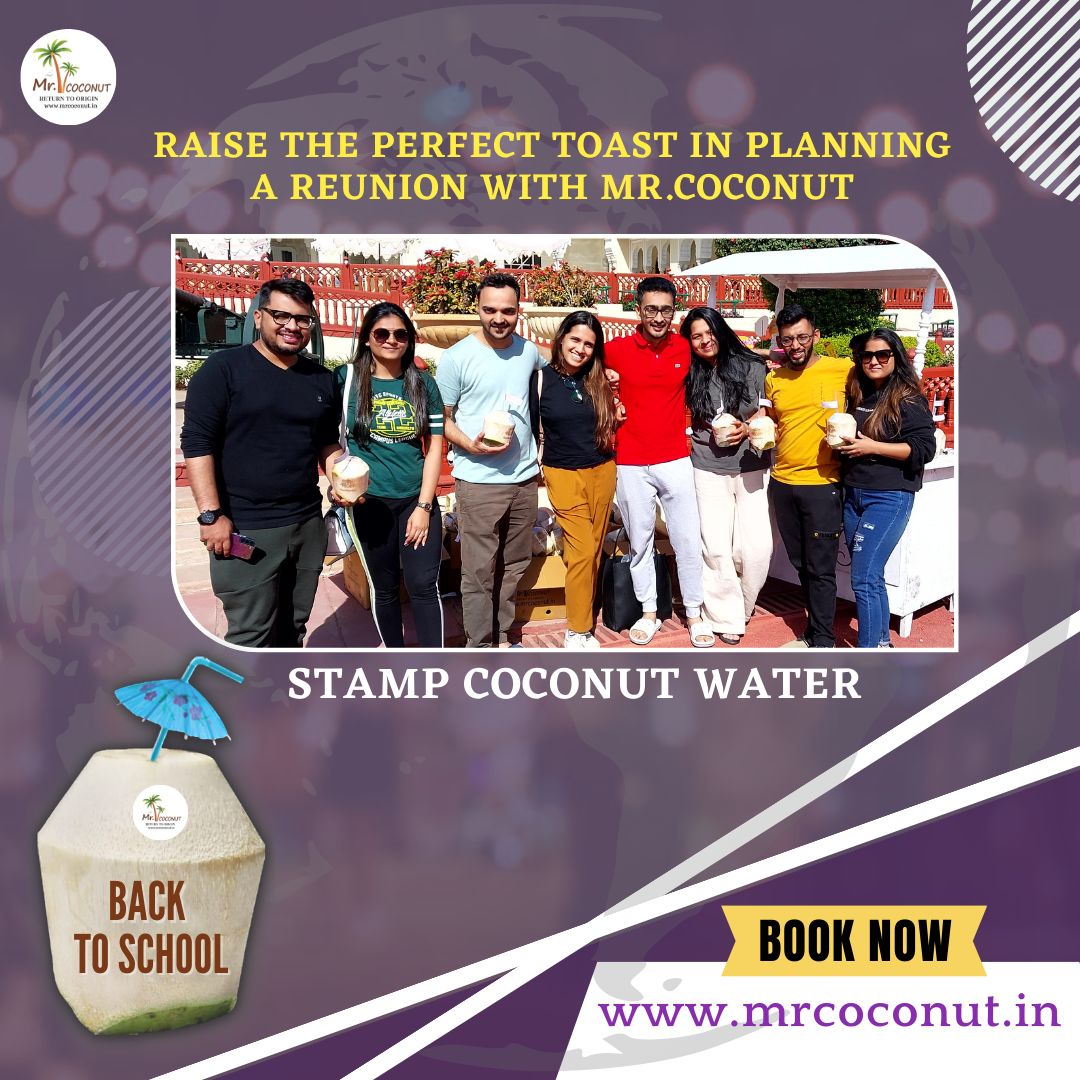 Let's Have a Perfect Toast to Your Reunion Party with Mr. Coconut
Posted by : Mrcoconut / On : Mar 08, 2023
Loathe it or love it, high school is the most defining time in the lives of several individuals. Social media have made it easier for people to stay connected with their old crew; however, there is nothing like getting together in person and discussing the good old days. At Mr.Coconut, we understand your need and planned a perfect way to plan for your next high school reunion based on coconut events which would go down most sweetly into your memory lane! You should begin by setting the tone with the trendiest coconut printing reunion invitations while you follow the tips we have shared today to have a blast at this reunion party!
Get Organized Sooner with Mr. Coconut!
Narrow the list of people who would love to help plan this reunion. Ensure you select people with a robust sense of organizing and following through. If you plan a committee, they are not organized, while your event is not organized decently. Place them into charge to create a robust plan which would lead to you having a successful party.
Plan for a budget and follow it.
Try sticking with your budget sooner. In this planning committee for a reunion, elect the one who would become the treasurer. The person offers the best amount of money. They should always be good at saying no. One of the initial things one would love to include in the budget is the venue. Every guest should have a comfort zone at the reunion when you plan coconut events with us, so it is important to pick the locations that best-fits your guests with greater comfort. If you require cheaper venue ideas, you can try holding the party in a part, a business place of a family or friend, and at home. These are the venue ideas for you that will help you save money on it.
Track down your classmates.
It is almost over the past 10, 20, 30, or even 40 years, which might lead you to lose track of the numerous classmates. You should reach out to your Alma through the list of the graduating seniors from the year of your graduation, as you are sure of not missing out on anyone. You should then start tracking down the people present on social media and even your phone book. Try maintaining the list of students who are not found yet. It is always a great idea to start a Facebook group to help with your reunion, allowing you to offer the best updates you have. You can even create a Facebook group poll by asking about the best dates that suit all. You can use the responses to the poll by picking out the date that would work for all.
Plan some meaningful activities at a party with Mr. Coconut
You should think about what is happening here and the things you would enjoy. Icebreakers are the ideal way to relieve the anxieties linked with spending time with individuals you did not notice in years. Ensure to tailor your activities based on the age group of people at the reunion parties.
The best takeaway at reunion parties
Try making this that people would use or aim to keep for your future references, whether it is the memory book or a family craft. Photos would do the ideal favor for this reunion as you try to rent out the photo booth to meet these celebrations or set up your custom photo booth with a coconut water stall. The guests would love this arrangement and start creating the best memories with the family members and friends they have not met or seen in years.
Always stay prepared with Mr Coconut.
Hire enough chairs. If your party is held outside, rent tents to protect the food and attendees from the elements. Ensure there are bathrooms and people have access to drink and food. If providing alcohol, make careful to discontinue service a few hours before the conclusion of the gathering. Likewise, ensure that passengers have secure transportation back to their housing.
Capture the Moment
For your occasion, hire a professional photographer. You won't have to worry about someone missing from the photo! You won't want to miss a single moment of this momentous occasion. You may relax and not worry about capturing images while a professional photographer is on the job. Photographer wills also most likely capture better images.
Plan Auxiliary Events
Book reservations at some of your hometown's most exciting venues besides supper. For example, if the dinner is on Friday night, plan an escape room throughout the day, cocktails on Saturday night, a park on Sunday morning, and a brunch to round off the weekend. Having a full calendar of activities makes it simpler for students to engage with one another. It might be difficult to catch up with everyone over a single supper if you have a large class.
Enjoy Your High School Reunion with Mr. Coconut
We understand that planning would involve a lot of work; however, you need to take time to breathe and consider arranging the perfect high school reunion. Remember that it is when you should reconnect with your old friends and build the spark into your relationship once more which would last for the entire lifetime.