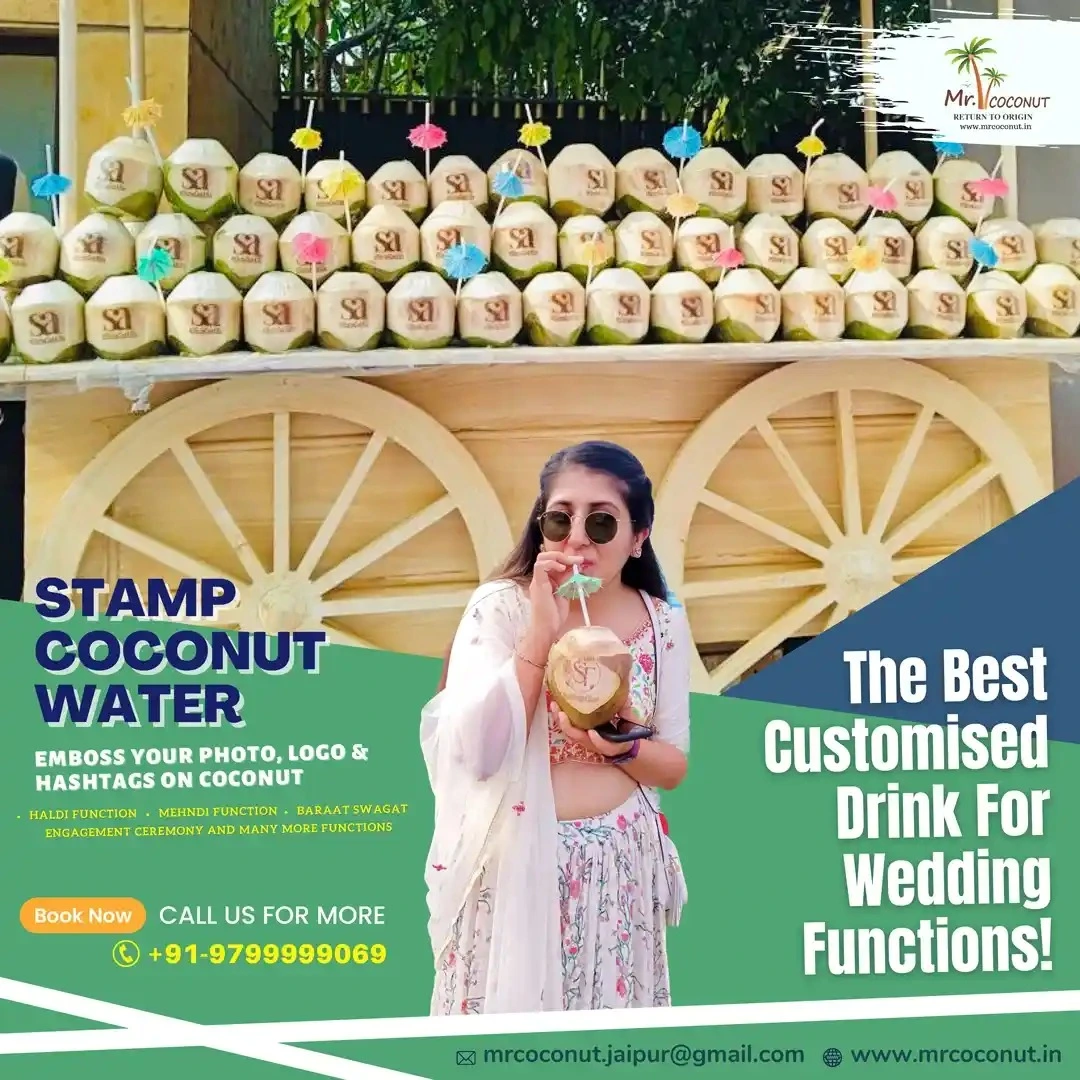 An enthusiastic way to feel WOW your Wedding Guests | Mr. Coconut
Posted by : Mrcoconut / On : Jan 13, 2023
Indian weddings usually feature flowers and personalized luxury hampers. What about featuring customized party drinks on your wedding day? Doesn't it sound so unique and 'WOW"! It does. So, let Mr. Coconut is ever ready to make your significant big day more extraordinary. Allow us to serve non-alcoholic mocktails in the Barat and wedding party. Your guests will be rejuvenated and excited to see an exotic offering, i.e., Stamped Coconut Water.
Coconut Wedding Idea for a Perfect for a Themed Celebration
Are you planning your destination wedding? Do you want the party to be the best? Let Mister Coconut serve as a wedding planner in Jaisalmer. We plan fantastic drink ideas that can be customized per your party theme. If you plan to have a fun-filled royal wedding in Udaipur or beside a beach destination, you can give your guests an exotic drink. Coconut is the one fruit that takes the Indian wedding scene by storm. This exotic offering adds a "WOW" element to your breakfast menu. Our signature drink is Stamped Coconut Water, the perfect summer drink. It tastes great and brings an energy boost to our customers. Custom coconuts for the wedding with guests' names on them sound more like a dreamy party celebration! We supply fresh and yummy coconut water online as the welcome drink. This wedding season, greet your Barat guests with a signature drink. What's unique about Mr. Coconut's wedding cocktails? It is the way of presentation. We cut and crafted this regular fruit coconut with the couple's name. Hence, our way of presenting wedding drinks elevates your wedding vibes!
Let Your Guests Enjoy the Cocobar – Mr. Coconut's Drink Party at Home Idea Concept
Opt for Mr. Coconut to make the best of your wedding day. We serve your signature drink at our coconut bar called 'Cocobar.' We have an elaborately designed bar that serves fresh welcome drinks for Indian weddings. You will love our professional work in serving the best cocktail drinks. Fresh, top-quality Stamp coconut water will make your guests excited! Hire us and allow us to make the simple beverage a memorable one. Experts at Mr. Coconut love their job. And so, we decorate your wedding drink stall with our personalized Stamp Coconut and Cocobar.
A Simple Wedding Deserves a Royal Touch – Me. Coconut is here to Help
Mr. Coconut understands how much you spend on luxury hampers for guests at your wedding party. You no longer need to spend huge sums adding the royal touch to your big day. We've come into the picture! We came up with the unique idea of switching from plain coconut water to customized coconut water at marriage. Add photos, wedding logos, and the art of the wedding couple on the coconut. Surprise them with new wedding concepts and new beverage concepts! Mr. Coconut's Stamp Coconut is the perfect complement for the gift hamper you hand over to loving guests.
Stunning Drink Ideas for Your Wedding Bells
Select a unique theme for your wedding party. Such as Hawaiian, Beach, Tropical, etc. Such themes make your big day the sweetest memory. And allow us, Mister Coconut, to further enhance the mood for the pool party. Our Tender Coconut water has the following properties: non-alcoholic, free from cholesterol, no added sugar, low-calorie count, and detoxing. With all these benefits, it is best to serve a healthy and energetic drink party at the wedding party! We make sure that your guests feel special. Let us serve delicious & healthy customized coconut water at marriage. Our beautifully crafted Stamp coconuts can make the party an unforgettable one. We include such beverage options that are fresh and mouth-watering. Our refreshing nariyal pani is yummy.
Welcome Your Barat in an entirely New Style with Mr. Coconut
When the Barat arrives, people from the bride's side greet the guests in Barat. Your guests would have already tired out. Continuous dancing, singing, and enjoyment make them exhausted. Here's where Mr. Coconut comes into the picture. We add coconut water to your welcome drink menu. Our welcome drinks for Barat serve as an instant hit for guests. This fresh fruit water always keeps your guests energized. We have Coconut-flavored signature cocktails. This drink will be a perfect treat for your guests in Barat. The refreshing personalized coconut water will make your guests feel special! Sweets and tasty bites are typical. Add stamped coconuts at the center of the bar decoration. Coconuts are easily customizable as per your instructions. A customized coconut wedding party drink is as unique as engraved gifts. Let the personalized drink be a trend on your wedding day. Conclusion Your special day is coming closer. Allow Mr. Coconut to serve you the signature drink for this special occasion! The hilarious way to start your life's journey together is to create investment moments. So let us present an exciting twist to wedding celebrations. So, call Mr. Coconut now. Don't let your wedding party be a simple one. We promise to make it a rocking party. Your wedding party will be extra refreshing and healthy with our crafted personalized coconuts!