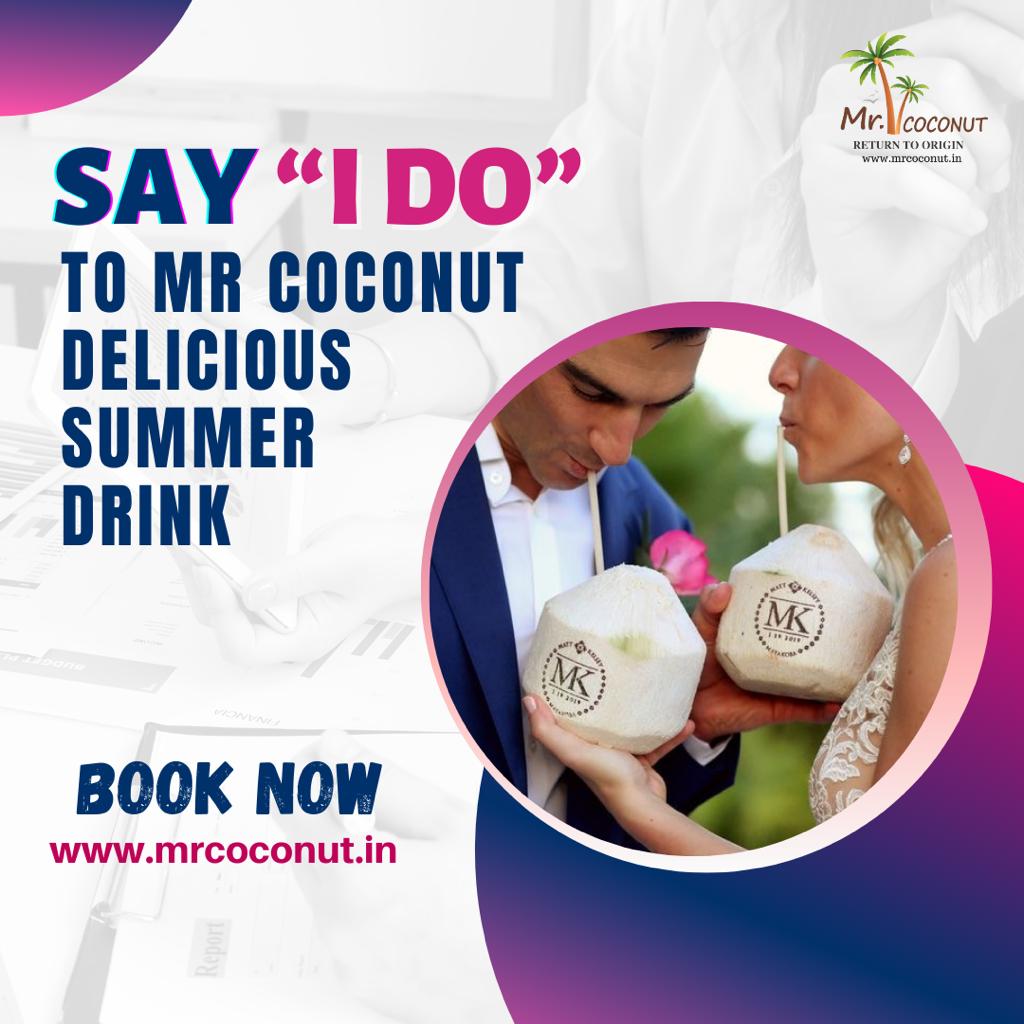 Say 'I Do' to These Delicious Summer Wedding Welcome Drinks from Mr. Coconut
By: Shivam Agarwal,

CEO & CO-FOUNDER MR COCONUT

| 23 March 2023
Summer weddings in India are an extraordinary affair that fills the atmosphere with excitement and enthusiasm. It's a season that is characterized by numerous celebrations, reunions with friends and family, and an abundance of good old-fashioned fun. In recent times, the trend of summer destination weddings has gained momentum, particularly among the younger generation, who crave a break from the monotony of their daily routines. And there's no better place to host your summer destination wedding in major cities of India, with Mr. Coconut by your side. Our printed coconuts are the perfect addition to your summer wedding days, adding a refreshing twist to every drink menu. So why not make your special day a truly memorable one by infusing it with the tropical vibe of Mr. Coconut's printed coconuts? Let us help you make your summer destination wedding an unforgettable experience for you and your guests.
Monogram Coconut: Fun Summer Wedding Welcome Drinks
Are you tired of serving the same old boring drinks at weddings? It's time to add a new concept to your traditional wedding function drinks! And who better to turn to than Mr. Coconut? We believe that your wedding day is one of the most important days of your life, and it deserves to be better than the best. That's why we offer a range of coconut carving options to make your wedding stall stand out from the rest.
Natural & Refreshing Stamp Coconut Water for Summer Weddings
At Mr. Coconut, we promise to offer your guests the natural energy of coconut water, in a way that they've never experienced before. Our carving skills are unmatched, and we're here to provide you with out-of-the-world wedding stall ideas that will leave your guests in awe. With our personalized coconut party drinks, you can create a new and exciting way to welcome your guests to your special day. This summer wedding, let us help you create a difference in your function drinks. Our authentic coconut drinks come in all different shapes and sizes, so you can give your guests a chance to explore new tastes and flavors. Imagine how lively your guests will look when they have their drink from Mr. Coconut's unique beverage stall. It's the perfect fun touch that will add more flavor and excitement to your party. So, if you're ready to make your wedding drinks unforgettable, turn to Mr. Coconut. We'll help you create a wedding stall that your guests will be talking about for years to come!
Give a Quick Detox to Your Summer Wedding Guests with Carved Coconuts
Summer weddings are all about creating unforgettable memories filled with love, laughter, and celebration. As the warm weather brings joy and excitement, it also demands refreshments that can cool down your guests and invigorate their spirits. This is where Mr. Coconut comes in - by offering your guests fresh fruit baskets with fresh & tender coconut water, you can add a unique touch of freshness to your summer wedding. In the scorching heat, your guests will undoubtedly appreciate a healthy and delicious drink that can replenish their energy. Mr. Coconut's signature coconut customized coconuts are not only refreshing but also nutritious, providing the perfect solution for a hot summer day. By serving our non-alcoholic welcome drink, you can ensure that everyone remains detoxed, hydrated and happy throughout the festivities. What sets Mr. Coconut apart is our commitment to quality and taste. Our coconut water is pure, fresh, and has a distinctive flavor that your guests will adore.
Mr. Coconut Offers an Elegantly Designed Coconut Beverage Stall for Weddings
With our extensive experience in managing weddings and events, we understand the importance of delivering exceptional service. This is why we guarantee to serve the best summer drinks and a masterfully designed coconut water stall for weddings (Cocobar) for your guests. Let Mr. Coconut take care of your guests' thirst so that you can focus on making unforgettable memories. We promise to provide delicious nariyal pani in peeled coconuts until the last guest leaves your event. This will leave your guests feeling refreshed and rejuvenated. Book us today to make your summer wedding an affair to remember!
Mr. Coconut Caters to Weddings from All Over India!
Are you ready to take your wedding celebration to the next level? Look no further than Mr. Coconut, your go-to source for refreshing summer drinks. Planning a Destination Wedding in Goa, an Intimate Wedding in Mumbai, a Themed Wedding in Ahmedabad, Marriage in Delhi or a Traditional Wedding in Kolkata? We are the premier wedding beverage provider for your big day. Our carved coconut water is the perfect way to keep your guests hydrated and happy throughout your entire event. Don't miss out on this opportunity to elevate your wedding celebration with Mr. Coconut. The booking process is simple, so act fast and make us a part of your special day. Your guests will thank you for it, and you'll create memories that will last a lifetime. This wedding season, re-imagine your summer wedding and make Mr. Coconut a must-have addition to your festivities.