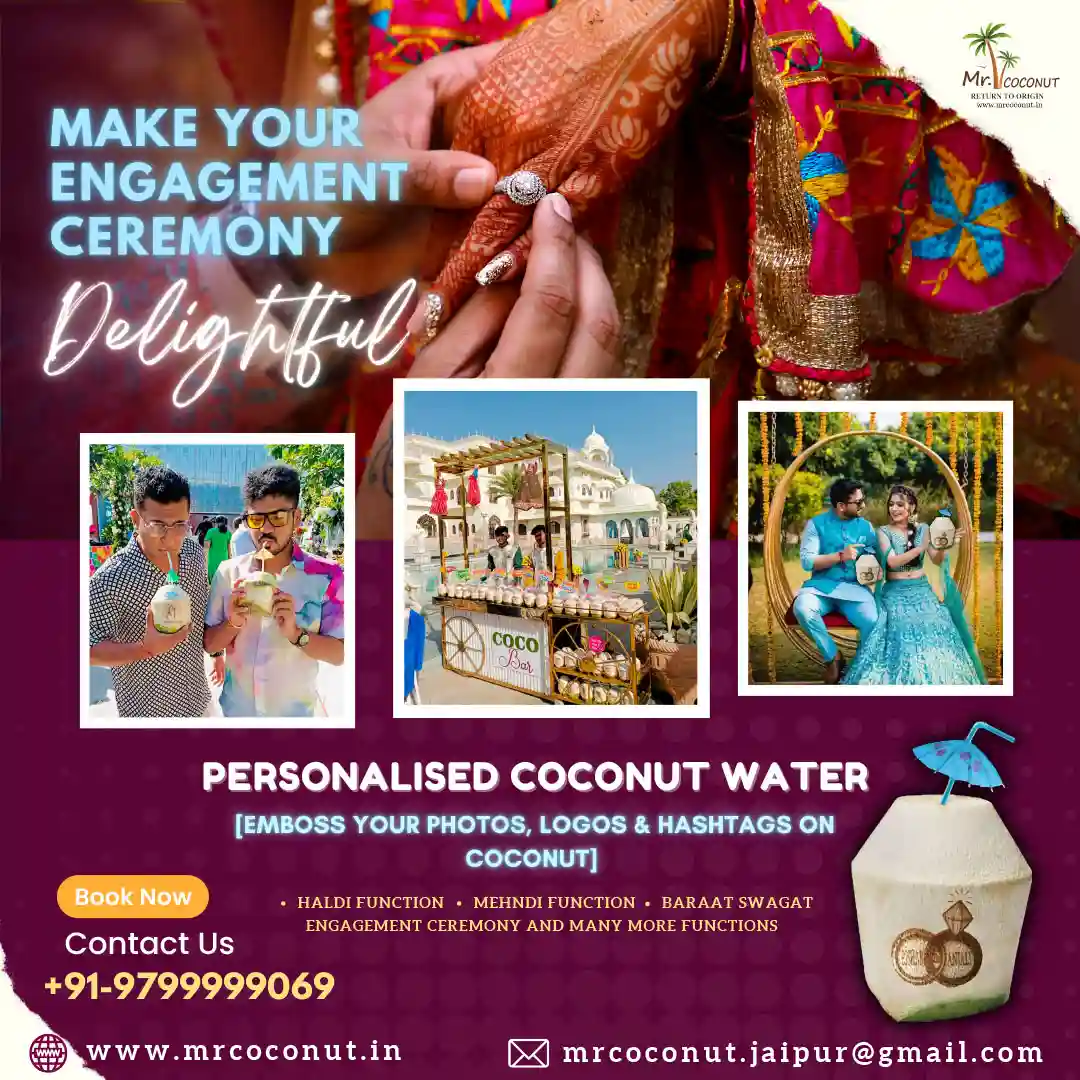 Add Some Fun in the Winter Drinks For your Wedding Functions with Mr. Coconut!
By: Shivam Agarwal,

CEO & CO-FOUNDER MR COCONUT

| 06 January 2023
A wedding is one of the most important celebrations in India. A wedding function is complete with a perfect drink that compliments the occasion. But more than mocktail drinks are often needed to provide some fun to your guests at wedding functions. That's why it's essential to try out customized mocktail party drinks and add more fun to them with Mr. Coconut!
Do you need clarification about Fun & Unique Wedding Anniversary Ideas? Let Mr. Coconut Handle it All.
So, it is your 1st wedding anniversary. And you are planning to throw a party or simply your family get-together. Call Mr. Coconut. We are ready to create many unique and fun mocktail drinks and cocktails for your family celebrations.
Mr. Coconut serves the best party drinks for your guests. Guests often get tired of the same old beverages whenever they have a party. It's time to impress your guests with customized mocktail drinks and cocktails. Try our mocktail ideas and taste a fantastic cocktail or mocktail drink today!
Our beautifully designed stamp coconuts can energize your party and make everyone smile. Our tender coconut water will be your best friend whenever you plan a grand destination wedding in Chandigarh, Goa, Hyderabad, or Udaipur. Your party will be more fun and have a personal touch. Let your traditional wedding be rocking with Mr. Coconut! Customized and fun-filled mocktail drinks are sure to give extra pleasure to our guests at weddings and parties.
The chiller coconuts are an adorable addition to your wedding functions, parties, and celebrations!
Stamped Wedding Cocktails: Fun with Satisfaction
A wedding is one of the most expensive events in one's life. But your guests are your family and friends. So, why not make their day memorable by serving them beautiful and unique wedding cocktails? Our Mr. Coconut printed coconut water can add that extra fun element to your wedding function!
Let us provide you with some fantastic customized wedding drinks that can impress your guests! Indulge your guests with an energizing & quick detoxing drink. We serve you delicious coconut events drink with personalized touch-up.
Enjoy the amazingly delicious and fun cocktails with Mr. Coconut. The exciting non-alcoholic beverages for the wedding reception can taste fresh and make your guests smile!
Fruit Basket Brings Fun; Coconut Water Brings Satisfaction
With the rise of events like beach weddings, & destination weddings near Indore, customized fruit baskets are popular among Indian wedding parties and celebrations. So, next time you plan a beach wedding or wedding on a yacht or in some exotic location, try our Mr. Coconut popular wedding drink. The fruits will be there in the form of an exciting fruit basket. And our personalized coconut drink will complement your wedding gifts.
Guests will remember your wedding anniversary for years to come. Celebrate your wedding day in style by serving them incredible mocktail drinks and beverages from the fun-filled Mr. Coconut. The best way to start your party is with a humorous drink that complements your theme and mood. And what's better than a funny, square-shaped coconut drink? Mr. Coconut adds a personalized touch to the wedding coconut party drink. We ensure that the quality of the mocktail drink will be fresh.
The Perfect Product for Themed Weddings Functions
It's time to add fun to your family functions and celebrations with our stamped coconut drinks. Mr. Coconut designs coconut water at weddings so they can easily match the newly-themed wedding ideas! With Mr. Coconut, you will always have the best services for your wedding anniversary and parties.
Making your wedding day memorable and fun with some fantastic drinks is essential. Customized Mr. Coconut mocktails and cocktails are the most creative and astonishing drinks to enhance your special day. We understand how much it matters to give extra pleasure to our guests at weddings. Ask us to stamp the names of couples or any other important guests in the coconut!
Freshness & Health Together: Serve Coconut water for Your Guests
Mr. Coconut uses the highest quality standards to provide the freshest coconut water. And it is possible as we have a coconut stall with 100% new coconut drinks. We are ever ready to provide our guests with drinking water in the form of personalized nariyal pani. Try out our best-selling coconut water at a special and unique price!
It's Your Wedding Function, Don't Let Your Guests Go Tired. Fun is Necessary
Wedding functions in India are incomplete without other Indian cuisines. But the reason why the wedding is always incomplete is not because of the divine Indian food. It's because of the absence of drinks and beverages that can refresh our thirsty guests. So, keep your guests from getting tired of Mr. Coconut's fresh coconut drinks!
The Mr. Coconut customized drinks and mocktail ideas are so unique that they will amaze your guests with the best drinks! The fun and energetic mixes are the most creative way to serve drinks at your wedding functions. Celebrate your wedding with Mr. Coconut's fun-filled printed coconut water.
The traditional weddings feature white wines, red wines, and sparkling wines for their receptions. But you have to rock your wedding party. Let us serve the refreshing coconut welcome drinks. Our coconut drink is fresh and keeps your guests from getting tired!