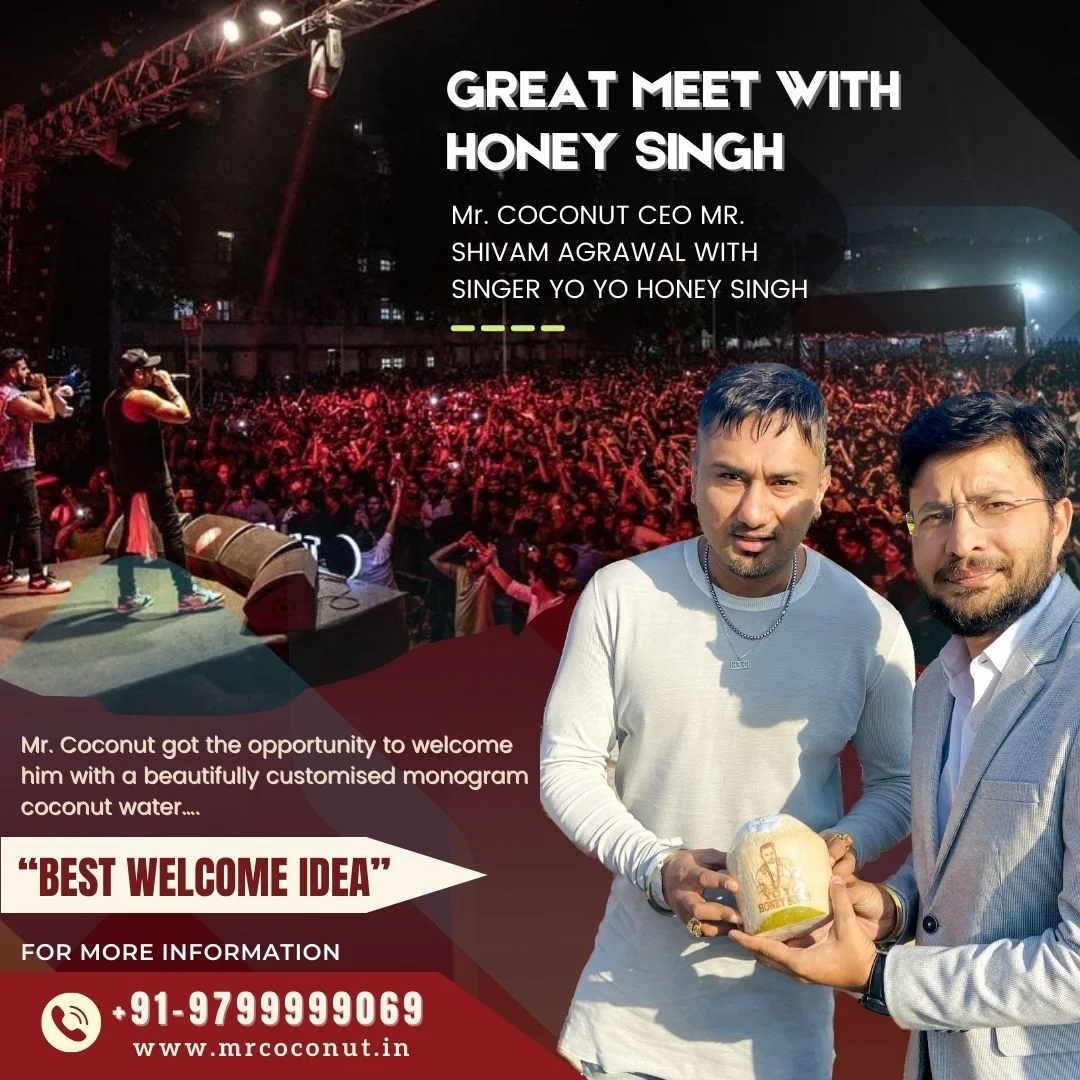 Bollywood Singer Honey Singh is welcomed by Mr. Coconut at Buena Vista Resort Jaipur
Posted by : Mrcoconut / On : Nov 23, 2022
Honey Singh's Spectacular Rise to Fame
Pop music as we know it, in its golden age in the '90s with the likes of Alisha Chinai, Euphoria and countless more outstanding artists and ensembles, dwindled down in popularity by the middle of the 2000s. When Yo Yo Honey Singh (at the age of 20) debuted with 'Khadke Galasi' with Ashok Mastie, the Bollywood bigwigs had already absorbed the entire Indie ecosystem, and only Hindi cinema songs were played on the radio.
Despite this huge popularity of the Bollywood songs, Singh's "Khadke Galasi" became a viral sensation and a smashing chart topper!
Singh was ecstatic about his success; the catchphrase "Yo Yo Honey Singh" gave his hook lines an extra oomph, and his extravagant, stylish, and flashy music videos went viral.
After him, many Punjabi rappers tried to replicate his success, but none of them were able to capture the attention of Indian music fans the way he did. His song "High Heels," a collaboration with Jazz Dami, was a huge hit at the time, and his tune "Brown Rang" was a hit with hip, urban youth.
Mr. Coconut Welcomes Honey Singh at Buena Vista Resort, Jaipur
The famed hip-hop singer was in Jaipur to perform at a Live concert and was staying at the Buena Vista Resort, Jaipur.
Mr. Coconut's CEO was present when Honey Singh arrived at the Buena Vista Resort, Jaipur. He welcomed the popular singer with a beautifully customized shaved coconut that was carved with the singer's name and his picture.
Honey Singh was pretty happy with the welcome gesture and had an amazing time drinking the tender coconut water. It instantly refreshed him after a long journey and he quickly got to his preparations for the event!
Amp Up Your Guest Welcome Idea with Mr. Coconut!
Mr. Coconut provides a wide range of intricately crafted carved coconuts which can be used as the best welcome idea for guests for events, weddings and marriage ceremonies like Haldi, Mehendi, Sangeet and more!
These meticulously designed stamp coconuts are full of fresh and tender coconut water that can provide an instant detox and refreshing session to guests. In addition to that, the delicious coconut water also provides a wide range of nutrients and is low in calories which makes it the perfect drink for health-conscious guests.

Make your events delightful with a personalized Cocobar
Mr. Coconut isn't just limited to providing carved coconuts. We also offer a completely customized coconut water counter for events and weddings.
This coconut water bar can be customized according to your event or wedding requirements. We have a team of experts and professionals who understand all your event requirements and customize the Cocobar according to your liking.
Mr. Coconut makes Wedding Planner's Work Easy!
Wedding planners are always searching for new and interesting beverage ideas for weddings and events.
Mr. Coconut's elegantly crafted peeled coconuts provide a unique design element to wedding planners. Additionally, the customization aspects of the coconut can be easily used by wedding planners for multiple events and wedding ceremonies like Haldi, Mehendi, sangeet, ring ceremony and more!
Revamp Your Guest Welcome Idea for Events & Weddings!
Just like Honey Singh was welcomed with a personalized coconut featuring his name and picture, you can also get the coconuts personalized with pictures, logos or hashtags of the event.
If it is Baraat Swagat or a guest welcome at the hotel, you can get the coconuts carved with their pictures or the logos of the event for a personalized guest welcome experience.
Planning a destination wedding in Jaipur? Have a traditional wedding in Delhi? or organizing an intimate marriage in Goa? Mr. Coconut provides suavely crafted monogram coconuts to major cities in India!
Revamp your guest welcome game at weddings, marriage ceremonies and events with Mr. Coconut. Connect with our experts today!