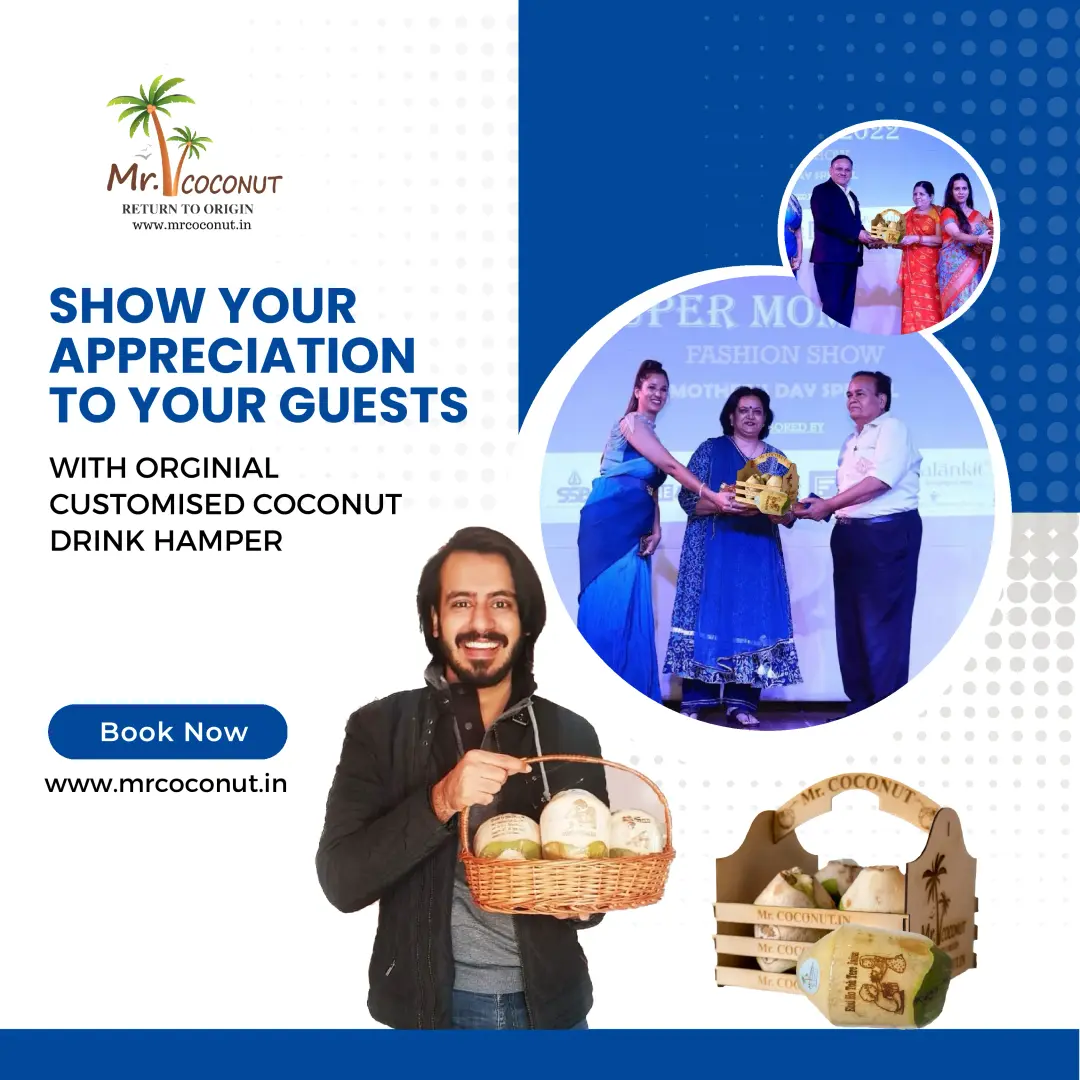 Show your Appreciation to Your Guests Feel with Original Customized Drinks!
Posted by : Mrcoconut / On : Feb 27, 2023
A marriage anniversary is a date remembered and celebrated because a remarkable event happened on this date a year ago. So, what will you plan to make the celebration more special and memorable? How about throwing a party where you invite your near and dear ones. Feeling special after hitting one year with your better half is a great idea. Now that you have planned to invite guests, why not make them feel special? Guests try their best to make it out and witness the couple's union and commitment to each another. So, why not make them feel special? Mr. Coconut's expertise in serving welcome drinks for guest you're your anniversary party 'remarkable' celebration!
New Styled Food & Drink for Your Anniversary Party Guests
One of the essential steps to planning an enjoyable anniversary party is to keep guests full and happy! Regarding food and drinks, consult with a catering company beforehand. Mr. Coconut is India's fast-growing industry for supplying Customized and Personalized Coconut drinks for parties and family events. We can't wait to get the party started on your anniversary day. Have tender coconut water ready to go at its station as soon as your party time kicks off!
Surprise and Delight Your Anniversary Party Guests with Mr. Coconut Drinks
Giving high-end premium gifts or chocolate-covered strawberries is only sometimes necessary to wow your guests. Our customized coconuts are a perfect gift to surprise and delight your guests. The stamped coconut water with the anniversary theme or couple's names, or visitor's names can connect with them on a personal level. A gift is a classic way to express your appreciation for the party guests. Surprise the visitors by handing everyone a personalized gift package. And include our carved coconut in the gift box. Your guests will surely love and admire the token of appreciation.
Your Anniversary Party Deserves an Absolute Versatile Touch
Whether it's a tenth anniversary party for your friends or a diamond wedding anniversary party for your parents, let the party be the best time spent together! Anniversary parties help couples and family members cherish marriage. Loved ones can come together, drink, play games, sing, dance, and enjoy! Mr. Coconut's customized drinks ideas will be the best twist to the party. It's a fun idea to choose a non-alcoholic signature drink. Be it a whimsical garden-inspired anniversary event or a destination anniversary in Mumbai, Goa, or Jaipur, we serve 100% fresh drink that fits the beverage needs of all your visitors. The simple idea of switching from plain soda or wine to monogram coconut can allure guests to the bar area. The simple-looking nariyal pani is sweeter and thicker than other cocktail drinks. Ask us to add photos, anniversary theme logos, and the art of the wedding couple on the coconut. Surprise the guests with a versatile touch to the party drink concept.
Why Include Mr. Coocnut's Non-Alcoholic Welcome Drink Ideas in your Anniversary Party?
Everyone looks forward to meeting mutual friends, dancing together, enjoying snacks, and sipping cool drinks on a wedding anniversary. Instead of wine and vodka, why not promote non-alcoholic drinks ideas at your anniversary cocktail party? The personalized coconut water is not only healthy but also makes everyone have fun! Your guests can be refreshed with our revitalizing drink that makes them feel welcomed and valued. Welcome drinks are key to getting the party started and greeting your guests! And our coconut water stall at wedding anniversary celebrations provides everyone with the energy to hobnob. The stylish and healthy drink is ready to complement the entertainment, music, decor, and food! Anniversary party themes can be more fun and reflective with Mr. Coconut. You can go with anniversary party themes that are color-based. The decorations should be elegant and cohesive. You can also include drinking games in the party theme. Truth or Drink Drinking Card Game is best to be played with party guests. Here, Mr. Coconut is the most popular for tender coconut water for the wedding anniversary party. We can send some of the most customized coconut drinks that tell your guests everything about the mocktail party, have a blast!
Coconut Water Stall at Wedding Anniversary – Introduce New Beverage Ideas to your Guests
Do you want to offer something cold, tasty, refreshing drinks for an outdoor summer wedding anniversary? Your beverage stall at wedding can be customized to serve signature mocktails or stamped coconut. Mr. Coconut does this job well. Our delicious appetizing coconut drink is the best way to supplement the bar during your cocktail hour or at the wedding anniversary.