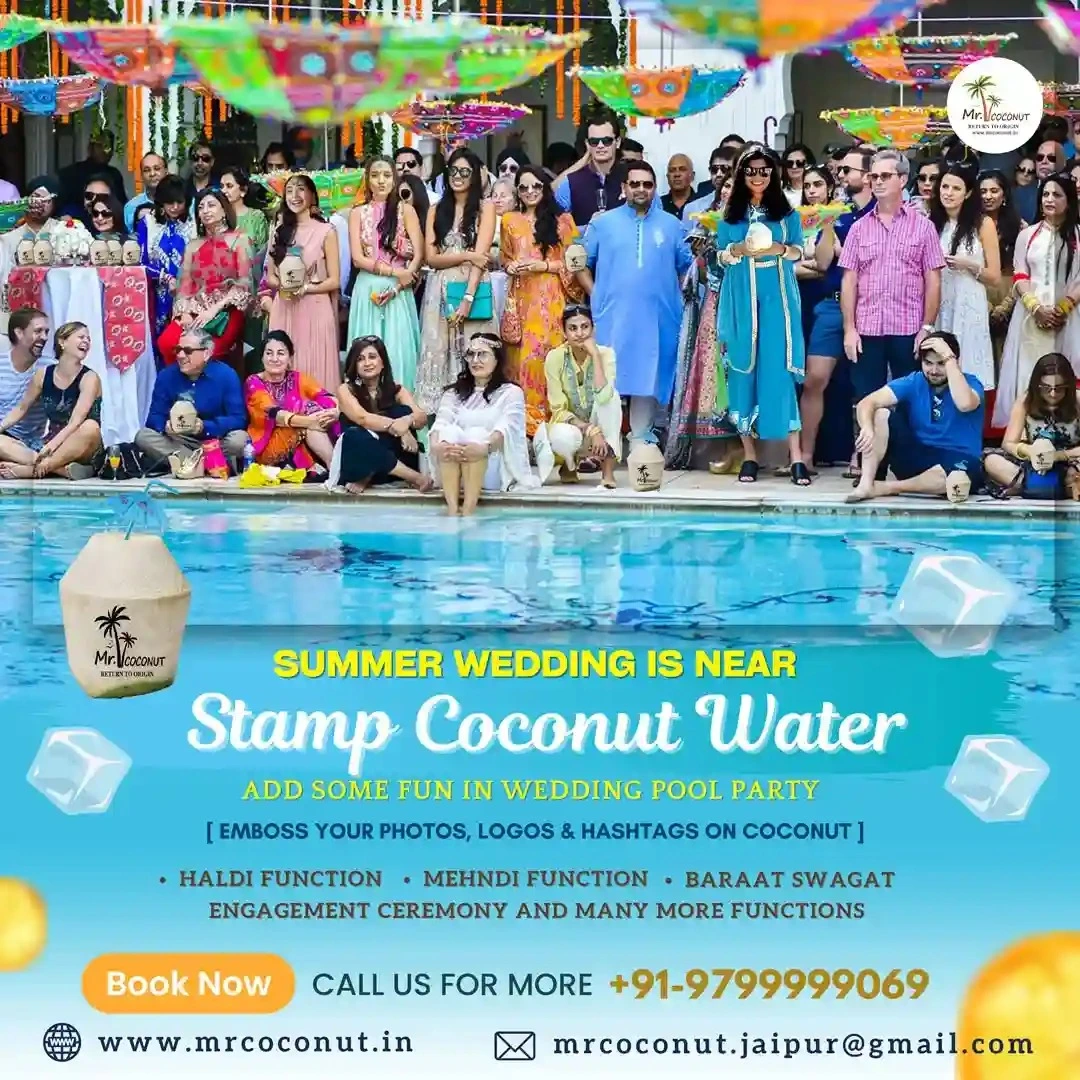 Add Some Fun in the Summer Drinks For your Wedding Functions with Mr. Coconut!
By: Shivam Agarwal,

CEO & CO-FOUNDER MR COCONUT

| 11 January 2023
In India, summer weddings are celebrated with the most excitement and enthusiasm. This festive season is marked by several celebrations and gatherings of relatives, friends, and well-wishers, where good old fashion fun is expected from the guests. Summer destination weddings and fun are going hand in hand these days. Summer destination weddings are a trend now, and there are several reasons for this. This trend is more prevalent among the younger generation, especially couples who want to escape from the monotony of their daily lives. If you belong to this segment, you should know that you can enjoy your summer destination wedding in Kolkata by having Mr. Coconut by your side. We are a perfect addition to your summer wedding days! Our printed coconut in India can add flavor and refreshment to every summer drink menu.
Stamped Coconut: A New and Fun Idea for Traditional Summer Wedding
Traditional wedding function drinks call for the use of something new! Mr. Coconut believes in adding new concepts in weddings. After all, you are getting married to the best person. Your wedding deserves to be better than the best. Mr. Coconut has many coconuts to be carved in various ways. With our best welcome drinks at your wedding, your guests will love you more! Mr. Coconut promises to offer the natural energy of coconut water. With our fantastic carving skills, we're here to provide you with out-of-the-world wedding stall ideas. We can help you create a new way to welcome all your guests with our stamped coconut party drinks. This summer wedding, create a difference in your function drinks! We give you the option of having your guests explore new tastes with our authentic coconut drink in all different shapes and sizes. It provides a perfect fun touch that can give your party more flavor and fun! Just imagine how lively your guests look when they have their drink from Mr. Coconut's unique beverage stall.
Make the Simple Breakfast Mouth-watering with Stamp Coconut
Add an exotic touch to your breakfast by including carved coconut drinking water. Mr. Coconut will give your guests a tropical twist of flavors! Personalized gift hampers, cut coconut drinking water, and printed coconuts make a perfect gift for your relatives! Set up a mocktail counter at a wedding and see how your guests appreciate your ideas and love the drinks with Mr. Coconut. The main reason for choosing Mr. Coconut is our creative and unique ideas for serving the most refreshing, alluring, and delicious drinks. Our artistry in writing and printing coconuts makes us unique from other coconut water brands.
Mr. Coconut and your Special Day – A Perfect Combination
The Wedding bells are Ringing! Are you excited? Are you almost done with your wedding plans? Have you started thinking about the best welcome drinks for the guests who would come and celebrate your wedding? You want to make sure that each one of them will be surprised by the refreshing beverages at the table while you take pictures of your special day with Mr. Coconut! Mr. Coconut has the best type of liquor for a wedding reception. The guests will love the special welcome drinks prepared by Mr. Coconut! Who doesn't love a cocktail? When it comes to welcoming your guests, we can be the best choice for serving the most refreshing summer drinks. Goa, Agra, Chandigarh, Surat, and Mussorie are favorite places for a destination wedding. Mr. Coconut's services mainly focus on bringing unique beverage stall ideas to these places. Mr. Coconut always has some innovative ideas to add to the wedding menu. With our latest coconut carving techniques, we can offer you a wide range of custom and personalized nariyal pani.
Enjoy the Ethic Summer Wedding Party Without Getting Exhausted
Weddings in summer mean dance, song, fireworks, love, and emotions. The summer wedding time invites a lot of fun and celebration. You can add a little more fun by including fruit baskets & fresh coconut fruit juice with Mr. Coconut at your summer party. Your guests will get tired and sweaty due to the hot summer weather. Mr. Coconut can be a perfect refreshing drink for your summer wedding! The signature coconut water of Mr. Coconut is healthy and tasty, and your guests will love it! Because of the hot weather, everyone needs cool refreshing drinks during celebrations. Our non-alcoholic welcome drink will be a perfect way to keep everyone refreshed and happy. Pure & tasty coconut water tastes better when it is fresh. Fresh coconut water has a great taste. Mr. Coconut can provide the best summer drinks and refreshments at your wedding. We will be able to serve delicious nariyal pani until the last guest leaves your event!
Conclusion
What are you waiting for? Choose the best wedding destination in Jaipur, Delhi NCR, Goa, Jaipur, etc. The location you choose will decide the best wedding beverage stall for you. Order your carved coconut water with us, and we will provide a satisfying service! We can keep your guests hydrated for all the days of your wedding. So, always remember Mr. Coconut for your wedding day. Summer food and drinks counter at your wedding functions is a must! Your guests are going to enjoy the best summer drinks with us. We use fresh coconut to make the best welcome drinks wedding. The best way to say thank you to your relatives and guests is to serve them the best summer drinks at your wedding celebration. Take advantage of this chance to have Mr. Coconut at your event! The booking process is straightforward. We will be delighted to serve you efficiently and professionally. Our team members are available at the time of your choice, at the venue of your desire. Hurry up! This wedding season, re-arrange wedding stall ideas and have a new way of serving the best summer drinks!