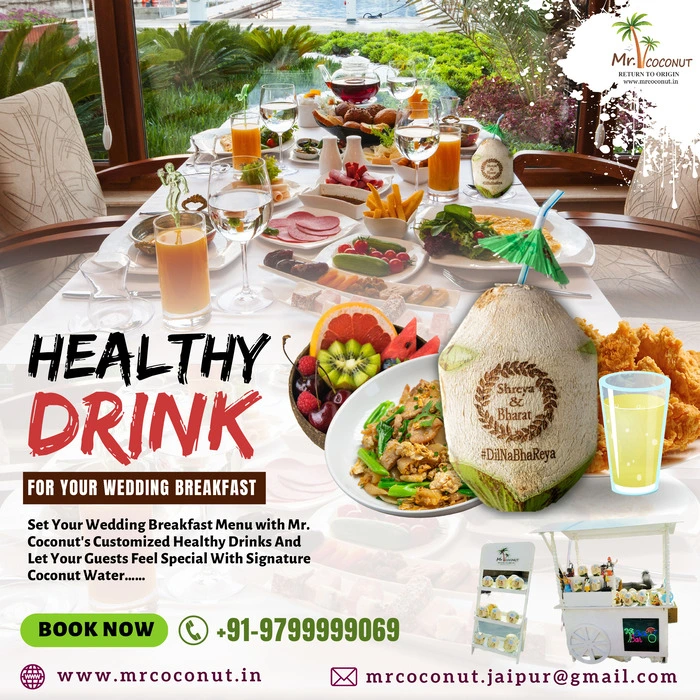 Set up your Wedding Breakfast Menu with Mr. Coconut's Customized Healthy Drinks
Posted by : Mrcoconut / On : Jan 09, 2023
Weeding brings happiness and joy. But it can also be harder to present a unique breakfast menu. Isn't it? Your guests love to be a part of your wedding. So, it is your responsibility that these guests are happy & enthusiastic! Mr. Coconut serves non-alcoholic welcome drinks as a great way to start the day. This means that guests will have something unique and tasty on the menu of your wedding. The bride appears beautiful, the groom handsome. Why not plan a welcome wedding party with lots of fun, dancing, and feasting? The ambiance in the destination wedding is different and fresh. You need to keep the mood of your wedding party going with a great welcome drink. Make your destination wedding in Agra, Kolkata, or Jaisalmer unique and refreshing by serving your guests some of the best welcome drinks. Let us, Mr. Coconut, help with the best signature drinks like mocktails and printed coconut water.
Arrange Unique Weeding Breakfast Menu with Unique Healthy Drinks
Nariyal Pani is great in warm tropical weather. Coconut water is excellent for health. So, the guests can feel rejuvenated and refreshed on their wedding day with these drinks. Mr. Coconut believes that your wedding should be the best! That's why we bring you mind-blowing party welcomes drink ideas. How about serving tender Coconut Water in monogram coconuts? We are a leading company known for crafting customized coconuts and crafted welcome drinks. This unique way of welcoming your guests resembles a celebrity-styled wedding! You must have it at your wedding! The guests of your wedding are always excited to celebrate your wedding with you. When your marriage is complete, there is nothing more important than thanking your guests and showing them the elegance of your personalized wedding drinks. Such couples who throw destination wedding parties in Mumbai, Jaipur, Kolkata, Ahmedabad, etc., can host the best food and breakfast menu by hiring Mr. Coconut. Our service is ideal for creating personalized cocktails for your special day. This customized drink for wedding reception is a fresh and great way to bond with your guests.
Entertainment and Fun Wedding Days
There are many more unique and exciting ways of serving your guests and entertaining your wedding. Mr. Coconut knows how to compliment the best breakfast menu with compelling and appropriate coconut drinks. Book Mr. Coconut now. We will serve your guests fresh and useful wedding favors. Our coconut water in customized Shaved coconuts can add joy to the wedding party! Indian wedding parties have several dance performances. We help you to plan perfect wedding party events that are appropriate for the environment and themes of your wedding. How? By adding special touches to the party welcome drink ideas. We are experts at serving your guests delicious happy hours with our health drinks. Our fresh coconut water is an excellent refreshment while enjoying the interaction of happy people, dancing, and having fun.
Serve Good Signature Drinks for Wedding
It's your big day! You would want everyone to remember the party for a long! Wedding ceremonies are complete with a signature drink. What better way to serve a unique and refreshing signature drink other than Mr. Coconut's healthy drinks? Our signature drink will help you to customize your wedding party. You can also order in advance to enjoy a cool and refreshing drink upon arrival on your big day without having to worry about preparation. We make sure that every guest feels refreshed with the lip-smacking cocktails! Mr. Coconut serves Non-Alcoholic Welcome Drinks that contain fresh coconut water. What is your special message to your guests on your big day? You can spell out that message in a coconut!
Budgeting Your Wedding Breakfast Menu is Easier with Mr. Coconut!
Mr. Coconut understands that you would love to add a tastily and filling breakfast menu for your wedding guests. So, call us & book our services. We provide top-class wedding favors for guests. A breakfast menu mainly has two options - breakfast and lunch. While the breakfast menu is high-protein and low-carbohydrate, you can still enjoy it in moderation, accompanied by breakfast cocktails like coconut water. The good news is that you can hire us to make signature cocktails! Our wedding cocktails will be the best welcome drink to save your budget. We know very well how to customize your drink into a lavish and unique drink! Get the names of the bride and groom printed on the coconut shell. You can even ask us to stamp the coconut with the names of party guests.
Mr. Coconut will Ensure the Perfect Execution of Your Wedding Party
Coconut water is a refreshing drink. It helps boost the human immune system and thus has numerous health benefits. Some people believe that coconut juice provides anti-aging and anti-inflammatory properties that help maintain the body in good health. Make sure your wedding concept is new! Guests get bored with the same old things. So, make your cocktail menu unique and feel confident knowing that the drinks you get from us can add a special touch to your wedding party. Our branded coconut water is a refreshing drink low in carbohydrates and sugar. It has beneficial properties that refresh the mood. Hence, it is an excellent substitute for sugary soda drinks and juices while maintaining health benefits. Cocktails are always a great way to start the day when everyone is happy, excited, & in a party mood. With Mr. coconut, you can order your customized wedding cocktails. You can use these drink recipes as the base for your welcome drinks. Guests are going to love you and your wedding!