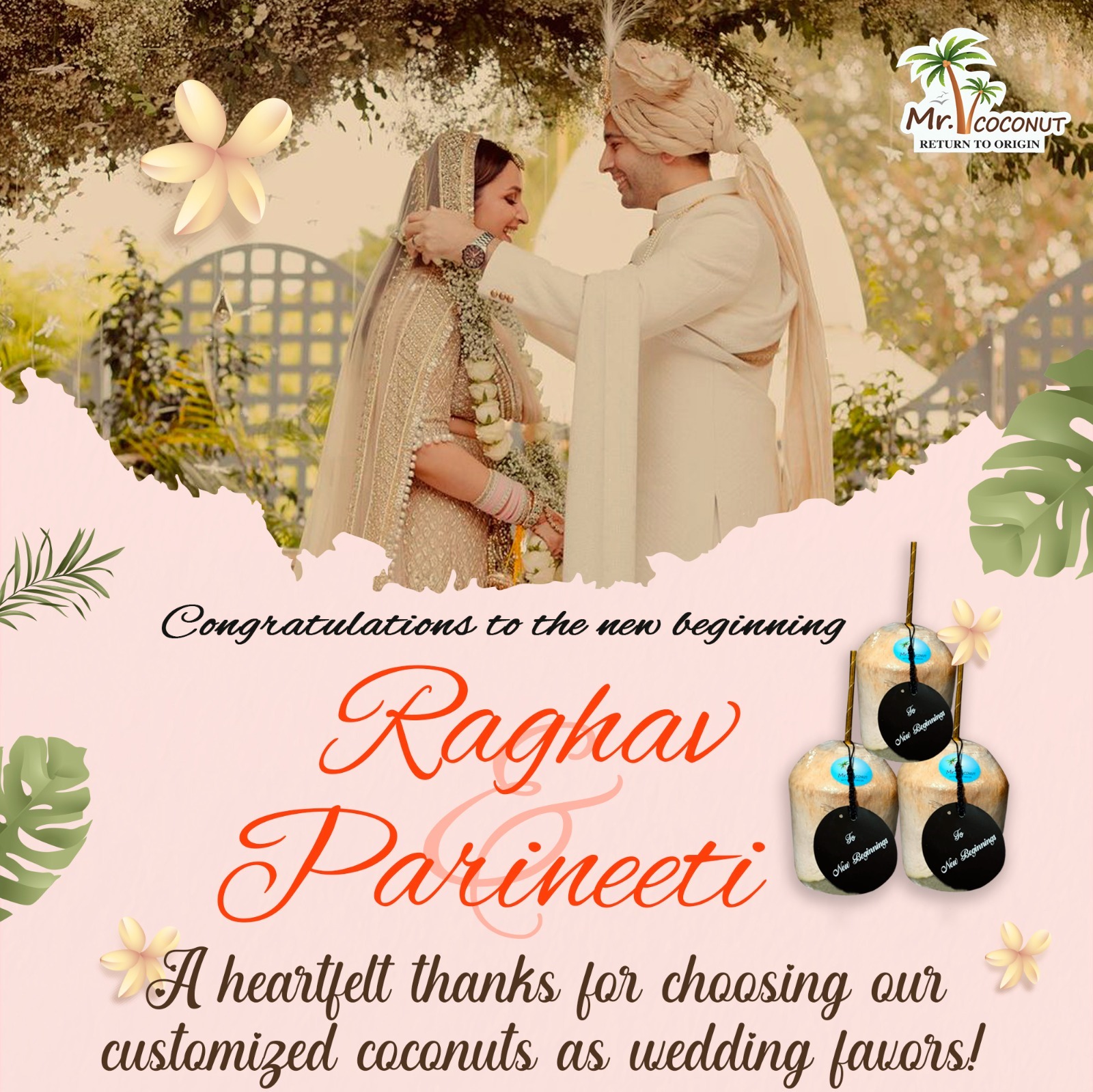 Parineeti Chopra and Raghav Chadha Wedding Transformed into a Tropical Delight with Custom Coconuts & Cococart
By: Shivam Agarwal,

CEO & CO-FOUNDER MR COCONUT

| 27 September 2023
Imagine a union where the glitz of Bollywood meets the charisma of Indian politics, all set against the backdrop of regal Rajasthan. Parineeti Chopra, the dazzling starlet of Bollywood, and Raghav Chadha, the dynamic AAP Leader, tied the knot in an affair that can only be described as enchantingly royal. Nestled amidst the grandeur of the Leela Palace in Udaipur, their wedding wasn't just about the vows and the glamour. It had a unique twist – a touch of tropical charm, thanks to the Customized Coconuts crafted by none other than Mr. Coconut and served from a classy Coconut Stall Cococart.
🌴
A Tropical Twist to

Parineeti Chopra and Raghav Chadha Wedding

with

Personalized Coconuts
🥥
You know how sometimes the smallest details can turn an event from memorable to unforgettable? That's precisely what hppened at Parineeti Chopra and Raghav Chadha's wedding. Amidst the grandeur, it was the Monogram Coconuts that added a touch of magic.
Monogram Coconuts: The Signature Wedding Beverage Concept
Ever imagined sipping on a drink that's not just refreshing but also has your initials on it? It's like wearing a tailored suit or dress – it just fits perfectly. These coconuts weren't just beverages at Parineeti & Raghav's wedding; they were personalized statements, turning each sip into a story!
The Enchanting Venue –

Leela Palace Udaipur
Leela Palace in Udaipur isn't just a venue; it's a dream. Perched by the tranquil Lake Pichola, it's where royalty meets romance. As the palace lights reflected off the water, it felt like the stars had descended to celebrate this union. Can you imagine a canvas painted with golden hues and starry sparkles? That was the scene for Raghav and Parineeti's Wedding!
Mr. Coconut: The Star Attraction at

Parineeti Chopra and Raghav Chadha Wedding


Amidst the glitz and glamour, what stole the show at Raghav Chadha & Parineeti Chopra wedding was the masterfully crafted Customized Coconuts served from the Custom Coconut Stall, Cococart. Yes, you read that right! Coconuts, but with a twist!
Customized Coconuts with a Personal Touch
Ever had a moment where the simplest thing left the biggest impact? That's what these coconuts did. They weren't just fruits; they were canvases. Engraved with the names of our star couple, they became more than just a drink. They became a keepsake!
Cococart: Quenching Thirst with Style
Cococart wasn't just about serving tender coconut water. It was about serving memories. With its avant-garde approach, this CoconutWater Stall ensured that guests didn't just attend the wedding; they took a piece of it home. Think of it as the cool breeze on a hot summer day. Familiar, yet so refreshingly different.
In a world where everyone's trying to make a statement, sometimes it's the simplest gestures that stand out the most. And at this wedding, amidst all the dazzle, it was the humble coconut that shone the brightest. Who would've thought?
How Did

Top Wedding Planners in India

Find

Mr. Coconut

for

Raghav Chadha and Parineeti Chopra Wedding

?
Ever heard the saying, "It's all in the details?" Well, Parineeti and Raghav's wedding was a testament to that. Imagine a wedding where tradition meets tropical, and you're handed a coconut engraved with your name. Sounds dreamy, right?
A

Unique Wedding Favor

by

Mr. Coconut
It all began when the destination wedding planners in India, on a quest for the extraordinary, chanced upon Mr. Coconut. The idea? Not just any wedding favor, but a coconut with a personal touch. And boy, did it make a difference!
Star-studded Appreciation for

Wedding Function Concept

&

Mr Coconut CEO

Shivam Agarwal
From political bigwigs like Bhagwant Mann (Chief Minister of Punjab) and Arvind Kejriwal (Chief Minister of Delhi) to fashion maestro Manish Malhotra and Sania Mirza (Indian Tennis Player), the guest list was nothing short of spectacular. But what left them truly spellbound? Those meticulously engraved coconuts, each telling a tale of the couple's journey. Guests were also quick to appreciate Mr. Coconut CEO Shivam Agarwal for bringing such a healthy and refreshing Wedding Beverage to the Grand Event!
Customized Coconut – It is More than Just a

Coconut Concept

!
It wasn't just about the engraving. Sipping on tender coconut water from the Cocobar, guests felt an unparalleled connection to the couple's story. It was like holding a piece of the couple's story in a grand palace!
Emboss Coconuts
- Standing Out in a Sea of Tradition
In a world of predictable wedding favors, Mr. Coconut's offerings were a breath of fresh air. A tropical touch in a traditional setting? It's like adding a splash of lime to your classic cola – refreshing and unforgettable!
In essence, Parineeti and Raghav's wedding wasn't just about two souls uniting; it was about creating memories, one coconut at a time. And isn't that what weddings are all about?
Parineeti Chopra and Raghav Chadha
Loved

Custom Coconuts

!
Parineeti and Raghav were delighted to have these elegantly curated Carved Coconuts as a signature wedding drink for their celebrations.
Want to transform your traditional wedding into a tropical celebration? Get in touch with Mr. Coconut to book Customized coconuts for your Wedding Celebrations today!