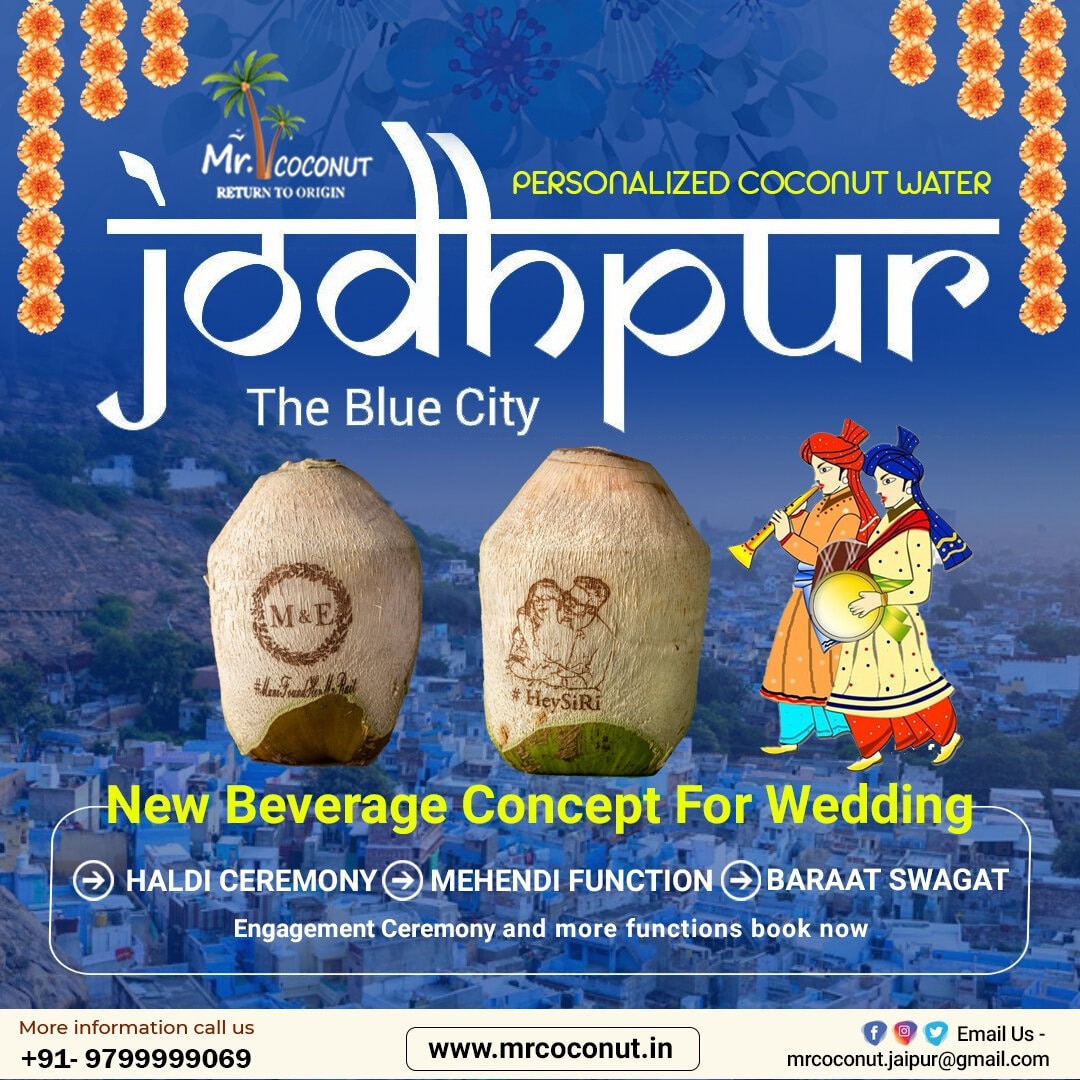 Organize a Rajputana-Style Wedding in Jodhpur with Mr.Coconut
Posted by : Mrcoconut / On : Sep 14, 2022
Jodhpur, regarded as one of the most historic cities in India, traces its roots back to the 16th century. Located smack dab in the middle of Rajasthan, this enthralling city with rich culture and heritage features its inhabitants still wearing traditional attire. Did you know? Jodhpur is also known as the "Blue City" due to the vibrant blue-colored buildings that are present across the city. From Royal Forts to Adventure Activities, Holy Temples, Gardens and Market Places, Jodhpur offers something for everyone. And that is why Jodhpur ranks among the top destination weddings for modern couples. Here are a few reasons why you should plan your destination wedding in Jodhpur.
Why Should You Organize Your Destination Wedding in Jodhpur?
Jodhpur is renowned for a wide range of activities and tourist attractions like: Jodhpur is well-known for a variety of tourist attractions and activities like:
● Temples – Santoshi Mata Temple, Chamunda Mata Temple & more
● Forts – Mehrangarh, Umaid Bhavan Palace & more
● Adventure – Flying Fox Zipline, Paragliding and more
● Shopping – Chhatrala Jewels, Maharani Textiles & Handicrafts, Sardaar Market & more
● Food – Pyaaz ki Kachori, Mirchi Vada, Al-Fresco Dining Experiences & more
Top Destination Wedding Venues in Jodhpur
Here are some beautiful venues where you can experience a memorable destination wedding:
● Vivanta
● Umaid Bhawan Palace
● ITC Welcome Hotel
● Ajit Bhavan
● Fort Chanwa Luni
● Indana Palace
● Ranbanka Palace
How Can Mr.Coconut Make Your Royal Wedding Unique?
You must've been to many weddings and would've most likely seen beverage counters serving fizzy or carbonated drinks. Although you know that such sugary drinks are harmful, the heat and the bustling crowd make you sweat even more. Eventually, you reach out to the counter for a drink. But, as soon as you're done, you are left wanting more and you don't get refreshed or energized. The CEO of Mr.Coconut felt the same and that's how he and his team came up with the idea of serving tender coconut water in beautifully carved coconuts.
Refresh Your Royal Wedding with a Beautifully Designed Stamp Coconut
Serving your wedding guests delicious coconut water in normal coconuts is old school. That's why Mr.Coconut came up with the idea of serving tender coconut water in intricately designed coconuts! These coconuts can be easily customized according to the wedding and the ceremonies. Mr.Coconut team holds expertise in customizing coconuts in different ways like:
● Carving images of the couple on the coconut
● Carving hashtags of the names of the couple or the marriage ceremony ● Carving logos of the couple or the marriage ceremony
When your guests get this beautifully designed coconut, they will realize that you are going to great lengths to personalize each element of the wedding. This will surely raise many eyebrows while ensuring that your guests get a quick detox whenever they want!
Mr.Coconut provides Top-Quality Coconut Water
The packing experts at Mr.Coconut ensure that each coconut is checked for quality and quantity. They seal every coconut to make sure that your guests get top-quality coconut water with every sip!
The Perfect Product for Wedding Planners & Themed Weddings
Mr.Coconut personalized coconuts can easily fit into many themed weddings like South India, Hawaiian, Punjabi or Nature-based weddings. Additionally, the best wedding planners in India can add a new element of health & uniqueness with Mr.Coconut customized coconuts! On the other hand, in-house caterers and decorators can use the customized coconuts as a new idea for Décor and catering purposes.
Cocobar – The Best Drinking Stall in Weddings
Mr.Coconut also provides a meticulously designed beverage counter for weddings so that you don't have to worry about serving personalized coconuts to hundreds of guests. Give your guests the luxury of a quick detox or an instant refreshment in the morning with personalized coconuts at the Cocobar!
Customized Coconuts as Unique Wedding Favor Ideas for Guests
Mr.Coconut customized coconuts can also be used as a unique wedding favor for your guests. They are also ideal for Pool party Idea in Wedding, Guest welcome Idea in Destination wedding or as Breakfast Idea in marriages! Planning your destination wedding in Jodhpur? Make it more exciting and revitalizing with Mr. Coconut's beautifully carved coconuts. Get in touch with our experts today!