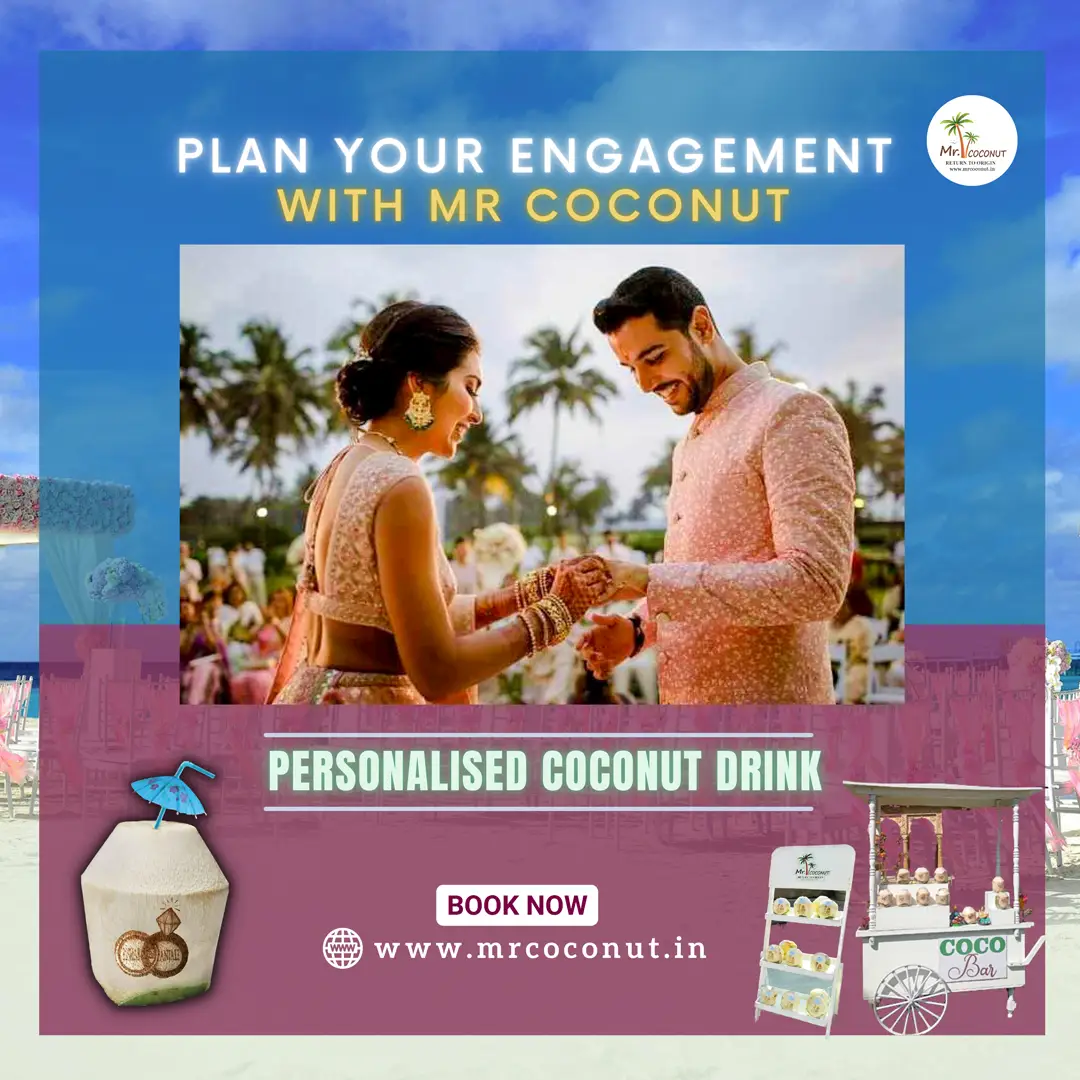 Make your Engagement Ceremony Special with Mr. Coconut
Posted by : Mrcoconut / On : Jan 31, 2023
An engagement ceremony is the first and most crucial pre-wedding ceremony in Indian cultures. So, you need to throw a party that amazes your guests! You can now host a spectacular engagement ceremony with Mr. Coconut's stamp coconut drinks.
Plan Your Engagement Ceremony with Mr. Coconut
Whether you are planning to have a grand engagement ceremony or an intimate one in Goa, Mumbai, Indore, etc., among your immediate family members, call Mr. Coconut. We would love to assist you in planning a fun and unique party. Our healthy drinks for engagement are too delicious. So, why not leave a good impression on those who come to be on your big day? Plan an Indian dance performance followed by games. And most importantly, make sure the party lunch or dinner is eccentric. Let us, Mr. Coconut, help you make the party healthy and energetic. Our non-alcoholic personalized coconut water will make the guest even more cheerful.
Peeled Coconut Water: Creativity with Health
Engagement parties are great outdoors or indoors. If you plan to host an engagement party, shift some good furniture to embellish your yard for the event. You can even consider setting up a drinking bar. But how about being extra creative? Mr. Coconut comes up with the super creative idea of a coconut water stall for engagement. We would love to serve your guests healthy and creative drink ideas. We're known to offer fresh, custom coconut designs to every guest. Mr. Coconut is at your engagement party. You need not wonder what to do with coconut water other than drink it plain. We love to serve peeled coconut with guests' names engraved on the coconut shell. Everyone loves to be admired and valued. And our coconut water stall fulfills this requirement notably.
We Promise to Prop Up Your Engagement Party with our Customized Mocktails A signature wedding mocktail at an engagement ceremony is a staple now. Mr. Coconut brings its tender coconut water as a fun way for the would-be-bride and the bridegroom-to-be to show off their personalities to their guests. The delicious classic drinks can revitalize the simple-looking engagement party. Mr. Coconut will help everyone, drinkers or non-drinkers, serve drinks alike. Our fresh, refreshing & customized engagement ceremony "mocktails" would bring a smile to everyone's face!
Blend the western Culture with Indian Thai Coconut
We Indians have already adopted the Western cake-cutting tradition at the engagement festivities. After you and your better half have exchanged the rings, you cut the cake in celebration. Well, to think differently is to act differently. Call Mr. Coconut to merge this stylish cake cutting with soothing party non-alcoholic party drinks. The signature engagement drinks we supply come up with sweet names. Mr. Coconut serves monogram coconut drinks as a popular necessity for couples. We love getting creative, so we promise to make the best of your signature engagement ceremony mocktails. These fresh, tender, customized drinks make a great keepsake of the night and a practical takeaway for your loving guests.
Make the Simple Drink Menu Exciting with Mr. Coconut's Healthy Drinks for Engagement
It's your engagement ceremony, the visitors are dancing, and temperatures are rising! Everyone is exhausted, and you don't want the visitors to leave the party too early. Here is where Mr. Coconut comes at the forefront. The drink menu should be cool and sparkling. What would be a better idea than our healthy drinks for engagement? We bring 100% fresh and original nariyal pani for an exciting party drink idea. Our non-alcoholic beverage will allow everyone to join in on the fun and partake in the excitement with double interest! Your engagement ceremony must have a stall that serves a drink menu of "mocktails." This is perfect for those who aren't alcohol drinkers. You can even eliminate alcoholic beverages because health with taste is the best. Coconut water is a potassium-rich drink, so it can be a perfect choice to complement warm dishes.
Mr. Coconut is one of the best Indian companies with expertise in providing monogram coconut party drinks. Consider adding our tasty beverage to the various meals at the engagement ceremony for a healthy, tropical spin. We guarantee that our tender coconut water is full of nutrients, antioxidants, and electrolytes to keep you & your guests energized. Add extra potassium to your drink menu and keep your guests hydrated. Conclusion What are you waiting for? Opt for the engagement ceremony that's much more than 'special.' Order your tender coconut water with Mr. Coconut. Ask us to set up the coconut water stall for engagement. A 'coconut' twist to popular mocktails will surpass the guest's expectations!